There's something super sexy about wine. Wine is that additional accessory that sets the mood. Whether you're home alone and pour yourself a glass of wine as you bathe in a luxurious bubble bath, or you and your boo make dinner and pour yourselves wine while listening to jazz in the background….It's setting a mood. Wine sets the experience. Wine is the start of the evening and relaxes you to freely explore all your senses.
As Chrishon Lampley, owner/founder of the Love Cork Screw brand, says "Indulgence knows no boundaries." Chrishon gave me a glimpse into her wine and lifestyle brand. It's not all glamorous, but she enjoys every moment of her entrepreneurial life. Check out our one on one as we dish on her career path to success and when she'll know it's time to pass the Love Cork Screw torch to the next generation.
Tavi J. One on One with Chrishon Lampley of Love Cork Screw



Are you from Chicago?
I'm from the Chicago land area. I grew up in the Western Suburbs, but I've been living in Chicago since 1997.
Can you tell us a little bit about your background and schooling?
I always wanted to be in fashion. I went to college at Western Illinois University and at that time they didn't truly have a fashion program. I received two degrees at Western which were Bachelor's of Science and Family Consumer Science with a concentration in Gerontology (study of older people). I ended up going to Manhattan, New York to attend the Fashion Institute of Technology my junior year of college and received an associates degree from there.
When I graduated from both institutions I was able to work in the high end retail sector fairly quickly. I worked for Christian Dior and I predominantly worked in sales and management. At the young age of 21 I had a million dollar book on Michigan Avenue and my clientele were extremely wealthy people. I definitely had to mature quickly.
How did you make the transition from fashion to wine?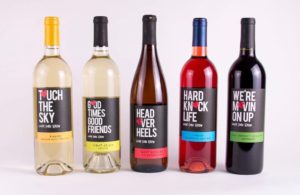 The funny thing is it all kind of connects because it's all still marketing and definitely sales for sure. I've always had this innate ability to know what's going to be hot next. It came from my father. My focus on wine came when I was a co-owner of Three Peas Art gallery in the South Loop. I wrote the wine list for the lounge and our wine list won Chicago's Best. I started thinking wait a minute… I'm kind of good at this and I've always had a different pallet. When I was little I was the kid enjoying sushi and experimenting with my food. While working on the distribution side of sales I always heard the same thing from working my accounts. They kept saying "We want to support local" and "We want to support small batch wineries." I thought wait a minute I think I'm catching on to something here. I started doing my research. People laughed at me like "There's no way you can have your own wine." So I was like watch me. 🙂
That's awesome! How long has Love Cork Screw been around?
Love Cork Screw has been around for four years! Well technically five years. I introduced Love Cork Screw five years ago as a blog. The blog then turned into a radio show, and then the radio show turned to wine. Love Cork Screw as a wine brand will turn four in December.
I was a horrible blogger because I'm not good at writing. After the gallery closed everyone still wanted my opinion on everything….from wine, to restaurants, to the hot clubs. I was in this dark place and I didn't want to talk to anybody. I had just lost my business, but I said "I need to get up…my heart is still beating for a reason." I started writing a blog…and again I was a terrible writer…but I had a huge following. I called the blog "Love Cork Screw."
Where did the name Love Cork Screw come from?
It was as simple as putting 3 sections together. I wanted the love section because we were single women owning a bar that people didn't think we owned. The cork section was my varietal picks and different restaurant picks. The screw section was a wild card….me talking about pop culture. So it turned from that (my blog) to an online radio show where I had 4000 listeners. Doing radio was fun and it let me vent but, I wasn't making any money. I turned Love Cork Screw into a wine brand.
What is the wine industry like as an African American female?
It's damn near impossible! It's a struggle. I deal with people non-stop thinking I'm the promotional person and not the company owner. I deal with not being taken seriously and not having the exposure to larger opportunities because they don't take you seriously. You can have those problems in any business, but now I'm a small business and an African American women. It's non-stop proving yourself but, proving yourself in an industry that's damn near impossible for anybody. Thank goodness wine is my love and passion. Hard works pays off though because as of 5am this morning I'm now a Google Supplier!
Congrats on becoming a Google Supplier! That's awesome and will expose you to so many more opportunities. I noticed on lovecorkscrew.com that you are a MBE (Minority Business Enterprise) as well as a WBE (Women Business Enterprise). Can you tell us what that does for your business?
That's correct I have those two certifications. So what do they do? Well… first off, you're not going to become instantly rich and get all these contracts because you're certified. I would say you only have a chance to bid several times if you're in construction. As far as a wine company… I don't exist. Everybody tries to put me in the catering category, but I don't make food. I'm not a caterer nor do I have a caterer license. I'm a supplier. I will say it has open doors and lets me have that conversation. Whether it's getting me that special email that no one else can get access to, even if they say no I'm at least able to have a conversation. If it wasn't for my certifications I wouldn't be in Target.
So are you're pretty much working 24/7 then?
I am…but everything I'm doing is my passion. People ask me how I decompress and I tell them….Love Cork Screw is who I am. It's me as an individual, so I enjoy it, I feed off of it, it's who I am. I would go crazy if I had too much down time. I have to keep moving. I'm up at 5 am naturally. I love my phone going off non-stop and talking to people and thinking of the next thing.
Are you cool with being referred to as an "African American wine owner" or would you like to be known as just a "wine owner?"
It's one of those things where I don't spread the fact I'm African American, I let other people do it. Number one, you're going to see me so you're going to know. I don't splatter it around as black black black owned. I don't think it's necessary. I want people to take me seriously in the industry and not feel sorry for me or support just because I'm black. I want you to like my wine as well as support. I'm okay with you walking in having no idea I'm black. To me that's hella more sexy to know you like my pinot grigio before you even knew it was me.
Wine is your forte, but you also have other products. What made you expand your product line?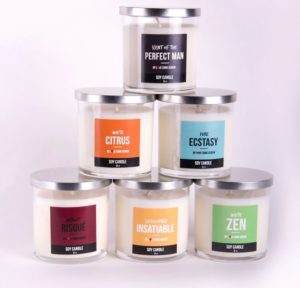 My company is based off of all 5 senses. A lot of people through the years have come up to me and said I don't drink alcohol or I'm not a wine drinker. Well….that's okay. Again I'm a sales person and thought what else could you buy? So I thought hmmm…wine scented candles. I'm setting the mood if you will. You don't have to drink wine, but why not buy a wine scented candle? They're 100% soy and handmade. I'm 100% involved from the names, to the packaging, to the scents, and the blends.
I just introduced the body butters a few months ago. I want you to be able to buy all of Love Cork Screw products and set an experience. I also did a cook book with a well-known Cordon Bleu trained chef. I thought hmm…how about pairing wines with some great meals. It just makes sense. You can buy all the products and use them together. You're going to light a candle, drink some wine, put some body butter on and cook in your kitchen.
What region is your wine sourced from?
I source from 3 different vineyards. My Cabernet Sauvignon comes from California. My Riesling and Pinot Grigio are from Michigan and my Concord and Niagara (sweeter wines) are sourced from Illinois. Three different vineyards and partnerships that involve non-stop communication.
What is the entrepreneur life like for you?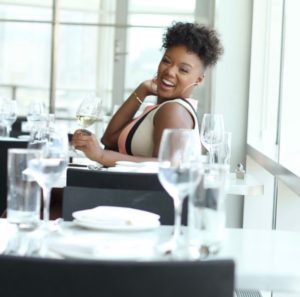 I have a full time marketing job. In the future I hope to be doing Love Cork Screw full time and then sell the company while still having a hand in it. I will not leave my day job until my accountant tells me too. I look at it that way because I'm a single woman and I like the fact that I can pay my mortgage and I'm not scrapping for every single dime. Am I scared??? ….SURE…because businesses fail everyday but, I want to be that excited scared…not that I fear getting kicked out of my home scared because I've been through that.
I look at my full time job as a way to get away. If I'm consumed and I'm sitting in my home office…and the phones not ringing and I'm not getting an email… I'm going crazy. I can have a full time job, keep moving, and I have insurance. It allows me to escape. It's amazing the ideas I get when I'm able to clear my mind. Retail is in me, it's in my blood. I'll be at lunch and I'll have a great idea. My full time job is my escape, but also a way for me to be able to survive.
Would it be easy for you to give up Love cork Screw?
Of course not, because it's my baby. I am Love Cork Screw. So even if I sold the company I would have a hand in it some how. The reason why you create a business is to sell it. I think a lot of times people, especially the younger generation, don't get that. You want to sell your company. When it gets to the selling point that means I've done what I'm supposed to do with this company and I supposed to let the next generation or the next group make it even better. It also means I've developed something where the value is so high, I can let it go. If Love Cork Screw hits 40 million dollars…I'm out! It has to be something that makes sense. I'm not going to sell it next to nothing. When I know that I've developed my baby I can let it go.
Before Love cork Screw was there any room for doubt? Where there dark moments and how did you come through them?
My darkest moment was when I lost the gallery and literally kid you not I was 48 hours from losing my home. I was served papers and was about to get kicked out. I had the gallery for 3 years. It hit me hard each moment when I would cry or be upset. I was single at the time…I would be like "mom what is going on with my life." Every time I woke up in a funk I would remind myself…but wait… I'm awake… my heart is still beating. I also realized nobody really cares what you think or feel. Meaning, they can lie to you and say…."oh I feel your pain," but when they hang up that phone they're going to go to dinner or the movies…and out to have a good time. You can sulk all you want, but nobody cares. What makes you so special? Everybody has issues and everybody is going through something. So I said to myself "okay this is dumb" because I'm young, I'm okay looking, and I'm going to get my butt up and make this happen. It ended up so many people I met from the gallery were there to help me get back on my feet. They were like "hello Chrishon were right here!" They reached out to me, but it took me to open my eyes to see that they were right there all along. I ended up working with a great lawyer that saved me and didn't charge me a dime. He just wanted to save me because he watched my journey and believed in me. There were so many people around me, that I didn't pay attention to, cause I was stuck in my own head. Once I was able to get out of my own head and thinking I was so bad off…that's when I said to myself "I will never fail."  When I say "never fail" that doesn't mean I'll never lose business and money left and right, but it does mean I will always get up and keep going.
Do you always make time for your relationships or are you strictly career focus?
It takes a special person to date an entrepreneur for sure. And it has to be one of those things where they're just as excited about your business as much as you, but not involved as much as you. They don't know or necessarily care as much about the business, but they like seeing how excited you are about it. I think it just takes a special person to deal with an entrepreneur, but at the same time an entrepreneur can't push people away because we are so focused on the business. The more you push people away you are going to end up alone in a lot of ways. Friends, relationships, whatever it may be… you have to keep yourself open, but also I'm lucky in my business to have a lot of opportunities to go places and do a lot of things that someone I'm dating will have just as much fun as I have. You do have to make time to do something for you. Whether it's going to the show or whatever it is. Relationships are difficult if you're an entrepreneur or even if you're not for that matter.
How important is it for you to have a mentor?
I'll be honest, it's not very important because I don't have one. It's hard to have one when you're in an industry that doesn't look like you. So what I look at as a mentor are similar successful companies. I look at it like I can see myself leading the path like this person did. The closest business path to what I want to do is Bethany Frankel of Skinny Girl Margarita. We kind of have the same story with her obviously having way more money. It's the same story of having a brand people follow and then breaking out into something that she loved and it was her passion. She didn't come from a liquor background but, it just all made sense to her brand. She took her brand to a different level and then sold her company. A mentor is not as important to me as making sure I stay relevant with the industry as much as I can.
Any Chicago Events we should know about?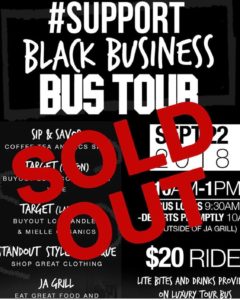 My SOLD OUT Black Business Bus Tour on September 22nd!
This event may be sold out, but make sure to follow along with Lovecorkscrew.com on social media to see where Chrishon will be at next!

Copyright secured by Digiprove © 2018