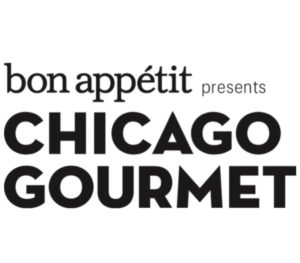 Bon Appetit presents Chicago Gourmet will be here before you know it! I had soooo much fun last year and can't wait to attend this year. Check out my past experience HERE and keep reading to find out what you have to look forward to this year. See YOU there! Tickets and pricing are available at chicagogourmet.org.
Chicago Gourmet Announces 2018 Lineup!
 Millennium Park Plays Host to Rockin' Culinary Celebration, September 29-30
The time has come to Rock the Fork! Organizers of Bon Appétit presents Chicago Gourmet are thrilled to announce the "set list" for the 11th annual main event taking place in Millennium Park September 29-30, 2018. With a rich legacy in both food and music, this year's theme harmonizes gourmet cuisine and crowd-pleasing melodies.
Since its inception, Chicago Gourmet has celebrated the city's outstanding culinary community, and this year is no exception. The 2018 event turns up the volume with an all-star lineup of celebrity chefs including Rick Bayless, Carla Hall, Jeff Mauro, Stephanie Izard, Duff Goldman, Joe Flamm, Tony Mantuano, Lorena Garcia, Art Smith, Angie Mar, Emily Fiffer, Heather Sperling and more – plus an impressive nine Master Sommeliers curated by presenting sponsor Southern Glazer's Wine & Spirits.
CLICK HERE TO VIEW THE COMPLETE 2018 LINEUP OF CHEFS, SPEAKERS, COOKING DEMOS, SEMINARS,
Famed chefs and Master Sommeliers will unite in Millennium Park for a weekend full of celebrity chef demos, interactive seminars, beverage tastings, book signings and food galore.
Opening Act. The Main Event kicks off at noon on Saturday, September 29 with celebrity chef Rick Bayless (Frontera Grill/Topolobampo/XOCO/Leña Brava/Cruz Blanca Cervecería) and the award-winning Diana Dávila (Mi Tocaya Antojería). Steve Dolinsky (ABC7 Chicago) will emcee their Chorizo Cha-Cha Challenge cooking demonstration.
Eat to the Beat. Chicago Gourmet provides an all-access pass to an array of culinary delights, ranging from worldly eats to backyard favorites. Looking for a gourmet vacation? Surrender to the aromas and flavors of the México Tourism Board and Thai SELECT Tasting Pavilions. Craving meat? Big Green Egg, Porter Road and of course the COUNTRY Financial BBQ Tasting Pavilion sing your tune. US Foods, Supreme Lobster & Seafood Co., Mariano's, and Martin's Famous Potato Rolls and Bread Pavilions present tasty bites at every turn. Veggies take center stage at the Turnip the Volume tasting pavilion while Hungry like the Wolf will get taste buds singing. End the culinary concert on a high note at the Taylor Precision Products Dessert Tasting Pavilion.
All the while, pop-up musical performances will surprise and delight on the Great Lawn, and channel your inner groupie at the 93XRT stage, where live bands will entertain throughout the weekend.
Tasting Notes. Wine seminars at Chicago Gourmet are among attendees' most favorite attractions. This year, Master Sommelier (and musician) Serafin Alvarado of Southern Glazer's Wine & Spirits has imagined engaging wine seminars led by renowned Master Sommeliers including Hitting the High Note, An Artist's Look at Music and Wine, Women of the Wine World, Pinot Noir Smackdown, Rocking the Bubbly and more. With this lineup, it's no wonder Chicago Gourmet remains a contender on USA Today's 10Best Reader's Choice Annual Awards for Best Wine Festival!
Platinum. At the exclusive 2018 Grand Cru, presented by UnitedHealthcare, guests will experience tastings of elite wines from around the world. Taking place from 2 to 4 p.m. both Saturday and Sunday on the idyllic Harris Theater Rooftop, samplings showcase elevated cuisine from hand-selected chefs from first-time chef co-hosts Graham Elliot (Gideon Sweet) and Matthias Merges (Gideon Sweet, Mordecai, Billy Sunday, Lucky Dorr, Old Irving Brewing Co.), who have created a special soundtrack to inspire the affair.
Medleys. Dance over to the East Lawn for seminars and cocktail demos by star mixologists, including Egor Polonskiy of Southern Glazer's Wine & Spirits who will lead Saturday seminar, The Old Fashioned, New Again; where cocktail enthusiasts learn how this classic cocktail is making a comeback. For an engaging conversation, stop by Who Run the World, moderated by Katherine Miller of the James Beard Foundation, where trusted voices Christine Cikowski (Honey Butter Fried Chicken), Rohini Dey (Vermilion), Beverly Kim (Parachute), and Angie Mar (The Beatrice Inn) will share their insights on achieving success as women in the restaurant industry. Additionally, talent like Alpana Singh, MS (Terra & Vine), Jared Rouben, President & Brewmaster (Moody Tongue Brewing Company), Stephen Halpin (Patrón Tequila), and many others will showcase their knowledge throughout the weekend.
Main Acts
Showcasing countless cuisines, traditional techniques, fun twists and playful competitions, distinguished chefs leave it all on the Bon Appétit Main Stage. Crowd pleasers Carla Hall, Art Smith and Lorena Garcia return to share the soundtrack to their kitchens. Everyone's favorite trio – Jimmy Bannos, John Hogan and Tony Mantuano – are back for an always-entertaining roast, while new talent like Joe Flamm joins fellow BRAVO Top Chef Season 15 "cheftestants" Bruce Kalman and Joe Sasto to show off their pasta-making prowess. And speaking of Top Chefs, Stephanie Izard may have a different take on the music theme…maybe some dance moves included. Bon Appétit Editor-in-Chief Adam Rapoport and other all-star emcees guide the program with flair.
The Bon Appétit Main Stage lineup includes:
SATURDAY, SEPTEMBER 29
12 p.m. – 12:30 p.m. Chorizo Cha-Cha Challenge
Rick Bayless, Frontera Grill/Topolobampo/XOCO/Leña Brava/Cruz Blanca Cervecería Diana Dávila, Mi Tocaya Antojería
1 p.m. – 1:30 p.m.       Spice Party
Emily Fiffer and Heather Sperling, Botanica 
2 p.m. – 2:30 p.m.   Three Chefs, One Pasta
Joe Flamm, Spiaggia/Cafe Spiaggia/BRAVO Top Chef Season 15 Winner Bruce Kalman, BK Hospitality Group/BRAVO Top Chef Season 15 Joe Sasto, BRAVO Top Chef Season 15
3 p.m. – 3:30 p.m.   Maestros of the Jar
Carla Hall, Chef and Author Timon Balloo, SUGARCANE raw bar grill
4 p.m. – 4:30 p.m.   Another One Bites the Crust
Jimmy Bannos, Sr., Heaven on Seven John Hogan, River Roast Tony Mantuano, Spiaggia/Terzo Piano/River Roast
SUNDAY, SEPTEMBER 30
12:30 p.m. – 1 p.m.    Rock the South: Southern USA Meets South American Cuisine
Lorena Garcia, Lorena Garcia Cocina/Lorena Garcia Tapas Art Smith, Chicago q/Blue Door Kitchen & Garden
1:30 p.m. – 2 p.m.       Duck, Duck, Dance
Stephanie Izard, Girl & the Goat/Little Goat Diner/Duck Duck Goat
2:30 p.m. – 3 p.m.   Crudo Two Ways
Andrew Zimmerman, Sepia/Proxi  Erling Wu-Bower, Pacific Standard Time
3:30 p.m. – 4 p.m.   Tag Team
Graham Elliot, Gideon Sweet  Matthias Merges, Gideon Sweet/ Mordecai/Billy Sunday/Lucky Dorr/Old Irving Brewing Co.
4:30 p.m. – 5 p.m.   Do-Re-Mi of WAGYU
Takashi Yagihashi, Tabo Sushi and Noodles  Masuo Chiba, Kakunoshin
 The Bon Appétit Culinary Stage will also spotlight phenomenal chef talent on Saturday and Sunday!
Eat On. Rock Out.
Chicago Gourmet amps up this year's program with seven chart-topping ancillary events beginning September 26, in addition to the Main Event and Grand Cru. Attendees will mingle with headlining chefs as they jam out to one-of-a-kind dinners, tastings, cocktail parties and musical performances including an Italian Feast presented by Performance Foodservice on the Symphony Center Stage; Blues, Booze & Bites at River Roast (complete with an all-industry live concert); Battle of the Masters presented by Southern Glazer's Wine & Spirits at Swift & Sons; the Hamburger Hop (#FlashbackFriday edition) presented by Buckhead Meat Chicago and Blue Moon Brewing Co. on the Harris Theater Rooftop; Late Night Gourmet presented by Chicago magazine at The Underground; Global StrEATS presented by S.Rosen's Baking Company on the Harris Theater Rooftop and Rise & Shine Gourmet presented by Lifeway Foods at Chicago Athletic Association Hotel.
Tap to the App!
The mobile app – your go-to guide for all things Chicago Gourmet – will be available for download in September.
Charitable Beneficiaries
Through its ancillary events, online auction and onsite weekend raffle, Chicago Gourmet raises funds for the Illinois Restaurant Association Educational Foundation, whose mission aims to educate, inspire and preserve the future of the hospitality industry. Proceeds from Rise & Shine Gourmet benefit Pilot Light, which helps children make healthier choices by connecting the lessons they learn in their classrooms to the foods they eat on their lunch trays, at home and in their communities.
For more information, please visit chicagogourmet.org and follow on Facebook, Twitter, and Instagram.
See you there!

Copyright secured by Digiprove © 2018