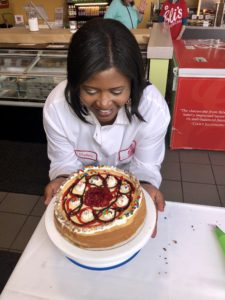 I LOVE Eli's Cheesecake! I had the pleasure of being invited by Eli's President, Marc Schulman to tour the cheesecake facility and attend the season opener of Eli's Farm Stand and Fresh Market. The Farmers Market occurs every Thursday at Eli's Cheesecake Company (6701 W. Forest Preserve Drive, Chicago, IL 60634). You can expect rotating vendors who sell fresh fruits, veggies, skincare, flowers, and of course Eli's was selling sweet treats!
Myself and fellow blogger Chelsea Harvey ate lunch with Debbie, the Vice President of Marketing. We ate lunch at the grill and I had the Fresh Steak Sandwich with carmalized onions, kale, and red pepper chimichurri salad on a toasted French baguette. The lunch specials are different from week to week.
I also got to decorate my own cheesecake too!! Did I do a good job?!?!?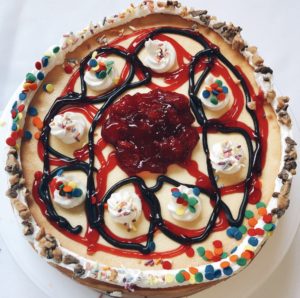 Make sure you're following @Elischeesecake on social media on Instagram  and Twitter to keep up with the specials and events! Elischeesecake.com
One event I love that Eli's participates in is the Taste of Chicago. The Taste of Chicago is the nation's premier outdoor food festival showcasing the diversity of Chicago's dining community. This year the Taste of Chicago and Eli's Cheesecake's  is celebrating their 38th birthday with the cast members from the Waitress musical. See below for more details!!
Celebrate Taste of Chicago and Eli's Cheesecake's 38th Birthdays
with cast members from the Waitress musical
and a giant 1,000 lb. birthday cheesecake, topped with a giant cherry pie!
What could top an Eli's 1,000 lb birthday cheesecake? Turning the top layer into a giant cherry pie, in honor of this year's celebrity cake cutters: cast members from the national tour of Waitress, a delicious musical making its Chicago debut at Broadway In Chicago's Cadillac Palace Theatre July 3-July 22, 2018.
The fun begins on Saturday, July 14, 2018 at Taste of Chicago…the very place where Eli Schulman introduced his first Eli's Cheesecake to the world, and where Eli's remains the only original vendor at Taste. Eli's has sold over 5 million slices of rich and creamy cheesecake at Taste over the past 37 years.
At Noon, under the tent at Buckingham Fountain, Grant Park, (look for the sign "The Big Cake Is Here!"), the public is invited to watch the giant birthday cheesecake be lifted off the truck by a forklift, see Eli's pastry chefs put the final touches on the cake, and play cheesecake trivia games.  At 12:30 pm the Cake Cutting Ceremony will begin, followed by a round of Happy Birthday led by Waitress cast members.   The cake will then be served free to the public.
Cows will be working overtime to produce the 700 pounds of cream cheese needed to prepare Eli's 38th Birthday Cheesecake.  Other ingredients for the mind-boggling grocery list include:  200 pounds of sugar, 150 pound of sour cream, 60 pounds of chocolate chips, 100 pounds of Eli's Butter Cookie Crust, 95 pounds of eggs, 5 pounds of vanilla, 70 pounds of Marzipan cherries, 25 pound of cherry glaze, 100 pounds of old fashioned buttercream icing, and 10 pounds of graham crackers.
Eli's Cheesecake Booth, located near the corner of Jackson and Columbus will serve:  Original Plain Cheesecake with Strawberries (7 tickets), Turtle Cheesecake (9 tickets), Cookie Cheesecake Smoosh Made with Oreo® Topped w/ Vanilla Ice Cream & Chocolate Sauce (10 tickets), Chocolate Chip Crunch Dipper® (7 tickets), Taste Portion of Original Plain Cheesecake or Lemon Mixed Berry Cheesecake (4 tickets).

Copyright secured by Digiprove © 2018