Our May "A Chicagoan YOU should know" monthly spotlight guest and I go back a ways. We met about 6 or 7 years ago, but can't pinpoint when or where. He was already doing big things when I met him, but it's been fun watching him take his career and philanthropic pursuits to the next level over the years.
I want to introduce you to Rendel Solomon. Keep reading and you'll know why he's a Chicagoan WE should know. 🙂 He's a man that wears many hats and right now Rendel is wearing 3. All 3 pursuits he's involved in right now tie back to the hash tag he likes to use #OwnershipMatters. By day, Rendel works full time as a private equity investor. For those unfamiliar with the private equity industry it's essentially like the show "Shark Tank." People in private equity buy and sell companies. They buy ownership in a company, they help the company grow, and then they sell the company to someone else. Rendel has been a successful private equity investor for 10 years. His current job is one of the factors that inspired him to dive into the other 2 hats he wears.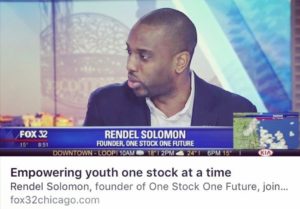 In 2016 he founded the non-profit One stock, One Future. The non-profits goal is to expand access and opportunity to one million underserved youth throughout Chicago and across the county by turning them into public company shareholders. His niece was a big inspiration for him wanting to start this non-profit. He loved taking her into companies and letting her know she owned a piece of them through the stock he had purchased for her. It's easy to explain to kids what ownership means if you can physically show them. Through One Stock, One Future, Rendel wants to help young people start to learn the concept of ownership by donating shares of stock to them after teaching a basic class and exposing the world of stocks to them via a workshop. His ultimate goal is to show #OwnershipMatters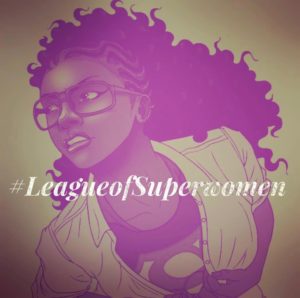 Rendel's third hat he's wearing right now is along the same lines of #OwnershipMatters, but his next pursuit is to help Women. In 2017, Rendel created the League of Superwomen. His initiative is to provide a networking and panel series designed to showcase women entrepreneurs and to engage in powerful discussions about entrepreneurship. The Superwomen share their motivation along with practical feedback, guidance, and advice for current and aspiring entrepreneurs. They also discuss how to address various entrepreneurial challenges including fear, risk, business planning, access to capital, sales, operations, customer acquisition, human resources, marketing, and succession planning.
Rendel noticed, working at his day job as a private equity investor, that most of the companies the private equity firms were buying were not owned by women. There are also significant statistics he found astounding related to women entrepreneurs. 39% of privately held businesses are women owned (that's not a bad number) however, they only account for 8% of the employment in the United States, further more they only account for 4% of the revenues. So what does that mean? Lots of women are starting businesses, but those other two numbers around employment and revenue mean those women owned firms aren't growing. The businesses are being started, but not growing. This has to do with access to capital as well as a variety of other issues. It also could be the type of industries that are chosen.
Rendel said, "The reason why I started League of Superwomen is to showcase women whose companies have risen beyond a certain level. I want to highlight the women who have companies at a scalable level where they can hire people, have manufacturing facilities, contracts, and long term business revenue potential. I do not see enough women entrepreneurs in the world I work in. White men manage essentially most of the money in this country that's being used to invest. They run most of the businesses receiving these investments. This was my direct way of trying to impact both of the exposure and the opportunity for women to get access to capital, mentors, resources, and just for women to see there are these women entrepreneurs that exist. There are women out here with real revenue generating multi-million dollar businesses. This is what I want to showcase."
Why is Rendel Solomon Founder of One Stock, One Future, Creator of League of Super Women, and Private Equity Investor a Chicagoan WE Should Know?
"I was born in Chicago, I live in Chicago, and I truly care about Chicago. I was made on the South Side, but I was raised on the West Side. I want to see this city truly reach its potential and I'm willing to expend whatever resources that I can both in terms of my intellect, my relationships, and my capital to see Chicago get there."
Rendel is a friend to me, but also an inspiration on how one person can make a difference. He took his passion for helping the less fortunate and spoken for and turned it into a pursuit to help level the playing field. I was particularly interested in the League of Superwomen because myself, and so many other women are out here trying to excel and work side hustles that we one day hope to turn into full time careers. Read on for the rest of my sit down interview with Rendel and make sure to follow him on social media!
Facebook @LeagueofSuperWomen Instagram @LeagueofSuperWomen Facebook @1Stock1Future Instagram @1Stock1Future
Tavi J. One on One Interview with Rendel Solomon

League of Superwoman is such a good organization. Why is it so important to you?
I would have to go back to my upbringing a little bit to talk about how personal this is to me. Women have essentially been, if not the primary bread winners, definitely the primary bread managers in my life. My grandmother and grandfather came up from Mississippi during the great migration of Chicago. They were sharecroppers in Mississippi and moved North for better opportunities. My grandfather was a carpenter (RIP) and my grandmother worked as a customer service representative selling jewelry at Carson Pirie Scott for a couple of decades. Her focus was on food, shelter, and clothing. Just your basic needs. My mom and dad both were high school educated but nobody went to college. My mom was not only focused on food, shelter, and clothing, but adding in the educational piece. So my two sisters and myself all graduated from college and received grad school degrees. We were the first generation to go to college in my family.
League of Superwomen is so important to me because I saw these women in my life (mother, grandmother, and others)…who took ownership of their families. They recognized that there were certain things they were going to have to do to move our family forward. Women in my family pushed it to the next level. I'm paying homage to my mother, grandmother, (and particularly women of color) that were faced with issues that other groups will never know. While League of Superwomen is not entirely focused on women of color that is a category I care a lot about.
I know you just had your third installment of League of Super Women back in April with an awesome panel (Moderator: Dominque Jordan-Turner, President and CEO , Chicago Scholars. Panelist's: Dominque A. Dunn, Co-Owner of Fruve x Press Juicery, Sophie Evanoff, President, Vanille Patisserie, Riana Lynn, Founder and CEO of Food Trace, Inc.). Can you tell us a little about how the event works?
I like having 3 people and a moderator. It makes the discussion more intimate and each panelist gets a good amount of time to speak.
League of Super Women, as it exists right now is focused on entrepreneurship, scalable revenue generating businesses. I am already planning on doing spin offs were maybe the panel will be focused on corporate women excelling within corporate America. Or women high up in the tech space because numbers are lower in tech and women are not getting as much exposure. There are several opportunities I will take in expanding the brand in the future.
What is the audience of Super Women like and who would you like to attend this event?
The audience is mostly women, inspiring entrepreneurs and current entrepreneurs. I hope to expand on getting more younger women in High school or college seeking influence, inspiration, mentorship, and guidance. I would also like suppliers and service providers who can become providers to these women who have businesses. Investors at banks that can lend money. Also, I have to mention that League of Super Women is not exclusive to women. I would love to see men out here supporting. Events typically run 6pm to 9pm where 6 to 7 is the networking portion. We have booths set up dedicated to the panelists so you can have a conversation with them before the panel begins.
You clearly have a handle on your finances now, but what is one thing you wish your younger self would have known?
The 3 biggest significant determinants of ones future and investment success is time, consistency, and diversification. Time – meaning start early. Start as early as possible. Invest regularly and be invested in a variety of things. Those 3 things over a long period of time will generally equate to some level of success. Simple definition of compound interest is letting your money make more money for you. Don't spend all your money on stupid stuff that has no value, learn to invest.
Where do you see yourself in the future? What legacy would you hope to leave your mark on the world?
I really like this world of business. I like ownership and entrepreneurship. I see myself being an owner. I'm already starting to contemplate what types of businesses I want to own. For a better word I'm thinking of straight forward businesses. I don't need something super sexy that will land me on a cover of a magazine. I'm talking car washes, parking garages, laundry mats and storage facilities. Stuff that just makes money and people need. I want to have a business or multiple businesses. I want to improve the environment of the West side of Chicago where I grew up. The biggest frustration that I have is that when I go to the West Side it looks exactly the same in 2018 as it did in 1992 (when I graduated eight grade). My neighborhood looks exactly the same. I want to make sure 25 years from now this conversation is not the same. I want to establish myself in a way that I can support, improve, and help the development in my former neighborhood the way I see development happening all over Chicago.
Rendel definitely embodies the Chicagoan spirit and I want to leave you with a quote he said during out interview
"#Ownershipmatters. Whether it's investing in stock, starting a business, whether it's real estate, etc…I believe that ownership creates new opportunities for people." Rendel Solomon

Copyright secured by Digiprove © 2018