Summer time in Chicago is here and I cannot go a summer without heading to a barbecue. Grilling equals a must do for the summer! If you're like me and an extreme newbie on the grill, you'll want to check out The Chopping Block grill classes. Even if you know what you're doing behind the grill there's still many helpful tips and tricks they'll show you to become a Pro.  You can learn how to grill everything from pizza, to beef, to seafood, and much more! Check out a complete listing of the classes which are located at the Lincoln Square location (4747 N Lincoln Avenue, Chicago, IL 60625) : http://www.thechoppingblock.com/grilling-classes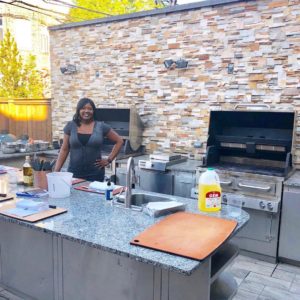 A couple weeks back I checked out the Chicken on the Grill class. I love that this class was outdoors and hands on! The class is on the smaller side and you work in groups with only 3 to 5 people. The weather was absolutely beautiful as Chef Erin Patsiopoulous taught us how to man the grill. We learned how to set up a grill, as well as various ways to prepare our veggies and meat. Like do you know what it means to "Spatchcock" a chicken? No?? Well… neither did I (at first)! Basically to "Spatchcock" means taking a round chicken and making it flat so it can cook in half the time on the grill. You'll learn tips like that and much more in the classes!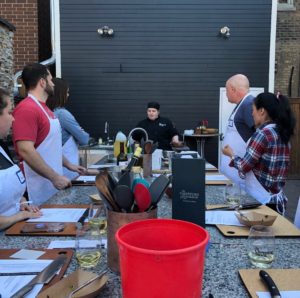 After you're done grilling you can enjoy your cooking over a sit down meal. We definitely didn't leave hungry! I'm sure you'll want to practice your skills again and The Chopping Block makes it easy by sending you home with a collection of the recipes from class. How awesome is that?! Check out pics from the yummy menu we had below. I can't wait to put my new grilling skills to use this summer!
For those of you looking to really become a master on the grill check out The Chopping Block Grilling Boot Camp. The two day hands on workshop will help you master the ins and outs of grilling with charcoal, gas, and wood. You'll also learn tips and methods in brining, marinating, slow cooking, smoking, dry and wet rubs. For more information and to sign up click here: http://www.thechoppingblock.com/grilling-boot-camp
Check out the pics below from The Chopping Block Chicken on the Grill class 5/16

Menu
Brined Chipotle-Lime Chicken Breasts with Grilled Avocado Peach Salsa
BBQ Spatchcocked Chicken with Carolina Mustard Sauce
Thai Coconut Grilled Chicken Thighs with Rice Noodle Salad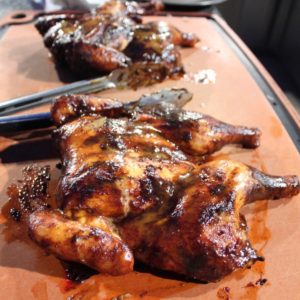 To Learn more about The Chopping Block head to their website: www.thechoppingblock.com
Follow The Chopping Block on social media
Instagram: @the_chopping_block
Facebook: @thechoppingblock
Twitter: @TheChoppingBloc
The chopping block grill classes make the perfect Father's Day gift!! Treat your dad to the special "Grillin' with Dad on Father's Day Class" It's the perfect activity for the whole family. Children ages 6 to 12 are invited to help their families prepare a fabulous meal. Choose from 2 different times at the Lincoln Square location, Sunday, June 17th. 10:00am – 12:30pm or 4pm to 6:30pm.

Copyright secured by Digiprove © 2018