One of my top favorite holidays is coming up one week from today. June 1st is National Doughnut Day!! Yes, it is a holiday!!! Krispy Kreme Doughnuts will be helping us celebrate by giving away one FREE doughnut of your choice from the entire menu…and even better NO PURCHASE NECESSARY! Make sure to stop by either Chicagoland Shop in Homewood or Evergreen Park to get your FREE doughnut.
For more details on Krispy Kreme Doughnuts and the celebration check out the press release below!
Get Your Favorite Doughnut for Free at Krispy Kreme Doughnuts
on National Doughnut Day, Friday, June 1
Fans can enjoy any doughnut of their choice, no purchase necessary,
all day long at Chicagoland Shops in Homewood and Evergreen Park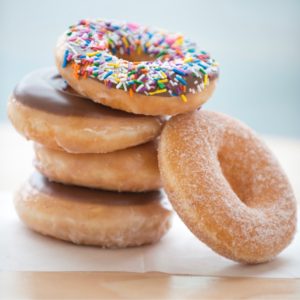 Krispy Kreme Doughnuts will spread joy on National Doughnut Day, Friday, June 1, by again giving customers the opportunity to select one free doughnut from the entire menu – no purchase necessary – at Chicagoland Krispy Kreme shops located at 17815 South Halsted Street in Homewood and 9150 South Western Avenue in Evergreen Park.
"Providing our guests a free doughnut of their choice on National Doughnut Day has become quite a tradition here at Krispy Kreme," said Jackie Woodward, Chief Marketing Officer of Krispy Kreme Doughnuts. "We can't wait for our fans to enjoy their favorite Krispy Kreme doughnut on us! We just love this day."
Customers can select one doughnut from the dozens of Krispy Kreme varieties, such as the iconic Original Glazed® Doughnut, Chocolate Iced with Sprinkles, or Glazed Raspberry Filled Doughnut, or take advantage of the last chance to enjoy the NUTTER BUTTER® Cookie Twist Doughnut, CHIPS AHOY!® Doughnut, or OREO® Cookies and Kreme™ Doughnut, while supplies last.
With so many Krispy Kreme doughnuts to choose from, how will you pick your favorite? Show how you're celebrating National Doughnut Day and flaunt your favorite doughnut by using #NationalDoughnutDay and tagging @krispykreme on social June 1. Visit www.KrispyKreme.com/NDD to find a participating shop near you.
About Krispy Kreme Doughnut Corporation
Krispy Kreme Doughnut Corporation is a global retailer of premium-quality sweet treats, including its signature Original Glazed doughnut. Headquartered in Winston-Salem, N.C., the company has offered the highest-quality doughnuts and great-tasting coffee since it was founded in 1937. Krispy Kreme Doughnuts is proud of its Fundraising program, which for decades has helped non-profit organizations raise millions of dollars in needed funds. Krispy Kreme doughnuts can be found in approximately 12,000 grocery, convenience and mass merchant stores in the U.S. The Company has nearly 1,400 retail shops in 32 countries. Connect with Krispy Kreme Doughnuts at www.KrispyKreme.com, or on one of its many social media channels, including www.Facebook.com/KrispyKreme, and www.Twitter.com/KrispyKreme.
About Chicagoland Restaurants, LLC
Chicagoland Restaurants, LLC was founded in 2015. The independently owned and operated franchisee group's initial project will oversee the return of Krispy Kreme Doughnuts to the Chicagoland market. Chicagoland Restaurants, LLC continues to strengthen its growth in Cook County, expecting two new shops in 2018 to add to the Homewood and Evergreen Park locations opened in 2017.

Copyright secured by Digiprove © 2018