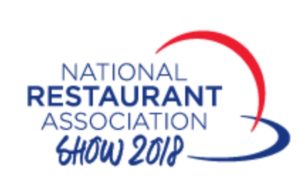 At Chi@Glance we love checking out industry related events (especially when it comes to FOOD) and this year we're happy to be covering the 2018 National Restaurant Association Show (NRA). I look forward to sharing with you all the latest innovations in the Food and Beverage Industry! I started the show early by checking out one of the exhibitors Daelmans Stroopwaffels. No surprise here with my sweet tooth I was definitely looking forward to sampling their Dutch cookies. Keep scrolling, because not only will I be sharing why the NRA show is so important to the food & beverage industry, but I will also be giving you my review of exhibitor Daelmans Stroopwaffels.
Event: 2018 National Restaurant Association Show (NRA)
Show Attendants: TRADE ONLY: Must be professionals involved in the restaurant, food service, and hospitality industry. A business card or a tax ID number is required to register for the show.
When: Saturday, May 19th – Tuesday, May 22nd
Show Exhibit Hall Hours: Sat-Mon: 9:30am – 5:00pm
Show Exhibit Hall Hours: Tues: 9:30am – 3:00pm
Where: McCormick Place
Address: 2301 S. King Drive, Chicago, IL 60616
Dress Code: Business Casual
Tickets: https://show.restaurant.org/register
The National Restaurant Association (NRA) is the largest foodservice trade association in the world. They support over 500,000 restaurant businesses everyday by empowering restaurant owners and operators to achieve more than they thought possible. May 19th – May 22nd is the return of the highly anticipated NRA show. The show is an opportunity to discover the latest innovations in the Food and Beverage industry. This year there will be more than 2,300 companies/exhibitors and over 66,000 food service professionals from around the world.The show highlights the latest culinary breakthroughs, new equipment/technology, and bold insights from industry leaders. Influential executives, thought leaders, industry titans, and innovative exhibitors attend the show.
One of the exhibitors I would like to highlight is Daelmans Stroopwaffels. I was fortunate enough to sample their Dutch cookie products before the NRA show. Daelamans is a family owned company since 1909 and the leading stroopwafel baker in the world. Daelmans Stroopwafels are baked with care and contain no artificial flavors, colors, preservatives or trans-fats. You can eat them straight from the package or use as a scrumptious, sweet and malty treat when placed atop your hot cup for only about one minute, allowing the heat to warm the biscuit, soften the caramel, and release the natural aroma of cinnamon and real Bourbon vanilla.
Daelmans Stroopwafels are available in three varieties – Caramel, Honey and the newly released Chocolate-Caramel, and three sizes, Jumbo, Large and Mini. In the U.S. you can find them in Specialty and Convenience chains including Walgreens, 7-Eleven, Barnes & Noble Starbucks Cafes, Cost Plus World Markets and Publix, plus finer independent food retailers across the U.S. You can even find the original caramel stroopwafel flavor at 30,000 feet on all domestic United Airlines flights in the morning!For more information on where to find Daelmans Stroopwafels locally, visit: www.thebrandpassport.com.
I devoured the sample box they sent me (of course sharing some with friends). The chocolate-caramel flavor was my fav! What a delicious treat! 🙂 Also, if you stop by their booth 4674 at the NRA show you can meet their Brand Ambassador: Master Chef Season Six Contestant, Tommy Walton. He'll be making an appearance all 4 days of the show.
If you found this review and information helpful, follow along @Chiataglance on Instagram, Facebook, and Twitter as I cover the 2018 National Restaurant Association show!

Copyright secured by Digiprove © 2018