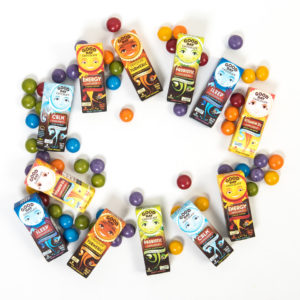 Remember last week when I was flaunting on the gram all the goodies I picked up from the Sweets and Snacks Expo? LOL…I'm slowly getting through sampling them all, but one product in particular stood out to me. Have you heard of Good Day Chocolate? Basically its "Chocolate with Benefits." You pick one of the candy coated chocolate supplements based on which mood you're going for. Each of the chocolate supplemental pieces mixes premium supplements with Fair-Trade milk or dark Chocolate. The candy coated chocolates are colored with fruits and veggies.  Studies show that absorption can be improved by ingesting functional ingredients inside of a whole food like chocolate. I picked up samples of these chocolate covered mood pieces at the Sweets & Snacks Expo to try:
SLEEP (A better nights rest)
CALM (Anxiety Relief)
ENERGY (Boost of energy)
TUMERIC – (For Anti-Inflammation)
VITAMIN D3 – (A Vitamin many people are deficient in. (Hello Sunshine)
PROBIOTIC – (to promote digestive health)
Sounds interesting huh? Me and my friends have been testing out the chocolates and let me say I'm definitely always in need of the energy supplement!At the Sweets & Snacks Expo they also debut new products for kiddos and bigger bottle for adults. Keep reading below to find out more!
Good Day Chocolate Introduces New Line of Children's Supplements
Makers of "Chocolate with Benefits" for Adults Launches Kids Vitamin & Supplement Alternative to Gummies
Good Day Chocolate, the nationally-distributed supplement company that created a category of chocolate supplements for adults on-the-go including Sleep, Energy and Calm is launching a new product line for kids and another option for parents beyond gummies. Multivitamin and Probiotic support daily health and digestion wellness while Sleep and Calm provide sleep and anxiety relief.
All four chocolate supplement varieties come in 50-count, child proof, BPA-free bottles and are recommended for children ages three and older. They're hitting vitamin and supplement shelves nationwide at Target and are available online at Target.com, GoodDayChocolate.com and Amazon.com. Additional stores will be announced soon.
Doctor founded and strong advocates for responsible dosages, Good Day Chocolate for Kids are pediatric doses of pharmaceutical grade supplements made with delicious, Fair-Trade milk or dark chocolate and candy coated with colors from fruits and vegetables.
 Multivitamin supports the needs of growing kids with a complete, daily dose of important vitamins including A, B6, B12, C, D, E Folate and Biotin made with Fair-Trade milk chocolate.*
Probiotic helps promote healthy digestion and a happy tummy with 1 billion CFUs (colony forming units) of extensively researched probiotic strain, Bacillus coagulans, made with Fair-Trade dark chocolate.*
Sleep provides gentle and safe sleep relief for occasional restlessness with 1mg of melatonin, a pediatrician-recommended sleep aid, made with Fair-Trade milk chocolate.* The Pediatric Research Department at UCSF, which is lauded as the #1 pediatric research facility in the country, is currently using Good Day Chocolate Sleep in a clinical study of headaches and migraines in children.
Calm is a blend of L-theanine, a naturally occurring amino acid found in soothing herbal tea, with relaxing chamomile flower made with Fair-Trade milk chocolate. L-theanine is the #1 supplement therapists recommend for anxiety relief.*
"After years of research, we intentionally chose chocolate instead of a gummy or a pill as our delivery system," explains Andy Goldman, M.D., surgeon and co-founder of Good Day Chocolate. "Chocolate is a real, whole food with antioxidant and anti-inflammatory qualities, and is one of the most effective delivery formats for vitamins and supplements due to the natural combination of sugar and fat, which helps the body metabolize it more effectively and efficiently."
Known for their popular "chocolate with benefits" for adults, Good Day Chocolate was founded by a facial plastic surgeon and Ear, Nose and Throat doctor, Andy Goldman M.D. Because of these roots, the team takes their supplements and ingredients seriously. Good Day Chocolate only uses premium, pharmaceutical grade supplements, and every product is third-party tested three different times during the manufacturing process to ensure accurate dosages. All of their supplements are manufactured in SQF-2 facilities – a highly reputable food-safety certification – and made with non-GMO ingredients and Fair-Trade milk or dark chocolate. The candy-coated shell, which helps protect the chocolate from melting, is colored with fruits and vegetables.
With a facial plastic surgeon behind the concept and faces on every package, Good Day Chocolate believes in the power of smiles. Since 2014, they've partnered with the global non-profit organization, Smile Train, to help provide cleft repair surgery to children in 85+ developing countries. A portion of all sales from the new Good Day Chocolate Kids line is donated to Smile Train. Learn more at SmileTrain.org.
About Good Day Chocolate
Based in Boulder, Colorado, Good Day Chocolate started in 2010 when co-founder, Andy Goldman, M.D. began crafting lollipops with functional medicine for kids who struggled to swallow their medication following tonsil surgery. Dr. Goldman's idea evolved into mixing premium supplements with Fair-Trade chocolate, because studies showed that absorption could be improved by ingesting functional ingredients inside of a whole food like chocolate. Fast forward to 2014 and Good Day Chocolate was born when they launched Sleep, Energy and Calm products for adults nationwide. Since the launch, they introduced Turmeric for anti-inflammation, Vitamin D3 – a vitamin many people are deficient in, and Probiotic to promote digestive health.* Most recently, they introduced their new line of supplements for children, including Multivitamin, Probiotic, Sleep and Calm. For more information visit gooddaychocolate.com
*These statements have not been evaluated by the FDA. This product is not intended to diagnose, treat, cure or prevent any disease. 

Copyright secured by Digiprove © 2018