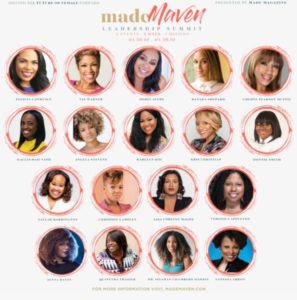 The Inaugural MADE Magazine "MADE Maven Leadership Summit" was this weekend at the Virgin Hotel in Downtown Chicago! The MADE Maven Leadership Summit is a weekend long career-changing experience designed to inspire, cultivate and position rising women of color for leadership roles in business, philanthropy, and professional sectors. The unique landscape of the MADE Maven Summit drives female leaders forward through targeted career resources and intimate environments that foster professional growth.
I was invited to cover the summit as a blogger/influencer and I was DEFINITELY inspired from beginning till end! The kickoff began with the pre-summit party on Saturday night hosted by Felicia Lawrence from The Jam TV Show. DJ Protégé was AMAZING and kept the crowd energized. We were also treated to several musical performances and got a chance to network with each other before the summit began the next day.
Sunday started with the connection breakfast where the mingling continued. This time we were seated at smaller tables and there were ice breaker questions to get the conversations going. Mid-way through breakfast there was a mini panel discussion between Robin Ayers (Empowerment Speaker and Author) and Ranada C. Shepard (Writer/Coco Cubana Productions). Ranada discussed her life, her journey to being where she is now, and several projects she has coming up. After breakfast we split up into the workshops we selected. Since I'm a lifestyle blogger, I chose to attend all the influencer related workshops:
Workshops Tavi J. of Chiataglance.com attended
When PR Pros and Bloggers Meet: Hosted by Vanessa Abron (Public Relations Pro)
Capturing Audience: A Guide to Social Media Amplification: Hosted by Taylar Barrington (CEO of Cliquish)
You're a Badass: 12 Ways to negotiate like one: Hosted by Cheryl Grace (SVP at Nielsen)
Personal Branding 101: Hosted by Aaja Corinne (Brand Strategist)
We then ended the workshops with everyone regrouping for a motivational panel discussion led by Val Warner of Windy City Live where she interviewed: Halleemah Nash (Chief Partnerships Office of The Academy Group), Kris Christian (Founder and Publisher of MADE Magazine), Karleen Roy (Experience Curator at The Vanity Group), Angela Stevens (Author and Celebrity Hair Stylist). What a great discussion about their careers and how they rose to the top of their game while being a woman of color in a mostly white male dominated world. One of the biggest takeaways I took from the discussion is we need to help each other get to the top. There is room for ALL and we can't have the attitude of "I will help you…as long as you're not doing better than me." That hit really close to home with situations I have been in. The helping stopped when I got too close for comfort to the next position. Val even shared a real life story of her own that happen to her when she first started out in journalism. With all that learning it was time to end the day with a party on the Rooftop at Cerise where even more mingling and Sisterhood occurred. 🙂
Keep scrolling because I'm giving you blogger/influencer tips below that you may already know, but a refresher is always good. 🙂
Influencers must be clear and concise with their blog subject and content to attract the right brands for partnerships and PR relationships.
Interesting…..some PR professionals will follow an influencer on social media for a week or so to get the feel for the influencer's brand and see if it will be a good fit for the brand they are working with and the PR firm in general.
If you need help determining what your price structure should be in working with brands a good source is Social Blue Book (Socialbluebook.com). Based on your number of followers and several other factors it helps you to determine a price structure you can share with the brand you are trying to engage with.
You want to make sure you're viewed as authentic as possible. Blogger Natalie Craig (Instagram @NatalieXCraig) said she keeps the 60/40 rule. 60% of her content is unpaid and 40% of her content is sponsored ads. CEO of Cliquish (www.cliquish.com) Taylar Barrington says she keeps it 80% unpaid and 20% paid rule. You have to decide what works for you and how your audience will view you. Staying authentic is KEY! Your audience needs to trust you. One example I found hilarious is if you had a sponsored post with AT&T, but then next week you're advertising for Sprint. Your audience will not take your posts seriously. Even if it's a sponsored ad it should be something you would stand behind. Honesty is essential!
There's room for all types of influencers no matter the size of your following! Influencers with 10,000 or less followers are called micro-influencers. If the quality of your work is good there are still ways to build relationships with PR firms/brands. (I can attest to this!) Show them what you have to offer and maybe instead of a paid campaign they will give you merchandise, etc…for free.
It's important to remember your role as an influencer. You're providing a service to your audience and claiming to be an expert in whatever area you're representing. You need to clearly know who your audience is, trends happening in your industry, and be able to establish trust with your audience.
Work smarter and not harder! Several tips…. like using a content calendar to schedule posts. Or combining things you can use across various platforms. Example: if you are doing a photoshoot for a bikini and also for natural hairstyles… is there a way you can do a combined shoot to accomplish both?
How to hack your growth by knowing what engagement people are most interested in. Great site to view is trends.google.com. You put in keywords and it will show you which words are being searched for the most. Once you figure that out you will want to use that keyword in your title, hash tag, etc…
For YouTube creation it's important to know your SEO (Keywords/trends)
Switch to a business account on Facebook so you can get extra insights like knowing what time your subscribers are using the platform. Put location tagging on your posts, tag popular pages that share content, and use videos on Instagram. Instagram LOVES videos!
Get an email address that matches your company site. People will take you more seriously versus an email coming from aol.com or gmail.com. If you're looking to make money like a business you need to act like one. Make sure you get business cards as well too.
You need to keep a "I've Done Good File." Meaning, things you have done that are over and beyond what is required of you. That way when you go to ask for more money you readily have at hand why you are deserving of more.
Strip being emotional out of the equation when negotiating. (Lower your voice, have your hands in your lap, give your drop dead number, and then remain silent…let them squirm). 🙂
Loved the refresher and the tips I learned. I hope to see a MADE Magazine "Made Maven Leadership Summit II" in the future.

Copyright secured by Digiprove © 2018