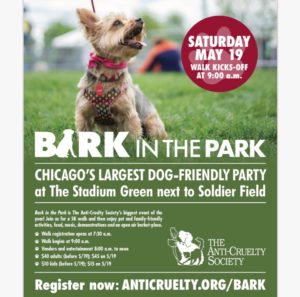 Event: Bark in the Park
Hosted By: The Anti Cruelty Society
When: Saturday, May 19th
Where: Soldier Field – 1410 S. Museum Campus Dr.
Tickets: Bark in the Park Website
Time: 7:30am (Walk kicks off at 9:00am Rain or Shine)
It's that time again to grab your canine friend and give back to a great cause! The Anti-Cruelty Society is back with their annual Bark in the Park (Optional 5K walk). I went last year and it's a ton of fun! Check out the details below.
The Anti-Cruelty Society to host Bark in the Park, Chicago's Largest Dog Party
The Anti-Cruelty Society's 24th

annual 5K walk and outdoor party to take place Saturday, May 19, 2018

 
CHICAGO—Dogs are leading their humans to the best canine event of the year—The Anti-Cruelty Society's Bark in the Park. On May 19, 2018 at 7:30 a.m., rain or shine, thousands of dogs and their owners are scheduled to hightail it to the Stadium Green at Soldier Field for a morning of fun and an opportunity to raise funds and awareness for The Anti-Cruelty Society, Chicago's oldest and largest animal welfare organization. 
At 9:00 a.m., the optional 5K walk will offer participants sweeping skyline views as they stroll along Chicago's famous lakefront path surrounded by fellow animal lovers and their canine companions. The party continues until 12 p.m. with activities including an agility course, professional demonstrations, a spa area and dog massages, food samples, live music, a beer tent, a team scavenger hunt, family-friendly activities, and the 'barket-place', offering dozens of vendors along with experts in dog care and dog behavior.
Advance registration is $40 for adults, $10 for children 3-12, and children under 3 and dogs are free. Participants are encouraged to join a team or walk as an individual and fundraise for the Society. Fundraising pages can be created by visiting the Bark in the Park website and prizes are awarded to the top fundraisers. 
"Bark in the Park is a fun event for the whole family," says Dr. Robyn Barbiers, President of The Anti-Cruelty Society. "Bring your dog and join other animal-lovers at this event to support the thousands of homeless animals the Society cares for each year!"
Dog owners planning to attend the event with their pets are required to have their dogs up-to-date on their vaccinations and are encouraged to vaccinate them against the canine influenza virus. Dogs must be on a static leash; retractable leashes are not allowed at the event.
This year's event is sponsored by Hill's Pet Nutrition; Lagunitas Brewing Company; MedVet as the official veterinary partner; BMO; Dr. Sheldon and Paulette Rubin; Energy BBDO; Kelley Drye; Ice Miller, LLC; Intouch Solutions; Kriser's Natural Pet; Metropolitan Veterinary Care; Steve, Kristine, Hannah, and Max Shanker; Tucker Pup's Pet Resort: Blum Animal Hospital; PetSmart; Nutri Source; Pure Vita; Ollie; Veterinary Specialty Center; Barefoot Wines; Roscoe Village Animal Hospital; Chipotle; Chiro One; Henry Schein Animal Health; High Hopes for Pets; Jonathan Rosen/Pokorny Marks, LLC; Family Source Consultants; Gogo Squeeze; Lifeway Keifer; Pap Johns; Kona Deep; Sparkling Ice; Cross Town Fitness; ABC 7 Chicago; and Chicago Magazine
For a look at pictures from past years, visit our Flickr. For more information call 312-644-8338 or email events@anticruelty.org.
About The Anti-Cruelty Society
Founded in 1899, The Anti-Cruelty Society is Chicago's oldest and largest, private, open-admission, unlimited stay humane society. With a mission of building a community of caring by helping pets and educating people, our comprehensive programs and services help over 50,000 animals and humans every year and include: adoption, charity veterinary clinic, low or no-cost spay/neuter clinic, cruelty investigations and rescue, humane education & community outreach, a free behavior helpline, dog training classes, S.A.F.E. program (short-term accommodations for emergencies), The Bruckner Rehabilitation & Treatment Center, the Virginia Butts Berger Cat Clinic, and the Dog Rehabilitation Center. For more information, visit www.anticruelty.org or call (312) 644-8338 .      

Copyright secured by Digiprove © 2018