I never gained the freshmen 15 and for the most part have always been thin all my life. I ate whatever I wanted, whenever I wanted and didn't really start to notice a change in my body until around 29 or so. Fast forward to the last few years I've wonder WTF happen?!? Now I feel just looking at food causes me to gain weight. If I'm being honest though, several factors have contributed to my 40 pound weight gain. Number 1 is definitely blogging. I go to several events a week that involve food/alcohol and me reviewing what I think. To top that off I wasn't getting my steps/exercise in the way I used to and was pretty much sedentary. I kept thinking that I wanted to make a change and even signed up for classes at a fitness facility, but I just didn't go. I knew it was time for me to get serious about losing weight when I was having a conversation with a friend about a month ago regarding a gala I had coming up. The gala was about a few weeks out and I told her I had found the cutest dress, but it was a little too big. The next words out of my mouth were "I'm sure I'll grow into it." WTF….I am a grown 30 something year old woman and I shouldn't be growing into clothes anymore.
Sometimes you know exactly what you want, but you need that extra push to help you reach your goal. Having a personal trainer can come in handy to get you started on the right path. It's nice having an accountability partner, but it's even better to have someone that will analyze your food intake/activity and put together a specialized schedule to meet your needs. Weightloss can't be "Cookie Cutter." Our bodies are different, so our meal/exercise needs will be too. I started working with Certified Personal Trainer/Nutritionist Kati Zuromski via her one on one online program. Kati really wants to get to know her clients to make sure your healthy lifestyle goals are manageable and still enjoyable. I started off completing a questionnaire where I told her about myself and the lifestyle I currently lead.
For me, my schedule is a little crazy. I work remotely and have several events I go to a week. (Sometimes 2 or 3 events in one night). My biggest problem is overindulgence at these events. I also started working remotely and wasn't getting in the normal exercise I got from walking 2 miles to and from my job. Besides the questionnaire, Kati also had me do a food journal for 5 days so she could analyze when and what I ate. My problem, believe it or not, was I wasn't eating often enough. I tend to eat 3 big meals a day and I'm not a snacker. In order to get my metabolism going she wanted me to switch to 3 small meals and 3 snacks. There were also exercises she had me complete.
Working with Kati has been great! You want to find a personal trainer that understands your goals, lifestyle, and how you operate. I'm not going to lie I had to do a major over hall in my kitchen. It wasn't that I had the wrong foods…it was that I had no food. LOL. I go to events and eat out so much that the only thing I keep in my house is water. I had to do a big grocery purchase $$$, but the thing to remember is some of the items like seasonings will last you quite a while and in the end will be much cheaper than eating out. I also like how Kati suggested more generic products to make sure it was more affordable. My prerequisites were the meals had to be easy to make and still taste good. Mission accomplished! One of my favorite meals on our 2 week meal plan was actually mac and cheese with turkey. I also loved the egg and bacon sandwiches we rotated between for breakfast…oh and the berry protein smoothie. See what I mean? Eating healthy doesn't have to be boring.
Sample Recipe – Protein Mac and Cheese (Serves 6)
Ingredients
5 oz Chobani 0% Plain Greek Yogurt
3 tablespoons Cheese, Parmesan, Grated
3/4 cups Cheddar Cheese, Extra Sharp, Reduced Fat
1/2 pounds 93% Lean Ground Turkey (cooked)
6 oz 100% Whole Wheat Pasta
Instructions
Cook pasta and turkey; mix all ingredients with a tsp of garlic powder and onion salt and separate in to 6
containers – lunches for the week!
You may already feel defeated and think you won't be able to stick with the program. I always say you never know if you don't try. You have to give yourself credit for taking action to change your lifestyle for the better. That however doesn't mean you're not going to make mistakes. I was doing so well on the first two days of my eating. All of a sudden a director of a major car company loved my blog and invited me to attend the Bulls Game in their suite to discuss possible collaborations. I cannot pass up the dessert cart when I'm chilling in a suite at a sports game and I didn't even try. What I did do though is NOT beat myself up. I cut out my snack for that day and did extra exercises. I love how Kati emphasizes that life is meant be lived and we need to make adjustments instead of depriving/punishing ourselves.
Reality Check…..Losing weight is not an overnight process. I've only been working with Kati for two weeks (started March 11th) and I was realistic going into it. I didn't expect to lose 10 lbs in two weeks! LOL.. What I did want however, is to make changes that will benefit me and help me to lose weight in the long run. That did happen! All the water she had me drinking (sometimes up to 95oz a day) really changed the appearance of my skin. I also did lose a couple of pounds and inches in my waist. I have never been one to weigh myself and moreso judge by the way my clothes fit. I'm noticing less snugness in my jeans which is definitely going to motivate me to keep reaching for my final weight goals. Does my story ring true to what you're going through? Then maybe an online personal trainer is what you need too! Check out Kati's information below and feel free to reach out to set up a consultation. Keep scrolling because there were fitness questions I was curious about and hopefully these will give you the answers you need too! 🙂
Follow Kati Zuromski on Social Media!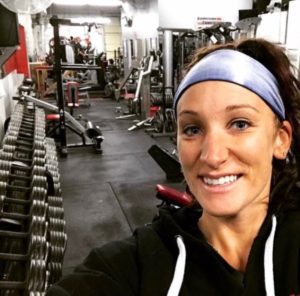 Tavi J. Question/Answer session with Certified Personal Trainer/Nutritionist Kati Zuromski
Is it a myth you should stop eating after a certain time in the evening?
Yes, it is a bigger concern as to WHAT you are eating and calories being taken in. We want to focus more on the food that you are putting into your body, to make sure you are getting the proper nutrients you need and your calories being balanced out with the calories you burn in a day. Some dietitians even promote a healthy snack eaten before bed, it helps you fall asleep faster, stay asleep longer, stabilizes blood sugars, and will encourage a healthier overall lifestyle.
What is the best time of day to work out or does it matter?
There is no overall time that is best for everyone, just like our diets and workouts themselves the time of day can be customized to you so your body will adapt. It is important to get yourself on a schedule though, if you can only do mornings 3 days a week and the rest of the week in the afternoons then do it! Your body will learn this routine and benefit from it, both mentally and physically, more so than randomly going at different days and times. Some people think early morning workouts are best, others state it's the afternoon, but the bottom line is any workout at all is better then nothing!
What are your thoughts on intermittent fasting?
Intermittent fasting is something that is definitely not for everyone, if not done properly (or if the proper research/knowledge isn't behind it) it can do more harm than good. I highly recommend that anyone new to intermittent fasting wants to try it, talk to a professional first and make sure they guide you through your first run of it. It does have benefits when done properly!
What do you do if you're not a fruits and vegetables type person?
Ah yes, I get this question and concern quite often! I have created some great recipes for "masking" fruits and vegetables to make sure my client gets what they need, but there are also some great products on the market today! Such as V8 juice everyone knows about, but my new favorite item(s) are from Green Giant. In the freezer section of your local grocery store, look for the Green Giant bags! They now make veggie tots, cauliflower rice and a killer bacon cauliflower mash (that's right I said BACON and it's healthy!), this is just a few things on a long list of their products they now have. These aren't your normal frozen bag of plain vegetables, these have flavor and definitely don't taste or even look like vegetables but have all the nutrients! For fruits I also suggest and share my recipes for smoothies, shakes, dried fruit, make your own "ice cream" or make at home real fruit roll ups!
What are small steps we can do now to get in shape if you totally fell off, but want to take baby steps to get back on track?
I am all about having a plan! Mental awareness of your goal and setting a schedule for yourself is KEY when trying to get back on track or start up in general! If you don't have the mental game plan, the physical portion will just fall by the way side and you will be more likely to derail. Start slow and do a little at a time too if this is something totally new to you, it can be very overwhelming if you are trying to meal prep 24 meals and workout 2 hours a day. Pick a class you've always wanted to try or pick 3 days you promise you are going to hit the gym, then meal prep just lunches and snacks for 7 days. Build up to the full blown routine, especially if you are starting back out too! It can be very hard to break old habits, so easing your way back into it is going to be the best way to stay on track. Also, set REALISTIC goals!! So important to celebrate the small goals and build up to that 20lbs weight loss, don't try and lose it all in 3 weeks you will only get frustrated and want to quit.
How important is breakfast in a weightloss plan? How about snacks?
Oh my breakfast and snacks are VITAL!! I know plenty of people that aren't "breakfast people" or snackers, but it is so important I cannot stress it enough to kick your metabolism into high gear by eating upon waking and every 2-3 hours. Breakfast jump starts your day, will make you crave less of the "bad" foods and feel fuller longer. You want to shoot for roughly 6 small meals a day, or 3 meals and 3 snacks. Just something small even will be more beneficial than nothing at all, you want your body to continually feel fed and have the proper nutrition going in to make it perform at the highest level!
What is the healthy amount of lbs to drop per week?
Depends on the person and the body type, but a good general umbrella is between 1-2lbs a week. Again, depends on the person's body make up since some people should only lose .5-1lbs a week. Someone who used to run marathons and never eats carbs will lose differently, as they should, then someone who is very obese and is just starting their weight loss journey.
When you go out and don't want a salad what's the next best thing on the menu to look for?
Best rule I tell my clients is have an evenly portioned plate, you want to have a good balance of protein and vegetables with a handful of carbs. Any type of lean protein is always good like a chicken or fish (not fried) with a side of steamed or roasted vegetables, with a non fried carb on the side is perfect. I also suggest letting the waiter know that you would like to pass on the bread basket, it fills you up to much for your main meal but also is a waste of calories and carbs when you could use those for something you really want!

Copyright secured by Digiprove © 2018