Event: COCHON555 Chicago
Date: April 8th
Time: VIP Entry 4pm/ General Public 5pm
Where: Hilton Chicago Hotel
Address: 720 S. Michigan Avenue, Chicago IL 60605
Website: http://cochon555.com/us-tour/2018-chicago/
This little piggy went to the market, this little piggy stayed home, and several little piggys will be heading to Cochon555 on April 8th! That's right Cochon555 is back in the CHI. All-Star Chefs who specialize in whole animal cooking will be paired with farmers responsibly raising delicious heritage breed pigs. This event will feature prominent chefs, farmers, sommeliers, distillers, brewers, and barkeeps all coming together to provide education and a food experience to be remembered. Cochon555 aims to raise the bar on building a sustainable and profitable relationship for brands and chefs. Scroll down for more details and make sure to follow along with me on social media @chiataglance as I hog all the food (see what I did there). ?
COCHON555 RELEASES COMPETING CHEF LINEUP
HILTON CHICAGO HOTEL TO HOST REGIONAL CULINARY COMPETITION
Cochon555's Competition Will Feature Top Chefs, Best Barkeeps and Sommeliers to Benefit Charity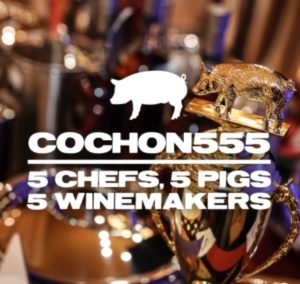 CHICAGO (February 28, 2018) — With an all-star cast of chefs who specialize in whole animal cooking paired with farmers responsibly raising delicious heritage breed pigs, Cochon555 returns to Chicago on April 8. The all-inclusive feast hosted by the beautiful Hilton Chicago Hotel will feature a hundred-plus prominent chefs, farmers, sommeliers, distillers, brewers and barkeeps all working in concert to create luxurious moments that educate the palate. At the heart, Cochon555 aims to create moments of inspiration, and to engender discussion and action – to buy, to cook, shop and donate in the name of safe, honest, and delicious food. For an in-depth look at the distinguished providers behind the Cochon555 movement, to share a video, and to purchase tickets, please visit http://cochon555.com/us-tour/2018-chicago/
Cochon555 is proud to announce this year's group of cutting-edge chefs from across the city, each cooking one whole heritage breed pig raised by a family farm. The competing chefs include Mario Garcia of Kitty O'Sheas, Cory Morris of Boleo at the Kimpton Gray Hotel, Ryan Burns of The Blanchard, Andres Padilla of Topolobampo, and Carlos Gaytan of Mexique. One week before the event, each chef receives a 200-pound heritage breed pig sustainably sourced from 1936 Meadowbrook Farm, 3 Winds Farm, Catalpa Grove Farm, Meadowlark Farm, and Faith's Farm, Inc. to create a maximum of 6 dishes for competition. With dozens of bites from iconic local chefs, boutique distillers, and artisan winemakers, the event is akin to an epic tasting menu of heritage breed pork with endless beverage pairings taken standing up.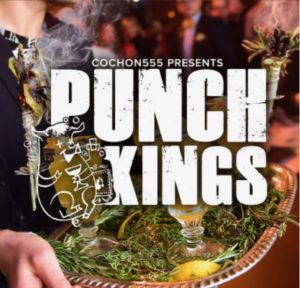 To win the friendly competition for a cause, a chef's menu must woo twenty celebrity judges with their "Judge's Plate" scored on utilization; technique; and overall flavor and be voted "best bite of the day" by guests. The winning "Prince of Pork" in Chicago will advance to the national finale, Grand Cochon, a head-to-tail, winner-takes-all showdown for the crown in Chicago on September 30th. Additionally, running in tandem are two satellite beverage competitions to complement the whole-animal tilt; Punch Kings, a whole bottle, large-format spirit competition featuring five top barkeeps in a hand-crafted punch challenge and Somm Smackdown, a face-off of five top sommeliers pairing the best wine with heritage pig.
Placing the spotlight on "knowing where your food comes from", each event features an educational whole animal butchery program called the Pop-Up Butcher Shop and Silent Auction to benefit charity. This year's headlining all-star butcher is Rob Levitt of Butcher & Larder. Together with gifts from chefs, sponsors and John Boos & Co., they will raise money to benefit Piggy Bank, a start-up farm in Missouri that serves as a kickstarter for new family farms and a safety net for those in the wake of a disaster (flood, fire and disease). As an accelerator, Piggy Bank supplies piglets to small farms in exchange for business plans that are posted online in the name of transparent "open-source agriculture".
The ultimate aim of Cochon555 is to provide education to chefs and consumers and create experiences that guests can sink their teeth into: honest food from real farmers. The goal is to raise the bar on building a sustainable and profitable relationship for brands and chefs participating in culinary festivals.
Tickets for general admission start at $130; VIP tickets (early admission + exclusive access to cocktail competition and allocated wines and spirits) are $200.
Where: Hilton Chicago Hotel, 720 S Michigan Ave, Chicago, IL 60605
When: Sunday, April 8, 2018
Time: 4 p.m. for VIP entry, 5 p.m. for General Admission
"We're incredibly excited to return to Chicago during our 2018 tour," says Cochon555 founder Brady Lowe. "The tour is about uplifting small, family farmers through epic culinary moments. We create and restore connections between the farmer and chef who want to raise, source and serve food raised with purpose and passion. Together, through eating, we become stewards of the good food movement, motivating change and celebrating 'landscapers' who lead us to a safer and more delicious future."
Dishes for the competition are just the beginning — all in, we're talking about 1,500 pounds of responsibly raised heritage breed pork and dozens of delicious drinks from some of the best bars in Chicago. The Welcome Lounge features punches featuring Buffalo Trace and our signature Cheese Bar featuring Cello, Yellow Door Creamery and Cypress Grove. Sip sparklers from Topo Chico, a signature Gin Experience presented by Monkey 47; and the Manhattan Project featuring premium bourbons from Eagle Rare, Buffalo Trace, and Breckenridge topped with Luxardo cherries. Learn about pairings at the TarTare Bar aligned to the wines of Antica Napa Valley, wine paired with organic pâtés and mousses from Les Trois Petits Cochons, and taste through the stunning portfolio of Wines from Rioja. A "Taste the City" culinary spotlight will feature the racy portfolio of Wines of Germany and an array of wines grouped under the "5 Winemakers" banner will feature Silver Oak; Pax Wine Cellars; Twomey Cellars; Sandhi and more. Cochon555 will debut a new experience called Trompo "Hora de Familia" in celebration of its first Global Cochon555 event in Mexico City later this year. Guests wanting a sweet bite will enjoy the Innovative Dessert spotlighting notable pastry chefs working with Perfect Puree of Napa Valley.
About the Cochon555 US Tour
The Cochon555 US Tour executes a yearly host of authentic, hyper-local food events focused on raising awareness for heritage breed pigs through an innovative nose-to-tail pig cooking competition. This epic pork feast visits 15 major cities in North America annually. The tour is comprised of an array of live expressions and cultivates a long-term impact for heritage species. Both educational and inspirational messages are circulated among 16,000 guests; 2,200+ chefs; 150+ family farms; and culinary schools each year. Since 2009, 108,000+ consumers have experienced heritage pork for the first time, more than $1,100,000 has been donated to charities, and over $1,200,000 has been paid directly to our farmers. For more information, visit www.cochon555.com or follow @cochon555 on Twitter and Instagram.
About Piggy Bank
Launched in 2015, Piggy Bank is creating a farming sanctuary for heritage breed pigs, many of which are endangered. Piggy Bank will provide genetics and access to shared business plans for raising heritage pigs to emerging family farms. Piggy Bank aims to change the future of food by creating a community in which small farmers can learn about safer, more responsible practices and share genetics, livestock, and the very information needed to thrive as small businesses. Piggy Bank is building a model of socially responsible agricultural transparency. Piggy Bank proudly operates as a project of the Trust for Conservation Innovation, a 501(c)3 tax-exempt nonprofit organization which accelerates impact for initiatives focused on protecting and fostering a healthy, sustainable, resilient, and equitable world. For more information or to donate, visit www.piggy-bank.org or follow @PiggyBankOrg on Twitter. Watch the video http://j.mp/PIGGY_BANK.
About Hilton Chicago
Conveniently located on Michigan Avenue across from Grant Park, the iconic Hilton Chicago combines a contemporary design with an exciting atmosphere. The newly renovated 1,544 guestroom hotel boasts more than 234,000 sq. ft. of meetings space and can accommodate large conferences and conventions, smaller meetings and elegant banquets. Additional amenities include an indoor running track, large fitness center, indoor pool as well as dining options including 720 South Bar & Grill, Kitty O'Sheas Irish Pub, and Herb N' Kitchen. www.hiltonchicagohotel.com

Copyright secured by Digiprove © 2018