Sweet home Chicago! I don't know about you, but I love heading out the door in our great city of Chicago and seeing camera crews everywhere. I've seen Chicago Fire being filmed 3 times around my home (Gold Coast) and job (Downtown Loop) area. It's so cool to see the scenes you've witnessed in person on the TV screen. I've only encountered friendly experiences with the cast/crew and that was how it was at the OCE Productions Chicago Hero's Event. 🙂
A little over a thousand fans of NBC Chicago Fire, Chicago PD, and Chicago Med gathered at Navy Pier for photo ops, meet & greets, and autograph signings with their favorite onscreen hero's. A portion of the proceeds from the event benefitted St. Jude Children's Research Hospital.
If you're a fan of the shows (as much as I am) this event was the place to be (March 3rd and March 4th). The Meet and Greets allowed you to ask your favorite actor/actress anything! You know I love food, so I asked Nick Gehlfuss – (Will Halstead from Chicago Med) what his favorite Chicago Restaurants are. He loves Alinea and Girl and the Goat. So do I!!
I LOVE ALL of the Chicago series, but the main part of my day was spent with Marina Squerciati (Kim Burgess) and La Royce Hawkins (Kevin Atwater) from the NBC hit TV show Chicago PD. The hour was spent asking questions about the show, life, and taking selfies. 🙂  Some of the things we found out were pretty surprising! Like did you know La Royce (Kevin Atwater) was the only one that had never held a gun before being on the show? He said his first scene was so uncomfortable when he had to hop out of a car and pull his weapon. Luckily they do get to train and get tips from real life Police officers, so any discomfort quickly disappeared. Marina (Kim Burgess) added you can tell from the small things the shows that get real feedback from police officers versus those that don't. For example, when chasing after someone you're never supposed to have your finger on the trigger. If you see a movie or TV show where they do…..well chances are they don't have real police on set. They both agreed with all their training they think they could last at least 5 days on the real streets of Chicago policing. LOL
For now though there happy using their police training just on the set. 🙂  They do have favorite episodes and La Royce said his was this season when he was stuck in the warehouse fighting for his life with actor Mekhi Phifer. La Royce said when your stuck in a room for 2 or 3 days filming it's more like being on a set for a play. During that time La Royce said he learned so much from Mekhi and Mekhi is such a gracious actor. La Royce said filming with Mekhi is like how Allen Iverson must of felt when he got to play with Michael Jordan. ??
We also delved a little into discussing the interaction with other characters on the show. One name that kept being brought up a lot was Voight. When Kevin Atwater and Kim Burgess went into intelligence they were both very ambitious. As the series goes on though you can see it's starting to take a toll on both of them. If you watch the show you know that Voight isn't a play by the book type of guy. Kim did a very unethical act of not disclosing what she saw during a scene last week. When she spilt what she did to Voight, instead of lecture or punishment, he popped open the bourbon and toasted to her wrong behavior.
Kevin Atwater went into policing because he wanted to help his family and community, but now he's realizing how much he's compromising. His brother and sister were put at risk and so was his life when he nearly got killed by the Latin Kings. Kim Burgess character also has changed a lot. Especially after the rape of her sister. La Royce joked in the meet and greet that now Kim and Voight are bonding over bourbon and dead bodies. ?
I think the funniest part of the meet and greet was La Royce bringing up the fact that his character is the only one that hasn't had a love interest story line on the show. He joked that his Tinder profile would be way too powerful for anyone to handle. LOL…6'3, black guy, 250 lbs, good with hand cuffs. He said the average chick doesn't want that and the chick that would probably has a misdemeanor. He wouldn't be able to go on dates on the show because he arrested most of his dating pool. La Royce does hope to have a love interest on the show, but the show is based on priority of stories. Rumors are floating around though that the show is playing around with having Kevin's dad come out of jail and fight for custody of his brother and sister for financial gains. (Now that would be interesting!)
Such a fun time at the Meet and Greet and a great opportunity to get to know your favorite characters!
Check out my top 7 shockers from the meet and greet with
La Royce Hawkins and Marina Squerciati
La Royce does Stand Up comedy.
Marina was 7 ½ months pregnant when she did a bar fight scene.
La Royce was almost Otis from Chicago Fire, but they went in a different direction. He was then cast as Kevin Atwater (Orignially named Keith Atwater) for the show Chicago PD.
Originally Marina was supposed to have a reoccurring role on Chicago Fire, but that contract fell through and she was cast as Kim Burgess as a series regular on Chicago PD.
For the whole first season of Chicago PD, Marina kept her full time job as a Paralegal. She wanted to make sure the show was picked up for a second season before she quit, so she was for sure to have a job. Now that's what I call dedication! Don't ever give up on your side hustle people!!!
If they could do a cross over on a non-Chicago series show Marina would choose Ozarks and La Royce would create a Wakanda PD show. LOL
La Royce said if there was another Chicago series he could see there being a Chicago Public School series and he would like to play the basketball coach or the hot substitute teacher. LOL (Seriously La Royce is hilarious).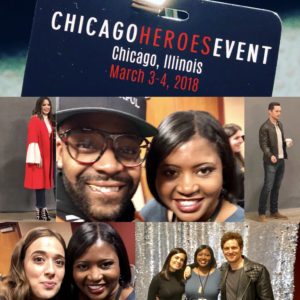 I can't wait to see new developments in all the Chicago Series! Fans came from all over to meet their favorite actors. In the meet and greet I attended there were fans from London, Texas, Michigan, Atlanta, and of course Chi-Town. ? Make sure to follow OCEProductions to find out when the next Chicago Hero's Event will be!

Copyright secured by Digiprove © 2018-2023