"Black Panther" follows T'Challa who, after the events of "Captain America: Civil War," Returns home to the isolated, technologically advanced African nation of Wakanda to take his place as King. However, when an old enemy reappears on the radar, T'Challa's mettle as King and Black Panther is tested when he is drawn into a conflict that puts the entire fate of Wakanda and the world at risk. (Movie Information from Rottentomatoes.com)
Cast
Chadwick Boseman – T'Challa/Black Panther
Michael B. Jordan – Erik Killmonger
Lupita Nyong'o – Nakia
Danai Gurira – Okoye
Martin Freeman – Everett K. Ross
Daniel Kaluuya – W'Kabi

Director: Ryan Coogler

Let me preface this article by saying I am not a comic book fan, I don't know much about comics, and this article is not to give you the play by play on the Black Panther movie. This article is purely me, Tavi J, telling you what I thought from my point of view on the highly anticipated Black Panther movie. I definitely was feeling all the hype waaaay before the movie release! Being an African American, when you hear about a movie with a predominantly black cast and an African American director, you already know you definitely want to go out and support. Seeing all the meme's on "What we going to be wearing there" has been hilarious.
I've even been getting emails from clothing stores asking me if I got my outfit ready for the Black Panther premiere. As a normal movie theater goer it's hard to be out here competing with the likes of the celebrities at the world premiere. (Photos from the Official Black Panther Instagram Page).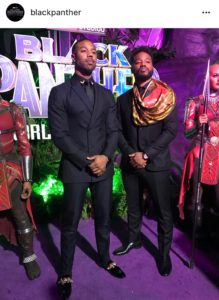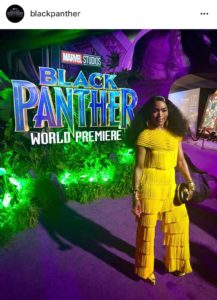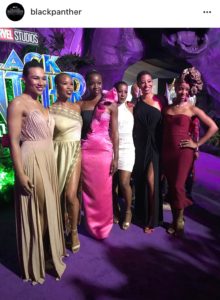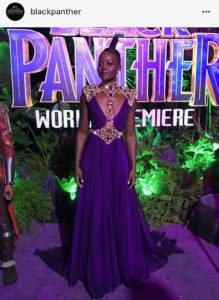 So here's my boring outfit, but my thoughts about the movie are FAR from boring! First off, opening day Black Panther made $76 million, including $25.2 million in Thursday previews. (Forbes.com) That makes Black Panther the fourth biggest Superhero opening day in history. Now that's #BlackStarMagic! ✊?
My friends and I attended a private screening of the movie opening day hosted by the law firm Baker McKenzie. Before the movie we went to a networking reception and then attended a panel discussion regarding the movie. The panelists were:
Professor Blair Davis Ph.D – Depaul University – Associate Professor of Communications. Focuses on intersection film and television with other media industries, comic books, African American cinema, and media ecology, inter alia
Professor Jane Rhodes, Ph.D – University of Chicago – Department Head- Professor of African American Studies, Trained as a mass media Historian, Focus on study of history of black press, media, and social movements, and African American Women's History.
Professor Juan Perea, JD – Loyola Chicago School of Law, Critical Race Studies, Extensive writing on racial inequality, Legal history of U.S. race relations, inter alia
I think it is such an awesome experience to be able to have more insight into the movie before seeing it. Like I mention before, I am not familiar with the comic Black Panther and it was interesting to know that the comic has nothing to do with the actual Black Panther party movement. The Black Panther character is the first black superhero in mainstream American comics and he made his first appearance in the Fantastic Four issue back in 1966. The name of The Black Panther comic was briefly changed in 1972 to Black Leopard to disassociate with the newly formed Black Panther Party. I found it interesting when Professor Jane Rhodes pointed this out on the panel and said at first the movie tried to stray away from comparison to the Black Panther party movement and to not come off sounding too politicized. But then the movie is marketed using terms such as "Revolutionary" which is one word definitely associated with the Black Panther movement. The discussion was a great way to learn more about the origins of the Black Panther comic and party before seeing the movie.
As promised, this article is not a play by play on the movie. There were many  thought provoking statements/quotes in the Black Panther movie that were relevant to today and in my opinion could be turned into essays. Walking into the theater I already had a gut feeling I was going to walk away with so many emotions. I jotted down two quotes that stood out to me that I want to delve more into. It's funny, but the two quotes come from the two enemies in the movie.
Quote: "We let our fear of our discovery stop us from doing what is right." Black Panther
Quote: "Our Ancestors knew Death was better than bondage." Erik Killmonger
Theses two quotes got me thinking of Fear, Greed, Competition, and Freedom.
When your number one at something do you feel the need to share your knowledge freely in order to help others or do you like to sit on the throne and only help a select few achieve the same status? This was the situation in Wakanda. They didn't want to be discovered for fear of their "technology" being stolen and from what I see some greed is in there too. When you see other people living several classes below you in improverished conditions we are not to stand by and watch them die. This can be applied to so many cases in life. So many people have the tools to help people suffering but instead stock pile them because of fear they will one day need them or fear there's not enough to go around or just plain greed because they have the desire to be on top.
As the movie shows though we all are "discovered" one day and what happens when that discovery is made? There comes a point when people get fed up and realize there's nothing to fear anymore and they rise up to fight the bully. It may take years, but eventually the need for freedom causes a revolt and no one wins then. In the movie Eric Killmonger revolted against Black Panther because he was tired of everyone else being in bondage and the resources not being distributed. He may have been the "enemy" in the movie, but he made some valid points. Even till the end when Black Panther fought and offered to save him, he knew if he was saved he would be living in bondage again. "Our ancestors knew death was far better than bondage."
How much do you value your freedom and the freedom of others? Our freedom is tested in every aspect of life whether its work, relationships, or social. We take freedom for granted in every aspect of our lives. We are okay with going the safe route and turn a blind eye to others because it isn't "affecting us." We must learn that when one persons freedom is threatened ALL of our freedoms are threatened. It's a trickle down effect. War is caused by someone not willing to be in bondage anymore. Freedom translates on big and small scales. Close your eyes right now. Take a few deep breaths, clear your mind, think about that one big problem you are facing in your life right now and picture yourself free from it. Don't just picture, but take active steps to free yourself. You're not done once your free. Now it's time to help free the person next to you.
My take away from the super hero Black Panther is we all make mistakes, but there's always a way to redeem ourselves and reach out to help others. Instead of just talking about problems, feeling bad, and then turning a blind eye…..seriously think "What can I do to help?
Thanks for letting me share my thoughts and I hope you go support such an awesome movie!

Copyright secured by Digiprove © 2018-2020