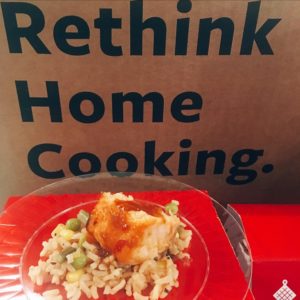 What would you say if I told you there's an oven that can make you top chef quality, healthy meals in less than 20 minutes. What if I further said the only thing you need to do is take the food out of the packaging, put it in the oven, scan a barcode, and viola….the rest is done by "the chef" via WiFI/Cloud. To sweeten the deal you don't even need to go grocery shopping. The meals are delivered to your house fresh once a week.
There's a new food delivery service in town! Tovala is an oven/meal delivery program ALL in one. I'm sure there are variations or similar services, but let me tell you MY story on how I came across Tovala. Back in 2016 I came across a healthy eats food delivery service called Radish. They offered your first meal free, so I had nothing to lose trying them out. You basically downloaded the app, chose your food items, it calculated the calories, and you received your food (same day delivery) hot in about 20 minutes. The food was AMAZING! Most of the meals were 500 calories or less. I was super sad when they went out of business. 🙁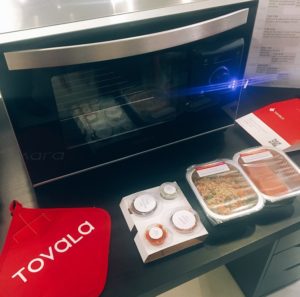 Fast forward to November 2017 I get an email from the CEO of Radish (Blake Bible) that they were acquired by Tovala and I can now have Radish inspired meals again. The caveat is in order to have the meals you need the Tovala oven. Rewind back to Thursday, November 30th where I checked out an exclusive Tovala tasting to see how to use the oven and of course to taste the dishes prepared via the Tovala.
Me and my plus one walked into the Tovala tasting kitchen not knowing what to expect. Upon entering we got a run down on the specifications of the oven at the "Tovala Museum" area. Here are some highlights I found interesting:
Tovala is a play on the Italian word Table which is "Tov

o

la"
Tovala makes eating healthy easy by pairing a stem oven with weekly meal deliveries. The meals are created by top chefs that have worked in the kitchen of restaurants like Alinea, Moto, Sepia, and Barrelhouse Flat.
The Tovala oven allows the chefs to control your meal with instructions from cloud. So it knows how to steam, bake, and broil your food to perfection.
The creators of Tovala are confident you will love the oven, but are offering a 180 day trial. At the end of the 180 days if you are unsatisfied you can return the oven. There's also a 2 year warranty.
How awesome is that! I love that Tovala shares the Radish philosophy of we should never have to compromise between convenience, health, and taste. On the menu that night we had meatballs, salmon, and cauliflower mac and cheese. OMG drooling now just thinking about how delicious everything was. Tovala meals range from 400 to 800 calories. I love Tovala is a Chicago Based start up company that wants you to enjoy incredibly healthy meals in the comfort of your home. The oven itself is $399, but pricing  varies per plan you choose. The cost of the oven can decrease all the way down to $199 based on the amount of meals you order.
Basically you order the oven which arrives within 2 to 7 business days. You then use the app to order your weekly meals. There are seven different meals to choose from weekly (2 Vegetarian options). The food is then delivered to you on a weekly basis. Everything is packed in recycle packaging and shipped to your doorstep in insulated boxes, fresh, and ready for you to enjoy. The high quality ingredient meals come to $12.00 each and there are 3 meals per box. So $36.00/3 meals. For those of you wondering, the Tovala can be used to cook your own recipes as well. Although the Tovala works best if you order the meals specifically created to go with the oven. What are your thoughts??? To learn more head to Tovala.com.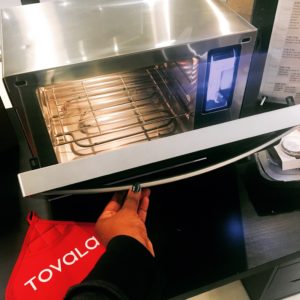 Copyright secured by Digiprove © 2017