Christmas may be over, but you can make these DELICIOUS Cheesecake cookies at any time of the year. They were a big hit and I want to share the recipe with you. Very easy to make!
Peanut Butter Chip Pecan Caramel Cheesecake Cookie Cups


Ingredients
–        2 packages (8 ounce each) cream cheese
–        1 Package (16 ounces) Chocolate Chip Cookie Dough
–        1 Can (14 ounces) Sweetened Condensed Milk
–        2 Large Eggs
–        2 teaspoons vanilla extract
–        1/3 cup caramel ice cream topping
–        ½ cup chopped pecans
–        2 tablespoons peanut butter morsel chips (or chocolate)
Instructions
Preheat oven to 325 degree F. Paper-line 24 muffin cups. Cute each square of dough in half. Place one piece of dough in each muffin cup.
Bake for 10 to 12 minutes or until cookie has spread to edge of cup.
Beat cream cheese, sweetened condensed milk, eggs, and vanilla extract in medium bowl until smooth. Spoon about 3 tablespoons cream cheese mixture over each cookie in cup.
Bake for addition 15 to 18 minutes or until set. Cool completely in pan on wire rack. Refrigerate for 1 hour. Top each with caramel topping, pecans, and morsels.
ENJOY!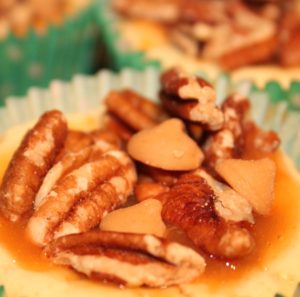 Copyright secured by Digiprove © 2017