Last Monday, December 11th, was the highly anticipated opening of Stock and Ledger. The name "Stock" in Stock and Ledger pays homage to Executive Chef Laura Piper's personalized menu with "Stock" as the base of her contemporary American classic dishes. "Ledger" refers to the accounting term and Piper's business partner Rodd Goldman, an accountant she turned into a restaurateur.
Michelin recommended One North Kitchen and Bar team is behind the opening of the restaurant. The newly constructed 6,500 square foot space, features an intimate dining room, four-season atrium seating, and private dining rooms. The 195-seat restaurant features two private dining spaces, The Corner Office and Library Room, accommodating 10-50 guests. The entrance to the restaurant, located in the lobby of the 57-story office building, seats 40 guests in the atrium area all year long.
I dined at Stock and Ledger on Friday evening and had an assortment of items from executive Chef Laura Piper's menu. The menu emphasizes beautiful ingredients from local farms including Three Sisters Gardens (Kankakee, IL), Catalpa Grove (Dwight, IL) and Green Acres (Indiana) and Genesis Growers (St. Anne, IL). The restaurant will only serve antibiotic and hormone free chicken, pork and beef. Piper and her team also source sustainable seafood and are part of the Shedd Aquarium's sustainable seafood program.
We started off our meal with a few of the appetizers. The Grilled Octopus, Mussels, and the Artichoke Fritto Misto. I am a huge fan of Octopus and it did not disappoint. The spicy Spanish Chorizo in both the Octopus and Mussel dishes really made for a tasty bite. The main highlight in the Artichoke dip was the olives! I can't believe when I was younger I hated olives. Now I can't get enough!
Before our entrée we had the Salt Roasted Beet Salad. I'm normally not a huge fan of beets, but the French feta with the cumin vinaigrette combination won me over. Next time I definitely want to try the Lobster salad!
For the main entrée I ordered the Chicken Kiev! I don't know if I was more excited about the chicken or to try the lemon rice. I fell in LOVE with the lemon rice. It's hard to describe, but believe me it wasn't too lemony (is that a word…lol). It had just the right hint of lemon. Great flavors in this dish!
You guys know I can never end my meals without dessert! Although the flourless chocolate cake sounded delicious, I decided to go with the pear apple crumble. It was scrumptious on its own, but they added a scoop of vanilla gelato on top, which really took it over the edge. I'm drooling now just thinking about it. 🙂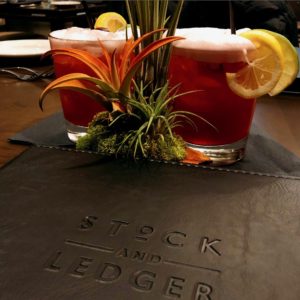 The restaurant's bar, headed up by Jeff Cybulski (formerly with Gibsons Restaurant Group), offers his creative cocktail recipes and distinguished wine list showcasing some of the best international vineyards. Local craft beers are also highlighted along with rotating taps.
Stock and Ledger is open for both lunch and dinner. Hours of operation include Monday through Friday 11 a.m.-10 p.m.; Saturday 4-9 p.m.; and closed on Sundays (open for special events only). For more information, to make a reservation or place a carryout order, visit the restaurant's website or call 312-754-0395 . Stock and Ledger can also be found on Facebook, Twitter and Instagram @stockandledger.
Stock and Ledger
70 W Madison Street, Chicago, IL 60602
All photo's unless otherwise stated were taken by Tavi J. of the Chicago Lifestyle Blog Chi@Glance.
Meal was complimentary, but opinions and comments are ALL honest commentary by Tavi J. of Chi@Glance.
Heads Up! In 2018, the Lunchroom will open adjacent to Stock and Ledger offering a quick serve, well-source menu for breakfast and Lunch.

Copyright secured by Digiprove © 2017