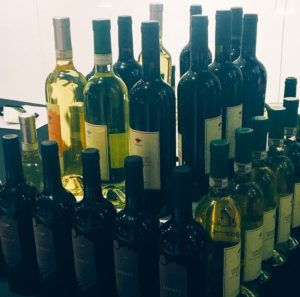 My favorite thing to do is eat for a good cause! Last night was the 11th Annual LuxeHome CHILL International Wine and Culinary event.  This event brings together 50+ top chefs, 150 premium wines, 3 great charitable organizations, and design. The wine was flowing, the food was exquisite, and the showrooms were bursting with style. 🙂 I was happy to see some of my favorite eateries back in the mix like Zed451 and Beatrix. It was also nice to expand my wine pallet and try some new wines. Best of all is the location! The event is hosted among the state-of-the-art LuxeHome boutiques and showrooms located on the first floor of the iconic Merchandise Mart.
Did I mention the evening not only featured food and drinks galore, but fashionable guests also gave back to 3 different local charitable organizations. Proceeds from CHILL directly benefitted The Lynn Sage Foundation, The Respiratory Health Association, and Saturday Place. Since its launch, the CHILL event has raised more than $1 million to support its respective local charitable organizations.
Check out my highlights from the event below! Make sure to keep scrolling to find out more about the three organizations being supported and about LuxeHome. Check out this event next year! www.luxehome.com/chill
 Charity Partners
THE LYNN SAGE FOUNDATION is dedicated to funding innovative research to eradicate breast cancer. The Foundation was established by Laura and Halee Sage in honor of their mother, Lynn, who died from breast cancer at the young age of 39. The Foundation raises money to support the Lynn Sage Scholars, promising young doctors investigating novel research early in their careers. A non-profit, 501(c)(3) organization supporting doctors at Northwestern University Feinberg School of Medicine and Rush University Medical Center, The Foundation focuses its seed funding where it can have the greatest impact. The Lynn Sage Foundation has raised over $2,500,000 for breast cancer research in Chicago. For more information, visit lynnsagefoundation.org.
RESPIRATORY HEALTH ASSOCIATION has been a public health leader since 1906. Our mission is to prevent lung disease, promote clean air and help people live better through education, research and policy change. Today, we address asthma, COPD, lung cancer, tobacco control and air quality through a comprehensive, community-based approach to our activities. For more information, visit lungchicago.org.
SATURDAY PLACE is an enrichment program for 3rd and 4th grade Chicago Public School students who are performing at least one year below grade level and live in under-resourced communities. Since its beginning, Saturday Place students demonstrate growth in Math (99 percentile) and Reading (60 percentile) during their two years in the program. Saturday Place is an effective program that enables students to excel academically, develop a love for learning and inspires them to be future college graduates. For more information, visit saturdayplace.org.
About LuxeHome®:
LuxeHome is the world's largest collection of premier boutiques for home building and renovation located on the first floor of the Merchandise Mart in Chicago. With more than 125,000 square feet of showroom space featured in over 35 boutiques, LuxeHome is host to the finest products for home building and renovation from the most recognized and respected manufacturers worldwide.
LuxeHome offers discerning homeowners and trade professionals one-stop shopping convenience with access to the finest kitchen, bath, tile, lighting, cabinetry, appliances, countertops and much more. LuxeHome displays the widest selection of products to suit all upscale design styles, from modern European to classic American to traditional English. In addition to the extensive lineup of premier brands, each boutique offers knowledgeable designers who are available to assist with all phases of each design project. LuxeHome's boutiques are open for shopping Monday through Saturday. For more information, visit http://www.luxehome.com/. Follow LuxeHome on Facebook, Houzz, Instagram and Twitter.
Vornado Realty Trust, owner of the Merchandise Mart, based in New York City, is a fully integrated equity real estate investment trust. Vornado's common shares are listed on the New York Stock Exchange and are traded under the symbol VNO. http://www.vno.com
SEE YOU NEXT YEAR!!!!

Copyright secured by Digiprove © 2017