The last two days I have been immersed in DESIGN and I surely learned a lot! The largest Midwest Residential Design conference was in Chicago on October 3rd and 4th. Design Chicago is a trade professional only conference that features two days of events for interior design, architecture, and luxury custom home building industries. There are various seminars, presentations, demonstrations, a charity competition (Chairs for Charity), and of course the signature VIP Luxury Gala.
The VIP Luxury Gala caps off Design Chicago! Leaders in the luxury marketplace honor the Midwest's best in residential interior furnishings, architecture, interior design, and residential development. Industry peers were all gathered at the Merchandise mart October 4th to toast to the following inductees:
Jessica Lagrange: Interior Designer – Founder & Principal Jessica Lagrange Interiors LLC
Julie Hacker & Stuart Cohen: Architects – Stuart Cohen & Julie Hacker, Stuart Cohen & Julie Hacker Architects, LLC
Alan D. Lev: Residential Developer – President and CEO of Belgravia Group
David Sutherland: Lifetime Achievement – CEO, David Sutherland Showrooms
The VIP Luxury Gala is a not to be missed event. Also, not to be missed are ALL the Design Chicago events that occur before the gala. It's always exciting for the trade professionals to pick which events they want to attend. This year there were 39 Featured Presentations, 25 CEU Programs, 50 Open Houses, 56 Product Debuts, and 14 Strategic Media Partners.
This year I kept my schedule pretty spaced out so I had enough time to navigate the huge spanning merchandise mart and I was able to compile my notes in between sessions. From a Meet and Greet Lunch with Maria Pinto at The Bright Group (Suite 6-166) to a Meet and Greet Happy Hour with the folks over at Sossego showroom (Suite: 1445, Sidenote Sossego means tranquility in Portuguese 🙂 ) I left very well informed and had a great time! See below for my highlights of 2017 Design Chicago.
Tavi J. highlights from the 9th Annual Design Chicago Conference
Seminar with Joyce Romanoff of Maya Romanoff (Suite 6-167)
Maya Romanoff is the largest manufacturer of handcrafted wall coverings in the United States. They've been in Chicago since 1969 and will be celebrating their 50th year anniversary in 2019. The Design Chicago seminar gave us a comprehensive overview of the trajectory of handmade wall papers since the 17th century by CEO Joyce Romanoff. The presentation began with breakfast and a live painting demonstration by an artisan from the Maya Romanoff Chicago studio who created two wall coverings. ( Pictured: Grecian Crystal Wall Covering Demonstration) Joyce seminar was very informative and being able to see a live demonstration of their products was very worthwhile.
Presentation with Pamela McNally, Vice President, Digital, Sandow.  5 DIGITAL STEPS YOU CAN TAKE RIGHT NOW….WITHOUT BREAKING THE BANK. Holly Hunt Showroom (Suite 1428)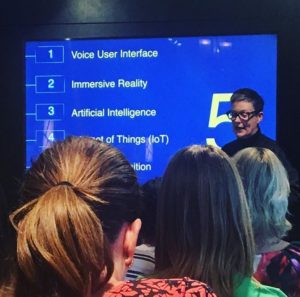 I remembered hearing Pamela McNally at last year Design Chicago and I couldn't wait to hear her again! Her tips are always so helpful. Last year we touched on how to use social media (Instagram, Facebook, Etc…) for your business. This time we touched on 5 Digital Steps you can take right now to help your business. Technology is rapidly changing and she touched on the face of the future which includes:
Voice User Interface

( Example: Amazon Echo – Easier since you can talk faster than you can type)

Immersive Reality

(Changing how we experience the world) – Virtual Reality

Artificial Intelligence

(Changing the face of service)

Internet of Things (IoT)

(everything is connected) – Smart technology when everything can talk to each other

Image Recognition

(Changing the way we see the world)
The five digital trends will impact your business down the line sooner than you know it. One tip that stuck with me to use for my own site is to make sure to optimize your site. Find your business on Google and make sure your business listing is complete and robust. www.google.com/business.
Kitchen Trends & Tastings with Traditional Home and Miele (Suite 133)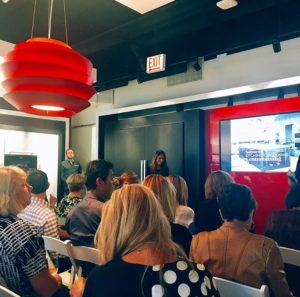 Group Editior of the Meredith Luxury Home Portfolio, Samantha Hart, led us in a discussion of the latest trends In kitchen design and tips for creating the ultimate kitchen for entertaining. My favorite tip she told us at the end of the presentation was "The Best Kitchens say something about the owners Personality."
At the presentation we were also treated to a cooking demonstration by Sous Chef Nicki DesRosiers from the famed restaurant Girl and The Goat. She showed us how to make Scallion Pancakes and Glass Noodles. Both were delicious!
My FINAL  highlight……Drum Roll………
Devon & Devon (Suite 115) new Hollywood Tub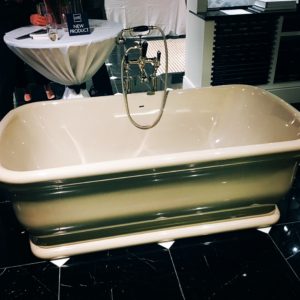 My picture doesn't do it justice, but this tub is a beauty and I need one ASAP! The style and design shouts contemporary, but yet classic. The luminous shine of its surface, is combined with its chromatic versatility that allows the tub to be available in OVER 500 colors!!!
I had a great time attending Design Chicago and if you're in the interior design, architecture, and luxury custom home building industries this is definitely an event you should mark your calendars for next year!
Design Chicago
Merchandise Mart 222 Merchadise Mart Plaza, Chicago, IL 60657
http://designchicagoevent.com/

Copyright secured by Digiprove © 2017