I don't know about you, but for me the fitness struggle is REAL. Trying to lead a healthy lifestyle isn't just something you fall into, but it's a commitment and a choice. It's hard for me to find a fitness routine to stick with. The best advice I was given was to find a workout you LOVE and leaves you bursting with energy! Make sure your workout isn't just a "workout," but fitness should be fun. I've gone to Zumba, Yoga, Boxing, and now I have another workout to add to the mix….Cycling. Hold up though….this isn't just your average cycling we're going to talk about. Chi@Glance October Spotlight feature is shining the light on  Tasha White (Owner/Founder) of the State-of-The-Art and One-of-a-Kind cycling experience CYCMODE!
First off what is Cycmode?
Cycmode is a first-of-its-kind fitness experience. The fully immersive group indoor cycling studio is powered by a crew of amazing instructors, the most innovative indoor cycling technology on the market today, and a workout that gets athletes to leave their mark one-ride-at-a-time.
You read that right "First-Of-Its-Kind." Cycmode is the first cycling studio in the world to offer moveable bikes + a fully immersive experience via the 40-foot wide curved projection screen in the front of the room. I experienced the class for myself. I've been to several cycling studio's and Cycmode definitely stands out from the pack. Walking in the room it's dark and when they flip the screen on and take you on "the trip" it's like your riding through the city and on a traveling adventure. The music is going, the instructor is upbeat, and the scenary takes you away. I heard they even have an underwater virtual experience. How cool!!!
After experiencing Cycmode for myself I wanted to know the mastermind behind it and how she came up with this concept. Tasha White (Owner/Founder) was in the corporate world for 20 years. She worked at several big name companies such as The Coca Cola Company. At The Coca Cola Company she was there for nine years as the Director of Global Diversity and Inclusion. Tasha has always been into fitness and was a former collegiate track and field athlete. She took a spin class in a studio in Atlanta and found her new passion. She loved indoor cycling and how it made you feel like you were in a party atmosphere. She grew so passionate about cycling and wanted to open up her own studio. Being a smart business savvy woman, Tasha knew there was an abundance of cycling studio's. She had to find a way to differentiate her studio from the masses. Just like how Coca Cola is an iconic brand she wanted to make sure Cycmode is an iconic studio.
Tasha attended a conference that had the cool new bike technology of the stationary "moveable" bike. The bikes allow the rider to lean, turn, steer, and balance, through three planes of motion. A lot of studio's just have stationary bikes, so she already knew these new techno bikes would set her apart. To seal the deal even more instead of a boring mirror in the front of the classroom she decided to get a 40-foot wide curved projection screen that will take you on a journey through digitally creative worlds. There are some cycling studio's that have "moveable" bikes. There are some cycling studio's that offer the "Virtual Reality Screen," but there is NO studio anywhere in the world that offers BOTH.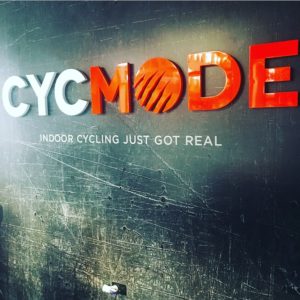 Cycmode has been opened for 2 months now (Opened July 29, 2017) and Tasha couldn't be prouder of the studio and the awesome neighborhood she chose, South Loop. She loves the community and couldn't think of a better location to share her passion and love of fitness.
Why is Tasha White of Cycmode a Chicagoan YOU should know?
"I'm just a woman trying to follow her passion. I want to be an inspiration to others. I had people in my circle that lifted me as I climb and I want to do that for others. This is one of the biggest leaps I have ever taken."
I love that! Not only is Tasha inspiring us to work out, but she's also inspiring us to reach for our dreams. I couldn't let her leave without giving us three tips to lead us towards a healthier lifestyle. Are you working these into your life?
Balanced Diet
Exercise Routine that interests you and keeps you motivated
Have a strong and supportive network
A not so distance fourth tip is to enjoy life. In Tasha's free time she loves to travel from Brazil to South Africa and beyond. She's staying fit and enjoying life. That's the key to success right there!
For more detailed information make sure to head to www.cycmode.com and follow Cycmode on social media. There are several different classes for ALL your fitness needs. Studio space can be rented for private parties including corporate team building activities, fundraising events, birthday parties, bride rides, etc… Make sure to check them out!!!
CAN'T WAIT TO GO AGAIN!

Copyright secured by Digiprove © 2017