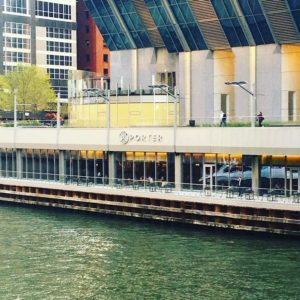 The Chicago Riverfront is gaining a new restaurant! Today is the highly anticipated opening of Four Corners Group venue Porter Kitchen and Deck. You can expect delicious American classic cuisines, crafted cocktails, and of course great views!
I was lucky enough to get to preview the restaurant for dinner last week. The space is HUGE! There's bar seating, big cozy booths, tables, and outdoor patio seating. We opted for the cozy booth in the middle to take in all the action. It's not often you get to see boats cruising by as you eat and were all about extending these last few days of summer. 🙂  Looking around I can already picture this as the place for client meetings, after work socials, and good for small or big gatherings. The ambience was elegant, but yet relaxed and didn't have a stuffy feel.
Our server Hayden was very knowledgeable and recommended a plethora of items for us to try throughout the evening. He suggested we clean our palettes first and started us off with Aperol Spritz Cocktails. I've never heard of it before, but apparently they are very common cocktails in Italy. Judging the ingredients I didn't think I was going to like it, but it was surprisingly refreshing and had a hint of sweetness. The cocktail that really blew me away though was the Kickstarter! OMG I like my cocktails sweet and this tasted just like a chocolate milkshake and who can resist a wafer cookie on top?!?! I may or may not have had 3 of these throughout the evening. 🙂
Now that we got my cocktail suggestions out of the way….let's talk FOOD. Our server suggested we start with a couple of apps and recommended the Salmon as well as the Charred Octopus to us from the Boards and Bites section of the menu. The Salmon was perfection. I loved the toast it was served with and the flavor of the whipped cream cheese that accompanied it was awesome. It was a little garlicky and paired perfectly with the salmon and toast. The Octopus was also delicious. If you've never had Octopus before definitely give it a try. We also tried the Burrata and I wasn't a huge fan of the taste, but one of my friends loved it.
I like to think a Salad offsets any of the sinfully delicious food choices we were going to make for the rest of the evening. We opted for the Lobster Cobb salad and the Caesar Salad. The Lobster Cobb salad was hearty and I loved they weren't stingy on the Lobster. The bacon pieces were also delicious and provided a tad bit of  sweetness throughout the salad. Our only disappointment of the evening was the Caesar Salad. It was way too salty. I honestly think someone just made a mistake with how much salt was put in it and hopefully it wasn't the way it was supposed to be served.
We all tried something different for our entrees. One of my friends got the Salmon and the other the Lobster Roll. They both liked there entrees, but I was getting full by this point, so I didn't try any of theres. I saved room for my Steak Frites. It was suggested I get it Medium Rare, but I went with my normal Medium Well. 🙂 It was good and the seasoned fries it came with were the perfect combination. I can't resist fries with garlic aioli dipping sauce.
I know what you're thinking….how oh how did they have room for dessert?!? We didn't really, but were troopers and decided to order two of the four desserts listed on the menu. By far I was told that the Banana Pudding is going to be the highly sought after dessert and I can see why….soooo good. We also  went with the Spumoni. What is it you ask? Cherry, Pistachio, and Chocolate gelato's individually stuffed in wafer cookies. Are you drooling yet?? That Pistachio gelato wafer had to of been my fav! Next time I want to try the Peanut Butter Mousse. Decisions, Decisions!! 🙂
Soooo my verdict as a Chicago foodie….would I venture back to Porter Kitchen & Deck??? Ummmm….YES! There open for lunch and dinner. Check them out at www.porterchicago.com.
Porter Kitchen & Deck
150 N. Riverside, Chicago, IL 60606
www.porterchicago.com
All photos were taken by Tavi J of the Chicago Lifestyle Blog Chi@Glance.
Meal was complimentary, but opinions and comments are ALL honest commentary by Tavi J of Chi@glance.

Copyright secured by Digiprove © 2017