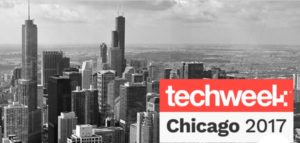 Did you get a chance to check out Chicago Techweek last week? Over 8,000 attendees enjoyed a number of networking events, interesting panels, and meet & greet opportunities. The schedule included something for everyone!
Techweek Chicago Kick-Off Party: Monday, June 19 at 5 p.m. at the MillerCoors rooftop
The Capital One Gathering, which will take over three floors and feature 3D printerspace, coding, robot wars and more: Tuesday, June 20 at 5 pm at Capital One
Techweek Launch Showcase, a summit featuring top local startups from the Techweek100: Wednesday, June 21 at 5:30 pm at the Bottom Lounge in the West Loop
Nerdery Virtual Reality Event, with leading content and interactive activities: Wednesday, June 21 at 7 pm at the Nerdery
Women in Tech Breakfast, where female business leaders share their thoughts on tech entrepreneurship, in partnership with Syndio: Thursday, June 22 at 7:30 am at VenueSix10
Growth Summit, panel of CEO's speaking about company growth topics: Thursday, June 22 at 8:30 am at VenueSix10
GoGo Air Gathering, featuring the passenger experience in the future: 5:30 pm on Thursday, June 22 at GoGo Air
Techweek Gives Event, announcing the most generous company: Wednesday, June 21
I started off my tech week experience at the MillerCoors rooftop party. I met so many young entrepreneurs that call Chicago home for their startups. Chicago has such a great tech presence. During the fireside chat with mayor Rahm Emanuel he discussed how the tech industry has created job growth in Chicago, how to incentivize tech companies to move to Chicago, and how to increase the representation of women in tech. Rahm spoke on the contributing factors that make Chicago a Fantastic tech Hub. He said besides him being the mayor here (haha) there are various reasons to want to be in Chicago for your tech start up.
KPMG study ranked Chicago the 6th hotspot in the tech world. Lotus Survey of 500 CEO's in tech said Chicago is the number one city in the tech world. Rahm contributed it to several factors, but one that I found interesting is Chicago has more universities and colleges than any other city in the United States except for Boston. Chicago is also home to more graduates from big 10 universities. Companies are taking an interest in making Chicago a hub for their companies because the talent is already here. We're one of the top 5  cities producing tech degrees.
Chicago is attractive to the younger generation because of our beautiful city and the COST OF LIVING. Out of 10 big cities in the United States we are 10th in cost of living. That's 1/3 the cost of living in New York or San Francisco. 5 or 6 years ago entrepreneurs weren't doing that well in Chicago, but in this presence time they are thriving and on to their 2nd or 3rd business venture. Entrepreneurs in Chicago are now sponsoring and putting seed Capital into other Entrepreneurs. Rahm said it best on why Chicago is such a great tech hub… "Chicago is a community. I can say that in the art community, I can say that in the tech Community, and in other spaces. You fail in New York Hasta you're dead (San Francisco). You fail here and there's a whole community that will pick you up. It's not the end of your business or career"
There are programs on the horizon that will help make Tech thrive even more in Chicago. Blackstone is using seed Capital of 3 Million to nurture entrepreneurs of color in tech and 1871 is working on an academic program on entrepreneurship.
Being a part of Chicago Techweek I could see that tech and especially tech in Chicago is a thriving part of our community and here to stay!
To learn more about Techweek and to see when there in a city near you head to www.techweek.com

Copyright secured by Digiprove © 2017