Oooohhhh the hit TV Show Power on Starz is back and it's heating up our screens this summer!!!! Did you catch last night's season premiere episode?!?!
I went to the Season 4 Premiere screening of episode one a couple weeks back and I wanted to share with you a few pics with the cast and of course do a mini recap. All opinions are my own and if you haven't watched it yet STOP reading now. SPOILER ALERT!!
Grab your popcorn and let's get started……
We left off last season with Angela (Lela Loren) arresting Ghost/Jamie (Omari Hardwick) for the murder of Agent Greg Knox (Andy Bean). Fast forward to this season Ghost is in jail and his lawyer is basically telling him the evidence is flaky and everything is going to be okay. Last time I checked though how does finding your finger prints on the outside of an FBI agent's window count as flaky???? Hmmm…. Ghost lawyer though tells him bail should be easy to get and to make sure he stays out of trouble in jail and present himself as an upstanding citizen of the community. Easier said than done. 🙂 They didn't know they would be going up against a new DA, John Mak (Sung Kang). Not sure what to think about John Mak yet, but something tells me he's just as crooked as everyone else going off of attitude and body language. (Just call me psychiatrist Tavi. 🙂 )
Meanwhile Ghost off again on again wife Tasha (Naturi Naughton) has no idea where Ghost or her son Tariq (Michael Rainey Jr.) is. She gets a call from Ghost's lawyer letting her know that Ghost was arrested at the club and she needs to come up with bail money. She freaks of course and heads straight to the vault to come up with the possibly $2 Million in bail money needed. She gets to the vault and…..NOTHING's THERE! Nada! Ghost done left her a note that says "sorry" and" he'll put it back." I am NOT that ride or die chick, so by that point I was already like….whelp looks like he has to find his own bail money then. LOL
Tasha, however, is that ride or die chick so she calls to see how much the penalty would be if she borrows against her kids trust fund. We already know that was expensive by the tears she shed on the phone. She wasn't ready to part with that money yet….and started thinking of other options….though limited.
Meanwhile Tasha is also dealing with the situation of where her son is and then gets a picture of Tariq knocked out and a demand for ransom. (Ya'll they broke!!!) Kanan and the crew gave Tariq something to knock him out so they can send the pic. Tasha calls Tommy (Joseph Sikora) to help her out locating her son and Tommy knows wherever Tariq is Dre would probably know about it (which he does). Dre (Rotimi Akinosho) makes a deal with Kanan/AKA Slim (Curtis Jackson, Known as 50 cent) that if he lets him take Tariq home he'll give the crew close to $50K a week. Now how he gonna do that?!?! My thought is why doesn't he just tell Tommy???? (If Tommy and Ghost got rid of crazy a$$ Milan I'm sure they can handle Kanan).
Meanwhile back at Ghost and Tasha Residence… Lakeisha (LaLa Anthony), Tasha off again on again best friend stops by to check on Tasha after hearing of Ghost arrest. There having their sista moment when all of a sudden the whole FBI (and I mean whole FBI….look like there was about 100 of them)…bust in to serve Tasha with a house search warrant. To make matters worse….who walks in after them….ANGELA! Really?!?! How are they even letting her remain on this case??? Oooohhh the look Tasha and Lakeisha give her expresses what we're all feeling…why is this TRICK walking up in her house?!?! Angela then asks Tasha if there's any guns in the house. They both go and get the gun from the safe together. It was hilarious when Angela asks Tasha if it's loaded and she quips "Of Course not, any responsible adult with children knows not to keep a loaded gun in the house". HAHAHAHAH (Remember Angela didn't lock up her gun and Tariq ended up stealing it).
At least by the end of the episode one of Tasha's problems is solved. Dre brings Tariq home and Tommy knows Dre is up to no good, but can't prove it. We all know Tommy isn't going to let his suspicions go, so will shall see how this develops.
This episode Tommy proves to himself and everyone else he's a boss. From being able to get the bail money (that ended up not being needed for Ghost), to being there to assist in finding Tariq, to now being the connect for the drug world. This episode was all about Tommy stepping up. I wonder how he's really dealing inside though with the loss of his pregnant girlfriend Holly (Lucy Walters) last season. Is it bad I was sort of glad they got rid of her last season. She annoyed me. LOL.
We end this episode with the prison guards accusing Ghost of stepping out of line and taking him to an isolated area for a beating. I would be remised if I didn't pay tribute to the guard – Charles Murphy. This was the last acting gig before his death in real life for Comedian/Actor Charles Murphy.  🙁
Can't wait to see what's in store for episode 2! Power Comes on Starz Sunday night's at 8:00pm Central or you can watch on the Starz app at 12:01am Sundays at starz.tv/watchpower.
Side note: Larenz Tate is part of the Power Season 4 cast. Can't wait to see who he plays! In the meantime here's a throwback of when I went to his TV show meet and greet for Games of Silence. Your girl Tavi J from Chi@glance be making the rounds. 🙂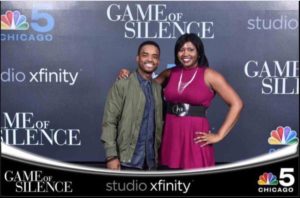 Hope you enjoyed Season 4 Episode 1 Power Recap!

Copyright secured by Digiprove © 2017