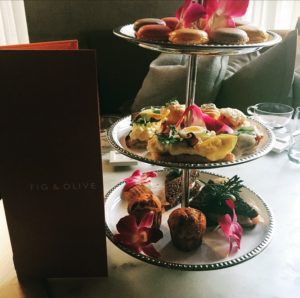 Chicago's Fig & Olive – Afternoon High Tea!
Days: Wednesday – Sunday
Time: 3pm to 6pm
Address: 104 E Oak Street, Chicago, IL
Price: $35.00/ per person; Upgrade Royal Tea additional $19.00/ per person
For details/Reservations – (312) 445-0060
I LOVE High Tea! Being able to get a little dressy, drink/eat delicious bites, and have an afternoon with my girls is what fun times are made of! So it was a pleasure to preview the Fig & Olive new afternoon high tea service. Fig & Olive has collaborated with Tea Forte' and launched a new high tea menu that includes classic teas, light bites, and customized delicacies from Chef Jeffrey. (Can we say Champagne Steeped Teas! Moet ALL Day! :))
The tea service is located in the beautifully inspired French Riviera front lounge. Selections include:
Tea Forte' selections

Rum Raisin Biscotti (black tea with the taste of rum-soaked raisins and sweet blackberry leaves)
Bombay Chai (blend of black tea and spices found in a traditional Indian masala chai)
Moroccan Mint (blend of Moroccan nana mint leaves and hand-rolled rare gunpowder green tea)
Wild Berry Hibiscus (tart-sweet juicy berries punctuated with hibiscus tea brewing flowers and rose hips)
Savory and Sweet Menu Items

Smoke salmon profiteroles
Heirloom tomato tartlet
zucchini bread and white chocolate dried cranberry scones served with vanilla crème fraîche and honey butter
Macarons
And More…..(I won't spoil everything :))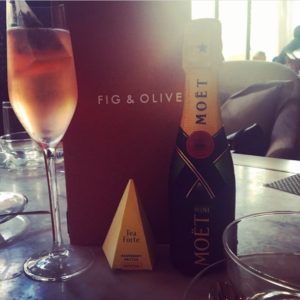 For those looking to treat themselves to a little something extra you can upgrade to the Royal Tea. ($19 additional per person). The royal tea includes serving teas steeped with Moet & Chandon Champagne.
Royal Tea Service

Blueberry Merlot (herbal tea of summer-sweet blueberry with a wisp of sage)
Raspberry Nectar (raspberry blend that steeps in a dramatic way)
I would say my favorites were the……
Truffle Egg Sandwich – (OMG this was everyone's favorite I was with)
Raspberry Nectar tea steeped with Moet
Scones and Macaroons
Beautiful atmosphere!
Here's the current menu. Enjoy and let me know what your favorites are!

Copyright secured by Digiprove © 2017