On your mark….get set…COOK! That's the type of sporting event I like 🙂 Last Monday, I experienced for myself Culinary Fight Club. Culinary Fight Club is a National Organization that hosts high energy cooking competitions each month. Attendees of the event watch live as home cooks to executive chefs race to the pantry to gather items for their dish in 45 seconds. From there the cooks/Chef have 60 minutes to create a gourmet dish that represents the monthly theme.
The theme when I attended was to crown the best Chi-Town Taco. YUM!!!! I love a good taco. 🙂 Restaurants like Doc B's, Holy Taco Chicago, Carriage Greens Country Club, and more… competed to be crowned best taco. Look at these delicious tacos!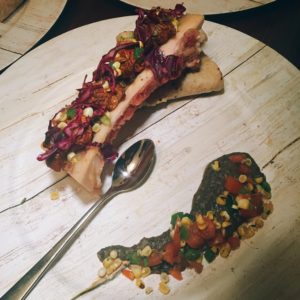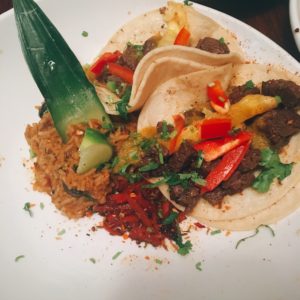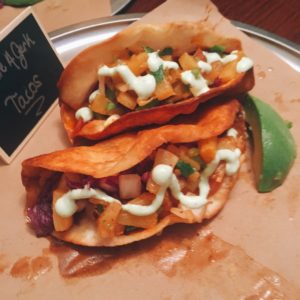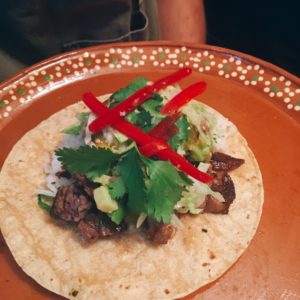 I know the suspense is killing you so the winning taco was…..Holy Taco Chicago! I would have to say all the tacos were quite tasty.
So you're probably wondering what do you do for a whole hour while the cooks are cooking? Well part of me feels like saying you have to go because it's hard to explain. LOL. The set-up will look different each time because Culinary Fight Club is hosted at different locations. This time the event was hosted at Caesar's Killer Margarita's on the North side. When I walked in the atmosphere was already buzzing with people sipping on cocktails and viewing the pantry items that were set in the middle of the room.
When it's time to start we all gathered in a big circle and the chef's lined up for the "pantry run." Once the 45 seconds are over the chef's head to their cooking stations and get to cooking for an hour. During that time I mingled, watched the cooks go to work, drank, and they had a rice bowl station set up for us as we waited for the food to be done.
When the hour is up there are 3 judges that taste each taco to determine which place had the best taco. Guess what though you get to vote as well!! There's also an attendee's vote that is considered in crowning the winning dish.
I think the best part of Culinary Fight Club is 20% of the proceeds go to Fight2Feed. Fight2Feed is a non- profit organization that partner's with top restaurants with food trucks to provide service and support to hungry men, women, and children in our communities.
To find out when the next Culinary Fight Club is head on over to http://culinaryfightclub.com/

Copyright secured by Digiprove © 2017