Event: Macy's Flower Show
Date: Sunday, March 26th – Sunday, April 9th
Time: During Normal Store Hours
Where: Macy's on State Street in Chicago
Address: 111 N State Street; 9th Floor
Website: macys.com/flowershow
Cost: FREE and open to the public
Last night I got to preview the stunning Chicago Macy's Flower Show. This year their doing a Carnival theme and let me just say it's spectacular! The Macy's Flower show features fifteen carnival inspired gardens on the 9th floor event space of Macy's on State Street.
My favorite display of the evening would have to be the beautiful two-tiered carousel centerpiece inside the Walnut Room on the seventh floor! The vibrant colors and the animated column horses really bring home the carnival theme. The show also includes side show gardens with one of kind plants and concession gardens with your favorite treats in flora form. Some of the plants and floral materials are home-grown in Chicagoland (pansies and tulips), while some plants coming as far as Guatemala and Hawaii.
S

o

m

e

f

u

n

f

a

c

t

s

a

b

o

u

t

t

h

e

f

l

o

w

e

r

s

h

o

w

:
It takes approximately six semi-trucks to transport all the flora that comprise the Flower show which includes over 75 specimen trees and over 10,000 individual plants, representing nearly 250 species, in every color of the rainbow. It takes seven days to plant.
Each year approximately 40,000 people come to view the Flower show.
Construction and painting begins in January and requires close to 3,000 hours of labor to complete with the support of more than 40 artisans including floral designers, sculptors, landscapers, carpenters, and visual specialists.
Halfway through the show, a large portion of the plants, including the apple trees, are replaced to keep the gardens looking fresh and vibrant.
In order to keep the gardens fresh, the average temperature in the show is maintained at a cool consistent 65 degrees.
It takes a team of four curators to water the entire show each evening using mobile water carts and over 575 feet of garden hose.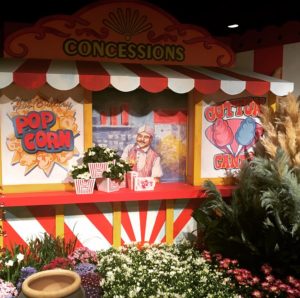 The Carnival themed Macy's Flower Show is sure to WOW and is family friendly! Make sure to check out the site for hosted events throughout the 2 week show and also make sure to check out the Walnut Room on the seventh floor for specialty cocktails and signature treats offered for purchase during the show. www.macysrestaurants.com
For more details check out the press release below! See you at the show 🙂 #MacysFlowerShow
MACY'S FLOWER SHOW®PRESENTS CARNIVAL
Macy's on State Street delivers FREE Floral Spectacular to Chicagoans
SUNDAY, MARCH 26 – SUNDAY, APRIL 9, 2017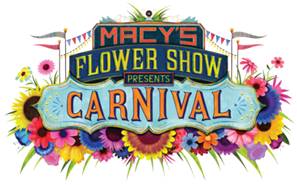 CHICAGO, IL – MARCH 2017 – Step right up to get a front row view of lush gardens celebrating the color and whimsy of Carnival as the Macy's Flower Show® welcomes the renewal of spring. Macy's annual extravaganza sprouts once again at Macy's on State Street. From Sunday, March 26 through Sunday, April 9, 2017, Carnival, the theme of this year's exhibition will transport spectators into a world of imagination, filled with brilliantly-hued flora expertly landscape into breathtaking gardens that bring the magic of a traveling roadshow to life.
"As we celebrate the renewal of the spring season, this year's Macy's Flower Show will take spectators on a trip through a classic fair, where the deep colors, patterns and displays recreate everyone's favorite carnival elements.  From the big top to the fun house, 'Carnival' will surprise and delight spectators who step into these floral wonderlands" said Susan Tercero, Group Vice President of Macy's Parade & Entertainment Group.
At the center of the spring celebration, a colorful carousel will bloom, complete with animated column horses flanking the centerpiece. As spectators walk through the display, they will see their favorite carnival classics including bumper cars, a fun house, concession stand and games created from more than 5,000 types of floras and plants.
For more than 20 years, Macy's Flower Show has delighted generations of floral aficionados with over-the-top presentations of lavish gardens that showcase thousands of live flowers, plants and trees from around the globe. Native to many different landscapes, Macy's Flower Show features floral material blooming in unison despite their unique climatic DNA. Taking root in unexpected settings including the Walnut Room Fountain and specially designed architecture, Macy's Flower Show is staged in unique fashion.
Free to the public, Macy's Flower Show will be open during regular store hours.
For additional information about these events contact the Macy's Flower Show Hotline at (212) 494-4495www.macys.com/flowershow.
, or beginning February 28, visit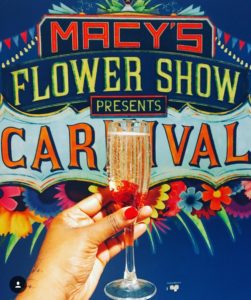 Macy's Walnut Room and Wine Bar
Macy's Walnut Room and Wine Bar are celebrating Macy's Flower Show by offering specialty cocktails and wine flights as well as other promotions. The Walnut Room will feature its own grand floral centerpiece sure to help set the mood while sipping on a Sparkling Wild Hibiscus Cocktail, Wild Hibiscus Mojito, Ginger Pear Shrub, Hibiscus Tea Koval Rye and Daisy Cutter. www.macysrestaurants.com

Copyright secured by Digiprove © 2017