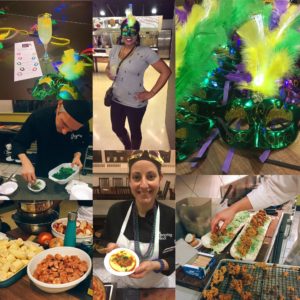 Laissez les bons temps rouler! What does that mean? Let the good times roll! We sure did let the GOOD TIMES roll at The Chopping Block Mardi Gras Madness Celebration hosted on Friday, February 24th at the Merchandise Mart location. Mardi Gras is synonymous with New Orleans and in French means "Fat Tuesday."  The history of Fat Tuesday began as a ritual done before fasting. Celebrations would begin on or after the Christian feasts of the Epiphany (Three Kings Day) and end on Fat Tuesday, which is known as the day before fasting. On Fat Tuesday those practicing these beliefs would eat richer and fatty foods before fasting the next day (Lent). It's also cool to note that Mardi Gras also means to "Confess" 🙂
In New Orleans Mardi Gras celebrations are concentrated for about two weeks before and throughout Fat Tuesday (which is the day before Ash Wednesday). The Chopping Block got the celebration started on Friday with a delicious menu and cooking demonstrations which included some New Orleans favorites!
Crab Cakes; Muffulettas; Oysters Rockefeller; Mock Turtle Soup; Spinach Salad with Pickled Red Onions and Creole Dressing; Fried Oyster Po Boys with Remoulade; Shrimp and Grits; Crawfish Étouffée; Dirty Rice; Chicken and Andouille Gumbo; Jambalaya and an authentic Seafood Boil.
It felt like we were walking through the French Quarters with the Live Jazz Band, beads around our necks, and don't forget the cocktails! We had three homemade cocktails to choose from (Sazerac, Hurricane, and the French 75). My FAVORITE was the French 75!
For Dessert there was a decadent selection to choose from. Bananas Foster, Bread Pudding with Whiskey Sauce, and Pralines. If you've been to Nola before you know that Pralines are a must!
To stick with tradition they didn't leave out the King Cake!!! A king cake is associated with the festival of Epiphany (Three Kings Day). It is usually eaten at the Mardi Gras celebrations prior to Lent. The cake often has a hidden figure inside (most commonly a baby to represent baby Jesus). The person who gets the slice of cake with the figure has various privileges and obligations. Most often how we celebrate in America (Chicago to be more exact) is whoever gets the baby has to bring the King Cake next year! Sweet and simple. 🙂 LOL
I had such a great time celebrating Mardi Gras at the Chopping Block! I highly suggest you take a look at the list of events on the calendar. The cooking demonstrations, classes, and special events are SO MUCH fun and you really learn a lot with the hands on attention. Hope Everyone has a Safe and Happy FAT Tuesday! Hmmm…..now what are you giving up for Lent? 🙂
The Chopping Block
Merchandise Mart
222 Merchandise Mart Plaza
Website

Copyright secured by Digiprove © 2017