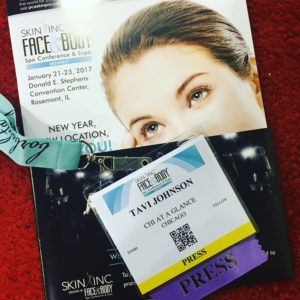 Thank goodness I was taught early in life that you have to take care of your most precious asset and that's YOU! It's a must to take care of yourself and that definitely includes face and body. This past weekend I had the opportunity again to attend the annual Face & Body Midwest conference and expo. This event is for Spa, Skin Care, and Wellness professionals. Over 3 days (January 21st – 23rd) at the Donald E Stephens Convention center there were industry educational classes, new product demonstrations, tons of networking, and ooooohhhhh YES….SHOPPING!
The Keynote speaker this year was Michelle Phillips (Celebrity Make Up Artist). Michelle shared her knowledge on the importance of making a great impression within the first 7 seconds of meeting someone. You want to make sure your character, core values, and purpose shine through on the first meeting. That's good to know not only for people in the wellness profession, but ALL professions, especially if you're involved with sales.
I myself am not in the skincare industry, but for those that are the classes are very informative and share with you cutting edge techniques and products. As an outsider looking in and venturing away from the classes to  expo hall here are my takeaways:
Everyone needs a Vitamix! I'm not kidding. I'm going to start saving my money to invest in one. There pricey, but how awesome is it to be able to throw whole fruits into the mixer and make delicious smoothies?!? I LOVED the demo! They made us smoothies, soup, and ice cream. It was sooooo simple and will be well worth the money. One of my goals this year is to eat healthier and in order to do that investing in products that are multi functional is a must. What you put in your body shows on the outside and I want to start making healthy food choices.
I am a certified makeup junkie! So when I strolled on over to the Crown Brush booth I was in pure heaven. They had every single makeup brush you can think of from lip brushes, eye shadow brushes, blenders, etc….The price was just right too! The Crown Brush company has been manufacturing brushes for over 30 years now. Check them out! www.crownbrush.com
Another product I stumbled upon was Hawaiian Moon Aloe. This isn't just your normal dry skin cream. The product is made 100% with organic aloe. I was told by the representative that even when you wash your hands your hands will still remain moisturized afterwards. It's supposed to help with various skin ailments (See list in picture). All I can say is my hands felt like silk when I used it at the show. I can't provide my review until I use it long term, but from what I used at the show it felt great!
If your a Spa professional make sure to join the Face and Body mailing list to keep updated on when the next show is and for future events.
Keep Glowing! 🙂
Update: 1/26/2017 Check out the Post Release Update below
Skins Inc.'s Face & Body Midwest 2017 Post Show Release
Skin Inc's Face & Body Midwest
Jump Starts 2017
Midwest Show brings the best Spa Treatments, Products, and Equipment to Rosemont, IL
Rosemont, IL (January 26, 2017) – Produced by Allured Business Media, Skin Inc.'s 2017 Face & Body Midwest Spa Conference and Expo Skin Inc.'s Face & Body Midwest 2017 welcomed an energetic crowd of over 3,072 spa professionals and industry suppliers, all who were eager to have a jump start this year on their education, product knowledge and business insight.
Known as a launch and networking pad for new spa products and equipment, this year's event featured 585 exhibitors from 109 companies. Ranging from international beauty leaders to indie trendsetters, exhibiting brands included Amarte Skincare, Bio France Lab, Borboleta Beauty, Eminence Organic Skincare, HydraFacial MD, Le Mieux Cosmetics, LightStim, M.A.D Skincare/California Skincare Supply, PCA Skin, Rhonda Allison Skin Care and ZAQ Aromatherapy.
"We definitely started the year off right at Face & Body. An amazing number of attendees showed up to both the Advanced Education Conference and the exposition ready to learn and make changes. January is such a crucial time for implementing change in a spa, and the timing of the show could not have been better. We can't wait to see the exciting changes that attendees make to their protocols, product offerings and business strategies," said Katie Anderson, Skin Inc. managing editor.
Skin Inc.'s Face & Body Midwest Show Highlights
Education:  Kicking off the Advanced Education Conference on Saturday, Jan. 21, 2017 was the keynote "Beauty + Passion = Purpose," by celebrity makeup artist and best-selling author Michelle Phillips. Her speech explored the topic of first impressions and self-confidence, and how both dynamics impact the beauty industry.
The Advanced Education Conference program provided robust, unbiased education that is critical to elevating the knowledge of the esthetician and spa owner. This year, with 294 registered attendees, education was broken up into a Wellness Track, a MedSpa Track, a Business Track, a Science Track and a Treatment Track.
With over 25 educational sessions taught by spa industry experts, the Advanced Education Conference allowed attendees to earn up to six Illinois Continuing Education (CE) credits by attending Illinois-approved CE classes.
Industry suppliers presented their specific products and techniques and conducted hands-on demonstr­ations and lectures in Supplier Classes. The Supplier Classes were included in the registration fee and proved to be a great way to gain valuable face-to- face time with respected industry suppliers.
New Partnerships: Skin Inc.'s Face & Body Midwest debuted the Medical Spa Summit in 2017 through a partnership with the American Med Spa Association. The summit provided comprehensive education to current and potential medical spa owners on the ins and outs of operating a successful medical spa. Attendees at the summit were able to earn up to seven Illinois CEs.
Skin Inc.'s Face & Body Midwest also partnered with the Melanoma Foundation of New England to offer "The Skinny on Skin," an on-site cancer education program. In this sold-out 90-minute session, attendees learned how to screen for suspicious moles while performing common skin care and salon services, gained tips for how to talk to clients about your findings, and became certified after attending the class.
Expo Keynotes: Celebrity esthetician JoElle Lee returned to Skin Inc.'s Face & Body Midwest on Sunday, January 22 with a keynote on "5 Tools Every Esthetician Must Have to be Successful." With an impressive bio, Lee gave Face & Body Midwest attendees the insights needed to kick off a successful new year.
On Monday, January 23, fitness and lifestyle expert Andrea Metcalf presented her keynote on "A Healthier You in 2017." Metcalf brings 30 years of experience in the lifestyle industry and her passion for fitness, health and wellness inspired attendees to live their best lives and take care of themselves in order to better take care of their clients.
Fun and Prizes: In 2017, Skin Inc.'s Face & Body Midwest debuted Skin Inc. LIVE!, a dedicated stage on the show floor designed to promote interactivity and learning by combining education and entertai­nment. Held on January 22-23, attendees witnessed live demonstr­ations, ingredient insight discussions and business presentations in a lively atmosphere, all without ever leaving the show floor.
Skin Inc.'s Face & Body Midwest announced the winners of its Passport to Prizes contest, which was sponsored by Clinical Resolution Lab, ExPurtise, LightStim, Makeup First School of Makeup Artistry, Osmosis, Skin Inc., Slimwave and Viktoria DeAnn. Attendees who visited the sponsors booths and had their passports stamped were eligible to be entered as one of the three prize winners. Announced on the last day of the show, the three winners are:
Grand Prize ($500): Christine Rivera (Merrill­ville, IN)
Second Prize ($250): Janel Hobbs (Cape Giradeau, MO)
Third Prize ($100): Cheryl Goodheim (Carlsbad, CA)
Skin Inc.'s Face & Body Midwest will take place again on January 20-22, 2018 and will be held at Donald E. Stephens Convention Center in Rosemont, IL. Face & Body Northern California will take place Aug. 26-28, 2017, in San Jose, CA; and Face & Body Southeast will take place Oct. 7-9, 2017 in Atlanta. Skin Inc.'s Face & Body is open to skin care facility owners, directors, managers, estheticians, massage therapists, dermatologists, and other medical esthetics professionals. For additional information and photos from Skin Inc.'s Face & Body Midwest and updates on next year's show, please visit http://r20.rs6.net/tn.jsp?f=001VVbFxrl6CGI_ZEnxoI6cfA8TGG7ZtHfI0tgngXjm5GNatd-KNvLfBJFZQp8vq17jMwG8ULVDbiQyZa19V9_8rPQc_IJxdlFhoTXIMtjvVP9kDF1ma_VTFT2vq6Bg0lkA_yTT995cfk6xQfYnVZuMItVptXbz2EjrUyJFXZ2_0iw=&c=tNvVxUn59E451W_xYB01zEZYq3ICREe-OaNhgpdhhB8N2gRW8yMo7g==&ch=k6sRC0kNCLJzQSZiyiR7aHn-hElzcy-l1Y0whmeYwyR-o7tvyiCYmw==

Copyright secured by Digiprove © 2017