Event: Chicago Pizza Party!
Date: Saturday, February 11th
Time: 2:00pm to 9:00pm
Location: Ravens Wood Event Center
Address: 4011 N Ravenswood Ave
Tickets: $20.00 Click Here  Please note food and beverage is additional. See site for details.
Transportation: Will be provided for FREE from Bottled Blond in RiverNorth to the Ravenswood location and back.
Did you know National Pizza Day is 2/9/2017! I don't know about you, but I have never met ANYONE who doesn't like pizza. I AM not only a Yelp Elite foodie, but a pizza connoisseur. (If there was such a thing I promise I would be one). 🙂  I dissect every inch of the pizza from the crust (I like it buttery and thin), to the sauce (Marinara with a little spice), to the ingredients (no weird stuff like pineapples please, but bring on the garlic!); to the cheese (Mozzarella and Parmesan YUMMY!)…..I'm drooling now are you!? Pizza isn't just a slice of pie to a Chicagoan… it's symbolic. We're known for our Deep Dish Pizza's! If you ask me though our thin crust pizzas are just as good.
What's your favorite? Looking to try out a new pizza joint? Well…..may I suggest the CHICAGO PIZZA PARTY Festival? Say What?!?!? Yes, there will be a party in Chicago with the focus on PIZZA!!! It's going down on 2/11/2017! See participating establishments and details below. Grab your sweet heart, friend, parent, child, brother, sister, BFF, or just bring yourself. Either way……GO!!!  
C

h

i

c

a

g

o

P

iz

z

a

P

a

r

t

y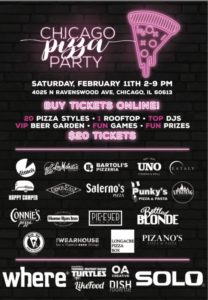 The Chicago Pizza Party is Chicago's premier pizza festival, showcasing the city's delicious culinary talent with 20 of the top pizza restaurants competing for "Best Pie in Chi" while local breweries serve up beer tastings in our VIP beer garden. If endless food and beverage isn't enough, fun games, photo booth and the hottest DJs this cold city has to offer are sure to keep you entertained! This is not your average food festival!
Website: https://www.chicagopizzaparty.com/#new-page
Facebook: https://www.facebook.com/ChicagoPizzaParty/
Instagram: https://www.instagram.com/chicagopizzaparty/
Tickets: https://www.eventbrite.com/e/chicago-pizza-party-tickets-30405666166
P

a

r

t

i

c

i

p

a

t

i

n

g

R

e

s

t

a

u

r

a

n

t

s
Dimo's   Lou Malnati's   Bartoli's Pizzeria   Uno Pizzeria & Grill   Eataly
Happy Camper   Gino's East   Salerno's Pizza   Punky's Pizza & Pasta   Uprising
Connie's Pizza   Home Run Inn   Pie Eyed Pizzeria   Bottled Blonde
Big G's   The Warehouse Pizzeria   Longacre Pizza Box   Pizano's Pizzeria & Pasta
So you might be wondering what my FAVORITE Pizza place is….drumroll……Pizano's! I have Pizano's on my speed dial for delivery. I cannot get enough of the Rudy's thin crust special (green peppers, mushrooms, sausage, and onions). I'm in good company cause Oprah's favorite pizza is Pizano's too. It's funny because my next favorite pizza place is Lou Malnati's and come to find out their brothers! 🙂  Yes the owner of Pizano's and Lou Malnati's are brothers. Their father Rudy Malnati Sr. opened his first restaurant Pizzeria Uno, in 1943 in Chicago. I love Chicago has so much history with pizza and we have some of the best pizza in the nation!
I also must give shout out to Home Run Inn because growing up that is ALL I wanted! Can't wait to revisit my favorites and try some new one's. See you at the Chicago Pizza Party!

Copyright secured by Digiprove © 2017