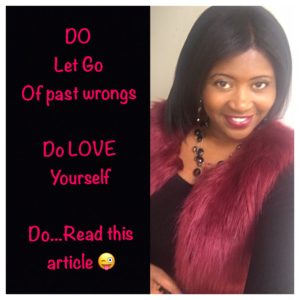 I'm not here to tell you what NOT to do because I want to start 2017 off great and on a positive note.
With that said some of these Do's I gotta practice myself, but remember your allowed to be a masterpiece and a work in progress "at the same damn time." 🙂
DO start this year off on a positive note. No New Years Eve plans, No New Years Eve boo….NO problem. Know your time is coming and until then (and even after then) enjoy your own company. Easier said than done, but what I like to do is completely clear my mind and focus on nothing. That's right…take everyone else's circumstances out of your mind and then slowly start turning the vision towards yourself and what YOU truly want.
DO truly forgive. It is so true that you hurt yourself more than the other person when you don't forgive. I used to be the queen of grudges, but it never got me anywhere. Just think about it…what good has come from holding a grudge? Now I'm not saying you have to be buddy buddy with everyone, but you have to have a tolerance where you're not going to let anybody's action control your own spirit and how you react.
DO Smile. You know the saying "fake it till you make it?" We'll turn that frown upside down and do just that. 🙂 There's something about smiling that sets a whole different tone within your body and then it resonates outwards for others to see. You may not realize it, but your smile can uplift someone else's day. What if everyone in the world smiled at each other? Just think about that. 🙂
DO Respect yourself. I think this one is really difficult for me because I have a great memory. Having a great memory has been my best and worse enemy. I have such a hard time letting go of painful memories where I definitely wasn't acting at my best abilities and was basically having a melt down. One thing you gotta remember is YOU are not the first or last person to do whatever it is you did. We ALL do crazy stuff at some point in our lives and you can't dwell on it. Live, Learn, and Move on.
DO know that the people that are meant to be in your life see ALL of your flaws and are not there to overlook them, but to work through them with you. Are YOU perfect? Than how can you expect someone else to be? We are ALL flawed. If someone is truly meant to be in your life though, their focus will remain on all the good in you and help you work through the "bad". Life has ups and downs and your ride or dies stay for the WHOLE ride. Even the scary parts.
DO eliminate perfection. You know the quickest way to fail is to not do anything at all? I am so Type A that I used to not want to do anything if I didn't have ALL the answers ahead of time. I even translated my perfectionism into my dating life. A first date wasn't just to get to know the person, but see if I can see them being part of my future. Lol…I know we are all getting older, but dating isn't DO or Die. Not just dating, but life In general. Not everything has to be perfect before you get in the game. If I had waited for everything to be perfect I still wouldn't have a blog cause I would still be saving for a better page, better marketing, etc. You gotta start somewhere and you gotta start NOW. I LOVE my fellow type A's, but come on let's give ourselves a break!
DO LOVE YOURSELF. Can I get really really personal cause it just might help someone else and also it's therapeutic for me. I struggle with this constantly. LOVE can be between two people, but LOVE  just as easily can/is with one person alone. I let other people determine my level of love towards myself based on how they viewed me. I had a high self-esteem because when someone would meet me they would be sooooo…in"fatuated" that I couldn't help, but feel good about myself. But when the infatuation wore off for them the Love towards myself wore off for me. Learn that love for yourself should not be triggered by someone else's emotions/treatment. Love for yourself comes from within and you have to fight for it.
I was majorly going through some things towards the end of the year and I kept looking towards someone to help me heal, but he didn't/doesn't owe me that. No matter how much you think you know someone or are meant for someone, if their actions show they don't care about you its time for you to love yourself more and move on. Hurt now rather than 10 times later. It doesn't make you or that person a bad person. It's just a connection that didn't work. Forgive for any mistreatments you felt, wish them well, and again MOVE On.
Happy New Years LOVE! May your 2017 be blessed. For me it's back to the basics and from there world domination! Lol…I kid. But in all seriousness I do sincerely hope that you realize how special you are. Please cheer for yourself and build your own squad. Only except members to the team that are willing to cheer as loud or louder than you. Only except members that believe in not giving up. Only except members who don't compete against their own teammates, but support and together WE all thrive!
2017…..Let's Go! 🙂

Copyright secured by Digiprove © 2016