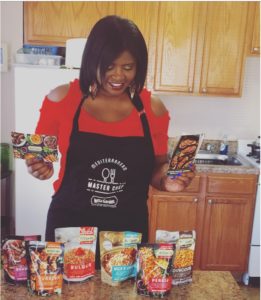 I don't know about you, but I lead a fun, but BUSY life. I don't do much cooking because I live alone and the effort just doesn't seem worth it since I'm always on the go. I'm glad that I now have a go to option that's quick, easy, and healthy. I recently tried a few products from Wild Garden and I'm a fan! Wild Garden is an ALL-Natural authentic Mediterranean food company.
They have various snacks you can purchase at stores like Wal-Mart or online through their site and various other retailers. I love my snacks, but I went the meal route this time and used their Marinades to create full meals. What I LOVE about the products are the step by step instructions located on the back and they are sooooo EASY to follow. The products are good as is, but you can also add other ingredients to the meal as you like. Check out a couple of the dishes I created below! Head to www.wildgarden.com to see a full listing of products and retailers. Happy Eating! 🙂
Meal 1
Wild Garden Bulgur  – Hearty Bulgur Wheat cooked in tomato sauce and Mediterranean herbs serve with meat or poultry. Follow easy instructions on the back of the packet to make.
Here's a side I made to go with the Wild Garden Bulgur Pack
Spinach
Tomato
Onion
Smoked Sausage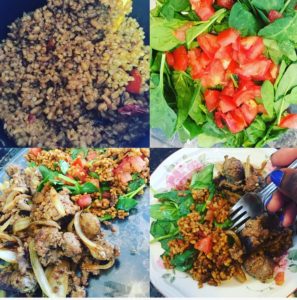 1) Fry Smoked Sausage with Onion. Cook Sausage till brown on both sides (about 15 minutes)
2) Combine Spinach and tomato
3) Pour Wild Garden Bulgur Pack over Spinach and tomato mix
4) Viola! Easy simple meal that taste DELICIOUS!
Meal 2
Wild Garden Persian Quick Marinade/Mild – Authentic Mediterranean blend of spices and herbs. Deliciously fragrant with notes of garlic, sumac, and fennel. Perfect for poultry, vegetables, or salads.
(Meat – Chicken Drumsticks)
1) Pour Wild Garden Persian Quick Marinade over Drumsticks (make sure to shake packet before pouring)
2) Roast Chicken for about 30 to 40 minutes
3) Viola! Tasty Meat dish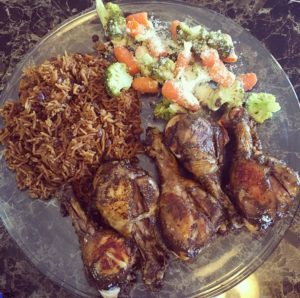 Wild Garden Rice & Lentil – A Savory Mediterranean Dish known as Mujadara, made with Basmati Rice, tender lentils, and caramelized onions. Serve with meat or poultry.
Follow the easy instructions on packet to make (note no other ingredients are needed except for packet)
Optional – I made a side of broccoli and carrots which I steamed for 5 minutes and added parmesan cheese
There you have it! Such easy, simple, healthy meals. I'm a fan!
Make sure to check out www.wildgarden.com for more recipes.

Copyright secured by Digiprove © 2016