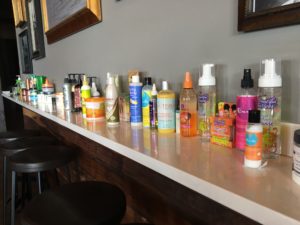 There's nothing like attending events that leave you feeling good on the inside and out! Yesterday was the first edition of "#NappyHour" a celebration for the Naturalista product junkie community.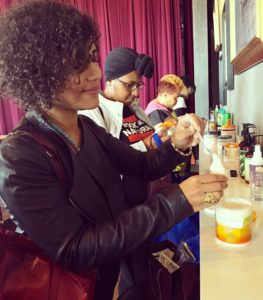 Women came together at the Promontory in Hyde Park to bond while exchanging hair care products and tips. Guest were provided empty mini containers and spray bottles in order to check out different products they had either never heard of or had been meaning to try. It was nice to get first hand knowledge of the products present because guests each brought a product they used themselves in the past to exchange. As we change into the fall season your hair regimen has to change in order to keep those curls popping and your natural do well moisturized.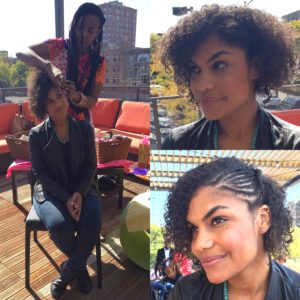 It was a beautiful Fall day for the event and the Rooftop was packed with women checking out the various services. Some were getting their hair braided by stylist like Syreeta House of Natural Hair Easy. https://www.styleseat.com/m/book/p/naturalhaireasy
Other people were taking advantage of getting manicures by Maisha Boyd of @MeeshaBNails or makeup applied by the women representatives from Laura Mercier. I myself got a great makeup lesson on how to contour using a highlighting primer.
One of the best parts of the event was enjoying this picture perfect fall day while mingling and jamming out to R&B/House/Hip Hop mashups provided by DJ DrMccoy. If the day couldn't get any better three lucky people won raffle prizes. How about full size products provided from Huetiful Salon, Laura Mercier, and the Curl District?!?!
This 3 hour event sponsored by The Silver Room and Curl District brought together several sponsors and attendee's whose main focus was to celebrate natural beauty. Attendee's left with goodie bags and haircare knowledge. Thanks to Jessica Patrice for hosting this excellent event and make sure to follow along with #NappyHour on Facebook to stay posted on the next event. https://m.facebook.com/events/1824536817779627/?ti=cl
Shhhh…but a little birdie told me Nappy Hour will be happening again towards the holidays!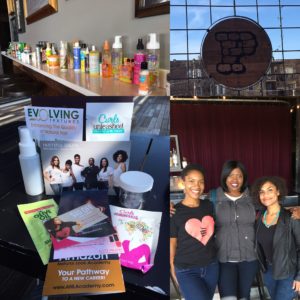 Sponsors & Vendors present at #NappyHour: @TheSilverRoom, @CurlDistrict, @EvolvingTextures, @HuetifulSalon, @BryaasBonnets, @LauraMercier, @MaishaTheArtist @AmazonNatural. Make sure to follow them on Instagram!

Copyright secured by Digiprove © 2016