I don't know about you, but I've always been fascinated with interior design. My knowledge on the subject is quite limited though and just involves me decorating my apartment or watching home design shows on HGTV. I've been fortunate this year to attend some wonderful interior design showcases, tour luxury showrooms, and meet with knowledgeable designers.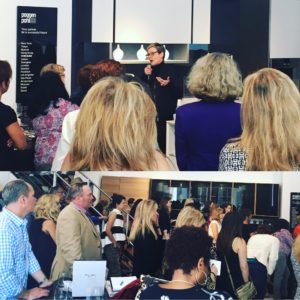 Last week I attended the holy grail of design at the Merchandise Mart….The Chicago Design Summit. The Chicago Design Summit is the Mid-west largest Residential Design Summit and only trade professionals are allowed to attend. The summit focuses on the areas of interior design, architecture, and luxury custom homebuilding. There are various educational classes throughout the day that cover a wide array of innovative concepts in the design industry. The summit comes to a close with the VIP Luxury Gala, which is a "Who's Who" of the design industry.
I decided to make it an ALL day event and signed up for various classes.
Here's my schedule and what a typical attendee's schedule looks like
9:00am: Feng Shui and Interior Design
10:30am: Designing for Millennials
12:00: Lunch Break Italian Style
12:30: Live Cooking Demonstrations and the latest in Kitchen Design
2:30: 5 Secrets to Social Media Success
3:30 Luxury Living in Chicago
5:30 – VIP Luxury Gala
The evening capped off with the VIP Luxury Gala hosted by Luxe Home. Gala attendees were welcomed by a host committee comprised of more than 70 of the design industry elite. 800+ industry professionals were in attendance to celebrate the induction of four residential design industry icons into the Merchandise Mart Hall of Fame.
Award Recipients
Lifetime Achievement Award: Mick De Giulio, Principal, de Giulio Kitchen Design
Architect: Darcy Robert Bonner Jr., Founder & Principal, Darcy Bonner and Associates
Interior Design: Alessandra Branca, Branca
Residential Developer: James Loewenberg, FAIA, Co-Chief Executive Officer, Magellan Development Group
What an exciting day for sure! This is a must not miss event for those in the Interior Design industry. See you next Year!
Random Tidbits from the classes:
– Feng Shui class was taught by expert Julie Schuster. I never knew the Chinese translation for Feng Shui is Wind and Water. She also provided us a diagram of Bagua Map. Bagua map boxes relate to different types of energies. You're supposed to use it with your floor plan to provide the right energy to different spaces within your home.
– John Manion chef of La Sirena Clandestina uses a little Ketchup in his ceviche 🙂
– In the class Designing for millennials they mention that their young clients usually come showing them Pinterest boards versus magazines. There are so many outside influences, so the key is to focus on who the client is as a person. Also, that millennials are BIG on comparison shopping and doing their online research.
-So many good tips from the class 5 Secrets to Social Media Success. One that I cannot stress enough is to find your voice, learn who your followers are, and make sure your using the right social media that works for your brand. Make sure to look at your analytics.
Until next year 🙂

Copyright secured by Digiprove © 2016