---
AAHH! FEST: September 24th and 25th
AHhhhhh I LOVE AAHH! FEST! As a native Chicagoan I love anything and everything that showcases what a great city Chicago is. This fun 2 day festival welcomes in fall and ends the  summer on a good note in Chicago!
What is AAHH! FEST?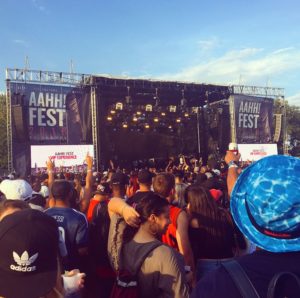 AAHH! FEST is one of the biggest hip-hop and R&B festivals. The Chicago community based festival was started by Academy and Grammy award winning artist Common of the Common Ground Foundation. This year will be the second year of the festival. I remember the first year back in September of 2014. My friends and I were talking about it for days! Dave Chappell hosted (hilarious stand up moments) and we got surprised at the end with a performance by Chicago's very own Kanye West. Definitely the highlight of my summer that year.
This year there was a whole new all-star musical line up hosted by Deon Cole, but the theme was still the same. An outdoor fest where people can relax with their friends, eat, listen to good music, and donate to  a good cause. Funding from the festival supports year-round programming for both The Common Ground Foundation and Kanye West foundation Donda's House. Both organizations use creative arts to provide an outlet for and inspire the youth.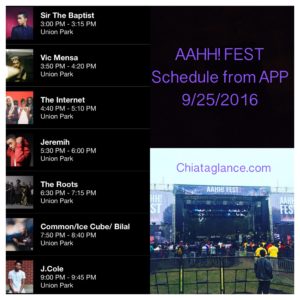 One of the surprise moments of the night went to R Kelly for showing up and performing a little "bump and grind." I have to admit though a lot of my favorite moments involved the trap music played in between sets…knuck if you buck. LOL. All the performances were great though and I would have to say Jeremih was my favorite.
So why did Common start AAHH! Fest?
Common made a personal commitment to his hometown of Chicago to bring jobs, education, and inspiration into the city that raised him. The festival was sponsored by Allstate and raised funds for the Common Ground Foundation and Donda's House.
Community Day for AAHH! Fest – Day 1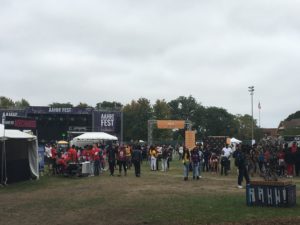 AAHH! Fest was a two day festival and the first day was for family. It's an event for ALL ages to celebrate all that is GREAT about Chicago! There was health and wellness zones, kid activities and fun zones, college and career zones, local artists, and local music talent. At Community day local music artists compete for a chance to perform the next day on the main stage with the all-star talent.
Some of the highlights from community day included Vic Mensa powerful performance of "16 shots." The crowd was silent and you felt how emotional this moment was, especially for the city of Chicago. Another highlight was special guest performance by Chance the Rapper. I don't think I'll ever grow tired of "No Problem"…..lol that's my theme song when I'm in my "Girl Boss" mode. "You don't want no problems want no problems with ME!"
Community Day Artist – Paul Kuhn
My own personal highlight of the day was bumping into one very talented local artist showcasing his artwork. Does this work of art look familiar? It was created by local artist, Paul Kuhn. Paul is the art director of Twelve Limbs Art Studio in Naperville, IL. Check him out!
Facebook at Twelve Limbs Art Studio Instagram @twelvelimbsartstudio.
Community Day Partner – Fresh Pressed Chicago
There were also several community partners in attendance that were there to help and uplift the youth. One such community partner was Fresh Pressed Chicago. Fresh Pressed Chicago mission is to elevate positive press and dismantle bias towards negative press about underserved communities. This group sets the record straight and highlights ALL the positivity about Chicago that most news outlets fail to show or recognize. Fresh Pressed Chicago had a table at the Community day and invited the youth to tell what's fresh where they live.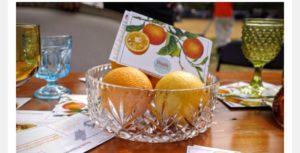 Make sure to follow Fresh Pressed Chicago on social media at:
Facebook: Fresh Pressed Chicago Instagram: @freshpressedchicago Twitter: @freshpressedchi
Hashtag: #freshpressedchicago and let them know what's good in your community!
Great time both days and as always make sure to follow @Chiataglance on Instagram, Facebook, Twitter, and Snapchat. We're exploring Chi-At-A-Glance and keeping you posted on ALL things Chicago.
Chi-Town Stand UP!

Copyright secured by Digiprove © 2016