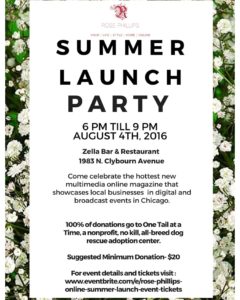 I love to have fun while supporting a great cause! I'm going to the launch of a new online lifestyle magazine next week—Rose Phillips Online. At the same time  supporting a great cause—One Tail at A Time. Check out the press release below and learn how you can join in on the fun! 🙂
Lakesha Rose Launches New Platform in Chicago, Rose Phillips Online
Rose Phillips Online Partners with One Tail at A Time
(Chicago) Illinois—Lakesha Rose is set to hold a launch event for her new online lifestyle magazine, Rose Phillips Online, on August 4, 2016, 6:30 p.m.-8:30 p.m. at Zella Bar & Restaurant, located at 1983 N Clybourn Ave.
Rose Phillips Online – a multimedia site showcases the most luxurious way to live in Chicago without breaking the bank. It is a city guide to lifestyle, must-go restaurants, non-profits, and Chamber of Commerce. CEO and Founder Lakesha Rose, launched her lifestyle site Rose Phillips Online in early 2016 to help curious Chicagoans engage in its stores, products and services. Her site covers a variety of industries ranging from style, food & drink, travel, and home decor.
Lakesha came up with the idea of Rose Phillips Online when she noticed that several vibrant small businesses were not getting the recognition they deserved. "I wanted to create a platform that was exciting to small businesses. I decided the best way to feature them was to bring the most empowering, engaging and culturally relevant content across a range of media platforms that speak to classic Chicago."
100% of ticket sales will be donated to the non-profit organization One Tail at A Time (OTAT). They are a no-kill, all-breed dog rescue adoption center – committed to lowering euthanasia rates in the greater Chicagoland area through the rescue and adoption of dogs in need.
Lakesha chose to partner with OTAT due to their intentions to help save as many animals as possible she says "They have done an incredible job at engaging viewers on social media, creating multiple donors who by now have invested themselves with OTAT and want to walk with them in their journey to save animals. I being one of the journey walkers."
One Tail at A Time Executive Marketing Director Heather Owen said, "We're a community run organization, so every partner, volunteer, foster home, donor etc. gets us one step closer to a no-kill Chicago."
For more information about Rose Phillips Online, visit http://www.rosephillipsonline.com. For additional information about OTAT, go to: http://www.onetail.org/.

Copyright secured by Digiprove © 2016