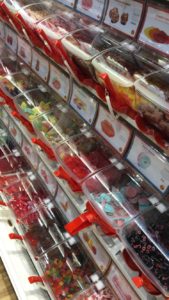 Event: Sweets and Snacks Expo
Where: McCormick Place – 2301 S. Lake Shore Drive
When:  May 24th – May 26th
Description: As the title suggest the Sweets and Snacks Expo features sweets and snacks! "The expo is unique in attracting thousands of pre-qualified candy/snack retail and wholesale customers representing nearly every distribution channel from the largest global retail chains down to small, independently owned, candy shops. It is the premiere, world-class event in the candy and snack Industry. "
It's a great way for people in the confectionary industry to discover, connect, and learn  with each other. The expo features the world's top candy/snack manufacturers and hundreds of new exhibitors each year. 2016 makes 20 years of the Expo's  existence. Sweetsandsnacks.com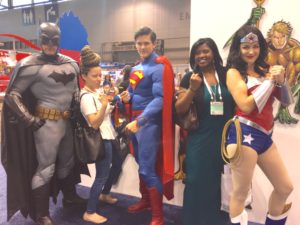 June is National Candy Month and what better way for the industry to pre party than to attend the Sweets and Snacks expo. I was blown away by the elaborate set ups. I felt like Charlie in the Chocolate factory and had a great time exploring and meeting my super hero friends along the way. 🙂
The 2016 expo was sold out! There were 16,000+ qualified industry professionals from 90 countries, 700+ Exhibits, Innovation awards, and various learning opportunities. The expo is hosted by the NCA (National Confectioners Association). The NCA advances, protects, and promotes the US candy industry. At this years expo attendees not only got to fulfill their need for sweets, but we had the opportunity to discover thousands of cookies, snack, and nut products.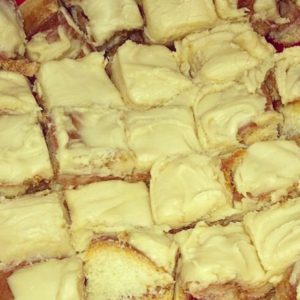 In my opinion sweets/snacks have a sort of healing quality. As an adult a food memory can transport you back to the holidays or special moments in time where that particular food item made the experience even better. All cultures have some form of sweets/snacks and what a great place to discover them than at the Sweets & Snacks Expo.
As an outsider of the industry looking in…these are the things I was most impressed with in no particular order:
The Sweets Insights and Discovery Theaters – There were many industry professionals on hand to offer inspiration and insights.
NCA's Most innovative Product Awards: A panel of industry experts award what they deem as the new products most likely to succeed across nine candy and snack categories. (I wrote a previous article highlighting past innovation avenue participant Shelia G's of Brownie Brittle).
The tastiest looking booth in my opinion would go to "Cake My Day." Cake my day is a book that teaches you how to make and design delicious desserts. Check out some of the creations they had on display below.
Sweets and Snacks Expo was a great 3 day event! It's only going to get BIGGER and SWEETER each year!

Copyright secured by Digiprove © 2016