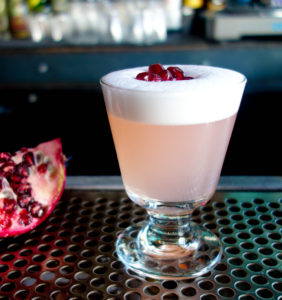 Description: La Sirena recalls the sneak-away beachside joints of Rio de Janiero that inspire its name 'hidden mermaid.' Chef John Manion serves Latin-local fare with distinctly Brazilian influences that draw on his childhood in Brazil as well as two decades cooking in Chicago.
The wine list is eclectic, focusing on natural and bio-dynamic producers. The cocktail program highlights the spirits of the Americas with ample acidity and brightness with an eye towards innovation. Located at 954 W. Fulton Market, the space offers up an intimate yet lively vibe that easily makes guests forget time and place.
La Sirena Clandestina is one of my favorite restaurants! It's been in existence for a little over 3 years now, but it feels like it's been here forever. I remember my first time going with friends and we still comment till this day we felt like we were there for 3+ hours we had so much fun. 🙂 I LOVE the vibe! You don't feel rushed and it's so cozy and welcoming that you feel like you're at home. The food is AMAZING!!!! So amazing that I nominated them as my favorite restaurant for the show Check, Please (Click here or see below for show clip at end of article).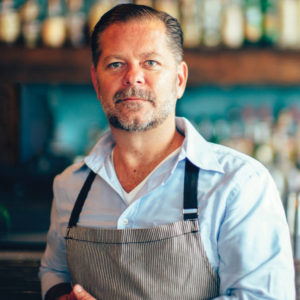 John Manion
La Sirena Clandestina is thriving and you can read countless reviews on the wonderful food, but I wanted to find out more about the Man that creates such delicious Latin-inspired cuisine. I interviewed Chef/Owner, John Manion and he had some interesting things to say about the restaurant industry in general.
Chef Manion, like most of us didn't start off in the career he has now. He started off studying English at Marquette University and then did a 360 and started taking culinary classes at Kendall College. His advice to anyone of any age wanting to make a career switch is to go work someplace for free (internship perhaps) and see if you really like it. He has found a lot of people enroll in culinary school (or whatever field for that matter) to soon realize that it's different from what they thought it would be. "Working in the kitchen can be hard and brutal. It's physical labor and mentally taxing…definitely a difficult lifestyle. You're doing a lot of the same stuff over and over again." Definitely go work in a restaurant to gain some perspective or for that matter whatever your career passion is to see what it's really like before you invest the time and money. Your dream may not be the reality you think it is.
John Manion came up as a Chef and then decided to go into ownership. He's still trying to figure out how to maintain the appropriate balance of both. His instinct is to be in the kitchen, but as an owner there are other responsibilities you have to tend to outside of the kitchen. His advice is to surround yourself with the best people possible. Besides having the best staff…location also plays an important role in having a successful restaurant. Chef Manion was born in Detroit and loves the Midwest. He knew Chicago would be the perfect spot for his restaurant. In particular he had never seen anything like the West Loop area. The West Loop started off as the epicenter of the culinary world, but soon fizzled out. He gives credit to Stephanie Izard of Girl & the Goat for reigniting the excitement for the restaurant scene in West Loop. Fulton Market and Randolph Street are lined with highly acclaimed restaurants that people travel the world to experience.
When Chef Manion first started off in the West Loop it was a pretty isolated area, but now it's booming with all the restaurants and new businesses moving in. He see's development happening and it excites him. Lots of people come to the West Loop on the weekends and it would be nice for there to be some galleries, shops, and independent boutiques. He definitely sees more development coming to the area soon. Although there might be more chain/big concept type restaurants due to the rising cost of rent in the area.
Now you're probably wondering from John's perspective his pet peeves for the restaurant industry. He had to take a second to think about this question, but he quickly said COST. "Things should cost more" One of the biggest complaints he hears from people when they go to a restaurant is that the food is good, but it was expensive. His stance is "Good food is expensive" At his restaurant he only works with the best produce that is grown or sourced with care. In his own words "I could buy BS Chicken for a fraction of the price, but it's my responsibility to buy the best ingredients I can."
From there we ventured into other random topics….like what he feels about establishments turning to non-tipping. He sort of didn't have an opinion one way or the other. He agrees that how tipping done now is not fair. If the servers don't share their tips equally they can end up making way more than the back staff does. However, right now the labor pool is shallow in the restaurant industry. There are too many restaurants and not enough staff to fill them.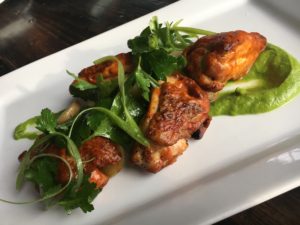 Why is John Manion of La Sirena Clandestina a Chicagoan YOU should know?
"I feel like I play a part in the fabricate of the restaurant community. I've seen it come and go. I feel like I am a part of the continuum of the ever expanding, ever growing, Chicago restaurant scene. I have served as a mentor to others. You don't set out to be a mentor, but you just end up influencing and teaching people what you know."
John Manion is definitely a Chicagoan YOU should know. He is so laid back and easy to talk to. I love we bonded over our dislikes for reality TV. He admits he may have watched an episode or two of Top Chef, but in the end it's not for him. Like most reality shows the characters are pretty much always the same and his passion lies in the food and not the drama. Make sure you head over to La Sirena for a fun filled evening and leave the drama at home 🙂
La Sirena Clandestina   www.lasirenachicago.com  954 W Fulton Market, Chicago, IL 60607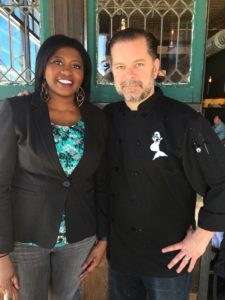 GIVEAWAY ALERT!!!
[email protected] and Chef John Manion want you to experience why La Sirena Clandestina is one of the best restaurants in Chicago. One lucky person has a chance to win a $50.00 gift certificate to enjoy the delicious Latin-Inspired Fare. Head over to Instagram @Chiataglance page for more details.
Check, Please – La Sirena Clandestina

Copyright secured by Digiprove © 2016