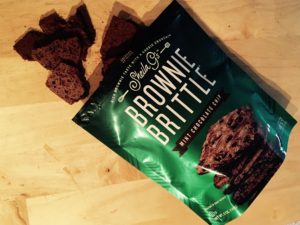 I am anxiously waiting to attend the 2016 Chicago Sweets and Snacks Expo! It's one of the largest and fastest growing candy and snack shows in the world. It runs May 24 – 26th at  McCormick Place. Be on the lookout for a future post giving you an inside look into the show.
Before the expo I received samples from Brownie Brittle. OMG I'm glad I did! I had never tried Brownie Brittle before, but I love the concept! It's a rich brownie treat with a cookie crunch for those of us that favor the edges of the brownie. I tried ALL of the flavors and I am a huge fan! Brownie Brittle is lower in calories than most sweet snacks, but still hits the spot.
I would have to say my favorite flavors are Mint Chocolate Chip and the Peanut Butter Chip. Both had a hint of each ingredient without being overpowering. Instead of me summarizing the company, I think its best captured in the press release below from last month. Make sure to check out their website and let me know what your favorite flavors are. Enjoy!
BROWNIE BRITTLE ™ Now Available in Three Organic Flavors
Same Satisfying Chocolate Crunch Hits Store Shelves This Spring
WEST PALM BEACH, Fla. (April, 18, 2016)—Fans of BROWNIE BRITTLE™, the beloved rich brownie snack with a cookie crunch, have even more to celebrate in 2016, with the introduction of Organic BROWNIE BRITTLE ™—with two new flavor combinations to try and the wholesome goodness of USDA certified organic ingredients.
 Organic BROWNIE BRITTLE is available in three flavors including: Chocolate Chip, Dark Chocolate & Pretzel and Chocolate & Toasted Coconut, with the latter two flavor combinations new to the BROWNIE BRITTLE family. These three flavors are available in a five-ounce resealable package and will retail for $4.99. In addition, Organic Chocolate Chip BROWNIE BRITTLE is available in a 16-ounce club store-sized bag, for sale now in select Costco regions around the nation for $8.99.
 "Now the 120 calorie treat that our fans love, is offered with ingredients that satisfy the organic eater," said BROWNIE BRITTLE LLC Founder, Sheila G. Mains.
Organic BROWNIE BRITTLE is made with non-genetically modified ingredients and additionally, the Organic BROWNIE BRITTLE flavors are currently in the Non-GMO Project Verification process.
About BROWNIE BRITTLE: BROWNIE BRITTLE, LLC, headquartered in West Palm Beach, Florida, has been baking and selling innovative brownie products to restaurants, club stores and world-class theme parks since 1992. BROWNIE BRITTLE, the company's flagship snack product, is available in Chocolate Chip, Toffee Crunch, Mint Chocolate Chip, Salted Caramel, and Peanut Butter Chip. New Organic BROWNIE BRITTLE hits store shelves in 2016 and will include Chocolate Chip, Dark Chocolate & Pretzel and Chocolate & Toasted Coconut flavors. BROWNIE BRITTLE snacks are available in tens of thousands of stores in the US, Canada, China, Korea, Australia, and the Caribbean. More information is available online at www.browniebrittle.com, as well as on Facebook, Twitter, Pinterest, and Instagram, and by calling 1-800-BROWNIE.

Copyright secured by Digiprove © 2016