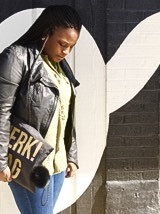 Description: Love Peridot is an online boutique for women fashion and lifestyle accessories. Everything is curated with YOU in mind.
The mastermind behind Love Peridot is D'Cher Whitaker. D'Cher love of jewelry and accessories has her pursuing her passion and sharing the unique pieces she finds with her customers.
The name Love Peridot has a special meaning. Peridot is the birthstone for Leo's (shout out to all my fellow Leo's 🙂 ). D'Cher was born in August and her wedding anniversary is in August. Therefore, she went with the birthstone representing Leo/August babies and VIOLA —- Love Peridot was born!
D'Cher considers herself to be a mixture of classic and trendy, but she falls more along the trendy side. She's constantly searching through magazines and online publications to see what the new trends are.
D'Cher resides in Chicago, but she buys accessories from all different cities. Next year she plans to expand and do more international traveling.
Most of the pieces on the online store are dressier, but they are also great statement pieces to use in order to dress down outfits. Whatever your taste I'm sure you'll find a piece to fit your style needs. From necklaces, earring, bracelets, and statement bags…Love Peridot has it ALL.
Why is D'Cher of Love Peridot a Chicagoan YOU should know?

Love peridot brings something different. It's not all about sales for me. It's about making a woman feel empowered and ready to take on this world when she walks out the door. I am turning my passion into a purpose that's bigger than me. I want every woman wearing my line to feel special because that's what she deserves.
I can honestly say D'Cher is such a sweetheart. We met online through Instagram before her store even launched. She has always been supportive of women by sending encouraging messages and supporting our small business sites. Her positivity makes her a Chicagoan YOU should know. There are numerous online boutiques you can buy from, but her women empowerment attitude made me want to purchase from her.
In the future she is looking to do pop up shops and we may see her at some of the street festivals this summer. Make sure to follow Love Peridot on Instagram and sign up on the site to stay up to date on new accessories.
Website: www.loveperidot.com
Instagram: @shoploveperidot
Email: dcher@loveperidot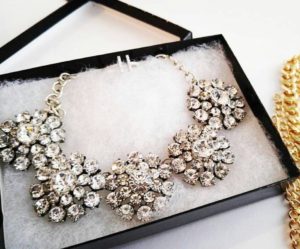 GIVEAWAY ALERT!!!
ChiAtAGlance and Love Peridot want to bring  a little sparkle to one lucky gals wardrobe. One lucky woman has a chance to win the statement necklace featured to the left.
You must have a US mailing address for necklace delivery. For raffle details visit @chiataglance on Instagram. Good luck!

Copyright secured by Digiprove © 2016