Event: Palm Court High Tea
Where: The Drake Hotel – 140 E Walton Pl, Chicago, IL 60611
When: Click SITE for details
Description:  Afternoon tea is a tradition that began in the 1840's. Due to  the long period between meals the Duchesses would ask for bread, butter, and cake to be brought to her room mid-afternoon. (Smart lady 🙂 ) She than began inviting her friends to join and high tea was born!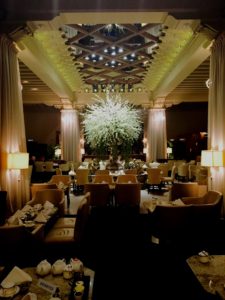 Royalty, fancy, and relaxing….those three words remind me of what it feels like to enjoy "High Tea Time". I had never been to high tea before, so we decided to try something new on Mother's Day. We had a DePaul Alumni Discount, but most High Tea's will run you between $50 – $80 a person. The Drake's Tea Time is $65.00 a person and includes a hotel tour. 
Many hotels have a high tea (Langham, Peninsula, Waldorf, etc…). We chose the beautiful Drake hotel for our Tea Time. Upon arrival we were greeted warmly and given roses in honor of Mother's Day. If you've been to the Drake before you know the interior of the hotel is just beautiful. From the flowers, to the rich colors, and beautiful set up made for a great tea time experience. There was even a harp musician playing as we nibbled on our scones and pastries.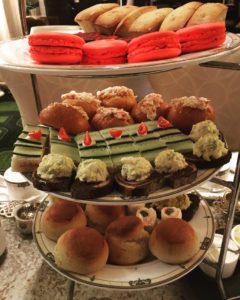 Once seated we had 3 Tea's to choose from and all were delicious! I must admit I'm a sugar fiend so I was popping the sugar cubes in my tea like there was no tomorrow. The tea was delicious enough though to not need sugar at all. When we received our tea time bites and treats the display was absolutely beautiful and our waiter went over the items we had to choose from. From the bottom up we had scones, cucumber/tomato sandwiches, lobster & shrimp rolls, egg salad, mini pin sandwich rolls, decadent chocolate, macaroons, and pound cake. Yum!!!!! I'm not sure if it's common or not, but they also refilled our food trays when we ran out of items. Our high tea was from 11:30am to 2:30pm.
In my opinion high tea is best served for special occasions. We had a great time for Mother's Day, but I can also see this being nice for birthdays, bridal showers, and any special occasion with your girls. It was a relaxing time and a nice way to get dressed up and try something new. I'm definitely adding high tea of my list of must do events going forward.
Cheerio! 🙂

Copyright secured by Digiprove © 2016