Chicagoans! Dare I say it? Have we finally moved past winter and into Spring 2016?!? Along with Fall, Spring is one of my favorite seasons of the year. I love summer days, but sometimes it can get too hot, which makes being fashionable and strutting around the city in high heels very difficult. And who in their right minds actually like winter? Not I. Spring is the perfect season because it is finally warm enough to wear flowy skirts and single strap stilettos, but that windy city breeze still allows you to wear super cute & trendy jackets. It's a win-win type of season!
As much as I love the vibrancy that Spring brings, I tend to leave out the traditional florals and bright colors that are usually associated with this time of the year, and lean towards pieces that are a little more elegant. Here are five of my favorite trends this season, & trends that I think anyone can rock!
Off the Shoulder Tops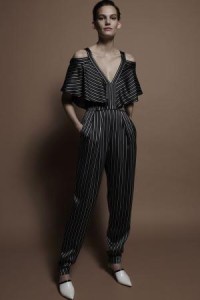 There has always been something sexy about a woman's shoulders, & this season it's all about showing them off. Whether it's peek-a-boo cutouts, or full on shoulder cleavage, off the shoulder pieces are big for Spring. If I were you, I would stock up on a few tops and jumpsuits because you're going to love this look for the warmer weather.
Embroidered Bomber Jackets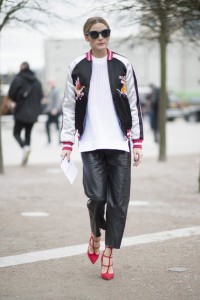 The Bomber jacket is the almost the equivalent of a leather jacket nowadays. The street style piece can be worn casually with jeans and sneakers, or dressed up with a skirt and high heels. Opt for a Bomber with an embroidered design for a more modern and trendy look.
Slip Dress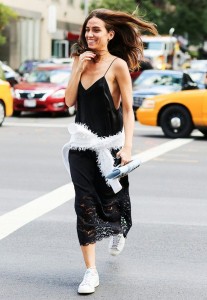 Nothing is more simple and sexy than a slip dress. This little number can be styled in so many different ways, and will never feel too revealing if you layer it correctly. The slip dress is not just for night time anymore, you can now wear it during the day. Don't be afraid to create a more casual look by pairing the dress with sneakers or flats.
Cropped Flare Jeans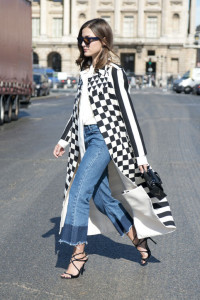 Denim has been making a strong comeback in the past few years. A great pair of jeans is always needed, but now we're having a little bit more fun. Along with the 70's trend last season came bell bottoms and flares, now we're seeing cropped flares for Spring. The best part is, your beautiful shoes will never be covered wearing these jeans.
Mule Slides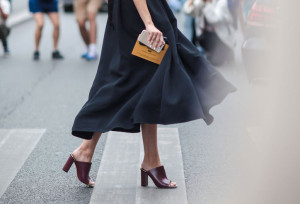 Spring means being able to wear prettier shoes and not having to worry about them getting salt stains! Put aside the stilettos for a second and pick up a pair of slide mules. Although the name doesn't sound too pretty, trust me, you're going to love the chic look these shoes give an outfit. The thicker heel will also keep your feet from being on fire all day.
Shop the Styles
Out From Under • Lace Me Up Maxi Slip Dress
A.B.S. by Allen Schwartz Women's Slip Dress • ABS by Allen Schwartz
Capulet Spanish Off Shoulder Jumpsuit • Capulet
Silence + Noise Stays on Tour Satin Bomber Jacket Urban Outfitters
Topshop 'Livi' Off the Shoulder Top • Topshop
Rachel Comey Indigo Denim Slim Legion Pants • Rachel Comey
Rebecca Minkoff Camila Huarache Leather Slides • Rebecca Minkoff
Calvin Klein Women's Cice Slide-On Mules • Calvin Klein
Image 1, Image 2, Image 3, Image 4, Image 5

Copyright secured by Digiprove © 2016