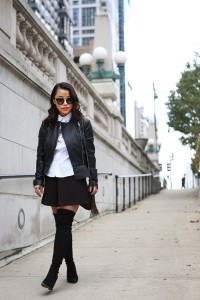 Description: Vickee Vee is a wardrobe consultant, blogger, brand, and company all in one.
About Vickee Vee: She is very simplistic when it comes to fashion and doesn't intend or want to follow ever trend. Vickee Vee loves to layer and to wear her clothing a bit oversized. She's not too big on crazy prints, loves neutrals, and would say her style is representative of a stylish New Yorker (her favorite fashion destination) working at Vogue.
Vickee Vee moved to the states from Thailand when she was 5. From there she's lived in Milwaukee, briefly Florida, and for now she resides in the best city in the world— Chicago. 🙂 Fashion/style has always been a part of her life, but her style keeps evolving with age. She is constantly scouring fashion magazines, blogs, and attending events to stay up to date on the fashion world. As a wardrobe consultant her ultimate goal is to give her clients the push and guidance they need to develop their own style.
---
So how does Vickee Vee Wardrobe Consulting Work? Vickee Vee explains her 3 Step Process: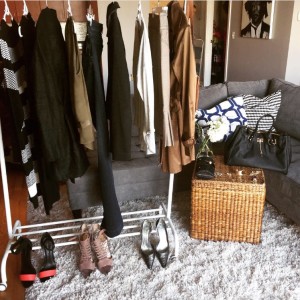 1)  I will go through my client's wardrobe with them and together we will remove some of the clutter. After cleaning out their closet, I will then do an assessment and together we decide what they no longer need and what they should keep. Although I am here to help them make the best decisions when it comes to fashion, this is a team effort and their input on what stays and what goes is still important.
2) This is where the magic really happens! Once we have decluttered their closet, I will help put together multiple outfits from pieces that they already have. The number of outfits I can create will depend on the size of someone's closet. These looks will range from daytime to nighttime, from work to a night out, etc.
3)  The final step, after decluttering and putting together outfits for him/her, I will curate a list of items that I feel are essential to the person's wardrobe, items that they don't have yet, but need.
Additional Services: Personal shopping is something I can do for my clients if they just don't have the time or energy to shop for themselves. This is something I can do alone or with the client.
Clients also have the opportunity of requesting a digital look book filled with all the complete looks I put together for them including makeup looks, hairstyles, and the perfect occasions to wear their new outfits. To keep them going, I will provide additional ways to mix and match their pieces. The look book will also include a shopper's guide which will outline some of the best places to find pieces that fit their personal style and budget.
---
Why is Vickee Vee a Chicagoan YOU should know?
"I think I bring a different style to Chicago. Everyone here is so used to that "Mid-Western," laid back sort of style and I want to change that. I want to walk around downtown and see women in trendy outfits, walking in high heels, and being confident in the way they look. I think Chicago has so much potential to become another fashion destination city, we just need the right minds to come together to make that happen!"
Whether you're looking for a complete makeover, transitioning to a new career, reinventing yourself after a major weight loss, have a special event/meeting to attend, or just trying to dress for the body you have now—Vickee Vee has YOU covered. I like her upfront approach to fashion in general. She believes it's time to remove the vain stigmatism from shopping and realize that how you look on the outside does affect how you feel on the inside. Why not make yourself look and feel the very best you can?
Make sure to follow Vickee Vee on social media and check out her Fashion/Lifestyle Blog
Website: http://pressvee.com
Instagram: @VickeeVee_
Twitter: @PressVee
Facebook: Vickee Yang
YouTube: Vickee Yang
To contact Vickee Vee for wardrobe consulting or other questions: Vickee@pressvee.com
Stay tune for ChiAtaGlance video post where I show you how Vickee Vee helped me shop my closet!
Giveaway Alert!!!!
ChiAtaGlance and Vickee Vee want to get YOU summer wardrobe ready! One lucky Guy or Gal has a chance to win an hour consultation with Vickee Vee at a downtown Chicago shop of their choosing. Consultation will occur either in the evening or weekend. Winner and Vickee Vee will work together to schedule appointment. Consultation expiration date is June 1, 2016.
For details to enter raffle visit @chiataglance on Instagram. Good Luck!

Copyright secured by Digiprove © 2016