When it comes to office wear, many people get being professional confused with being boring. There is always hesitation in the workplace when deciding what to wear, especially if you work in a conservative environment where sleeves are a must and your skirt must hit your knee. However, you can't get sucked into that black hole! There are a million and one ways you can play up that traditional white blouse and pencil skirt ladies! (Gentlemen, I will be talking to you about this topic very soon!) I want to show you how you can be stylish and professional at the same time, because boss babes know how to work it outside and inside the boardroom.  
Like a lot of women with overflowing closets, you may feel as if you don't have much to wear to work, but it's all about mixing and making use of staple items. We dived into Tavi's closet and came up with three looks that ranged from corporate, to casual Friday. Find out below how you can achieve these looks!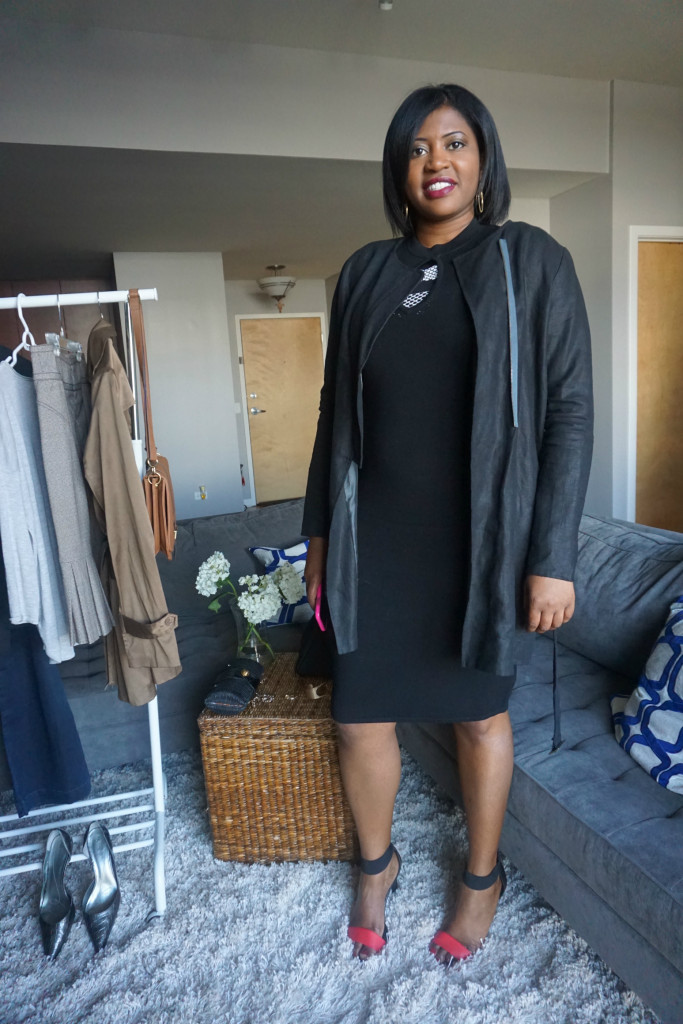 A classic black dress is a must for every woman because it can easily take you from day to evening. It's a good idea to have a few black dresses in your wardrobe, but make sure that they are all different in fit and cut. Instead of just an all black outfit, we layered a printed dress underneath to keep the look from being boring. When layering, keep in mind that it's all about balance. Because the top dress is sleeveless with a peekaboo chest, this made showcasing the long sleeve, printed dress a lot better. Also, both dresses weren't too thick in material, which complimented the light weight jacket we threw on top. We also added just a little bit of color in the shoes to make this high level, CEO look pop!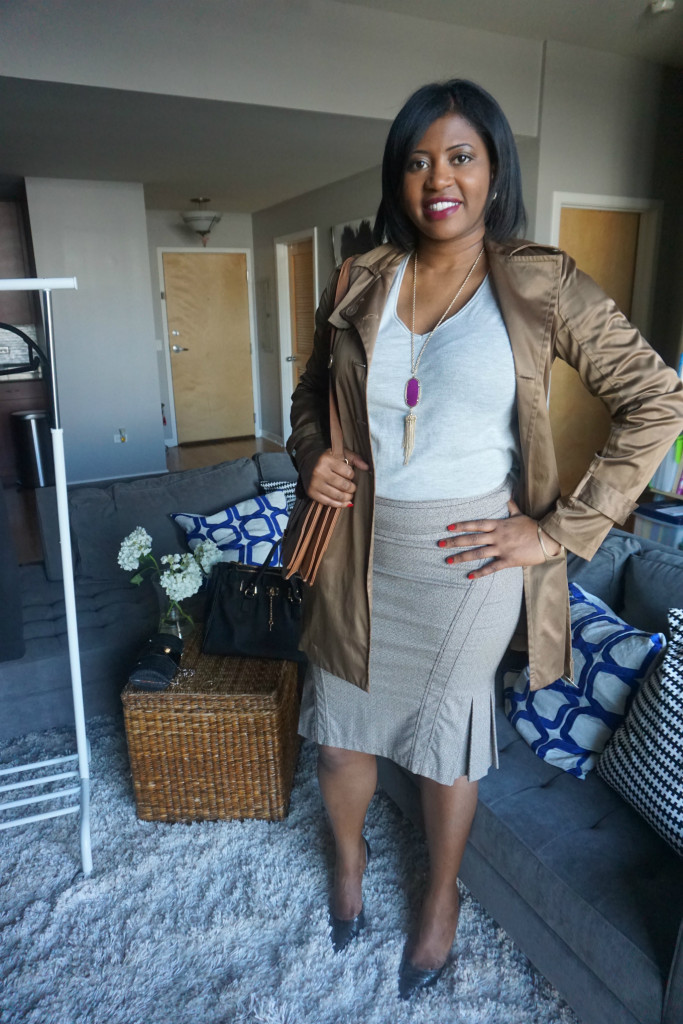 I am a huge fan of neutral pieces, and especially all neutral outfits. It may seem like an easy task to use one color as your palette, but it's important to know where that line is between being matchy & stylish, and just being too matchy matchy. This is what I meant when I said you've got to switch up the pencil skirt look! I love that this skirt has a little pleat on the bottom, giving it more of a flirty appeal. This is a great office look, meshing classy & feminine into one. The trench style jacket definitely pulled this look together, along with the snakeskin print heels. When mixing neutrals, try to stay as close as possible to the color scheme, mixing tones that are similar and adding just a hint of something a little extra special.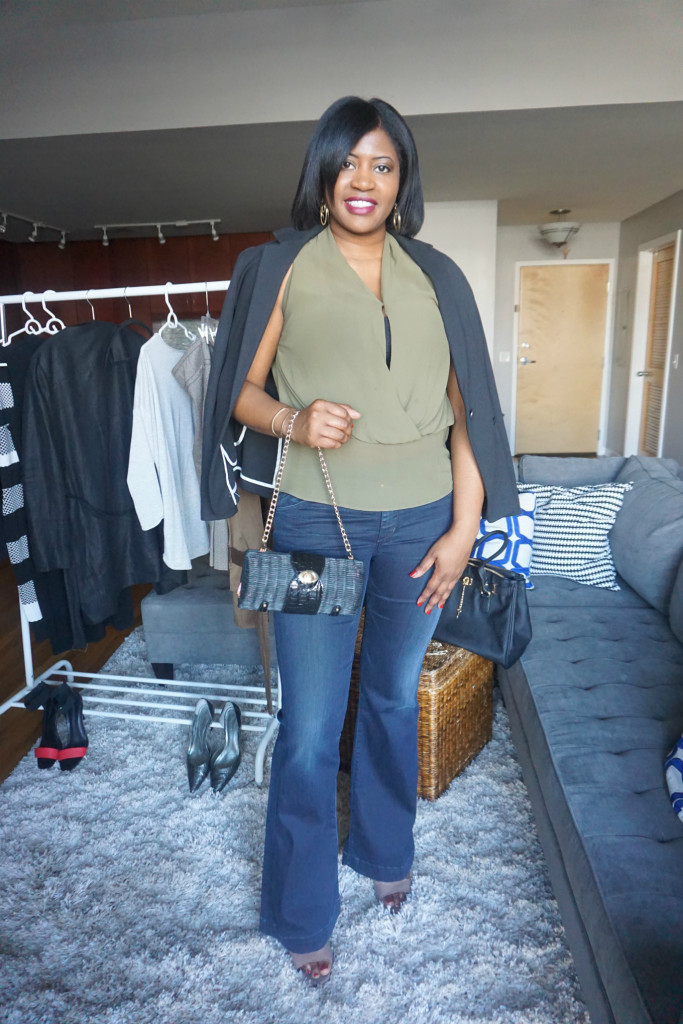 Thank God for Fridays, right? I'm sure lots of you like breaking out your favorite pair of jeans at the end of the week, now here's how you can LOVE it. The flare jean is back! This is such a good denim to dress up with open toed heels, or dress down with sneakers. As with any pair of jeans, it's all about the fit. Find a pair that is long enough to cover your entire feet, leaving just a peek of the toe or heels. Even if you're petite, you can still rock this look because flare jeans give the illusion of legs for days! Just make sure that you find a good tailor if any adjustments in length are needed. We gave Tavi a look curated for the modern day woman. Someone who is trendy but also wants to be comfortable.Of course the most chic way to wear a jacket/blazer is over the shoulders, and instead of typical black shoes to match her black blazer, I paired this look with a neutral/mauve toned shoe that really complimented the olive top. This is an outfit that can be taken from your 9-5 to your 5-9!
Shop these looks below!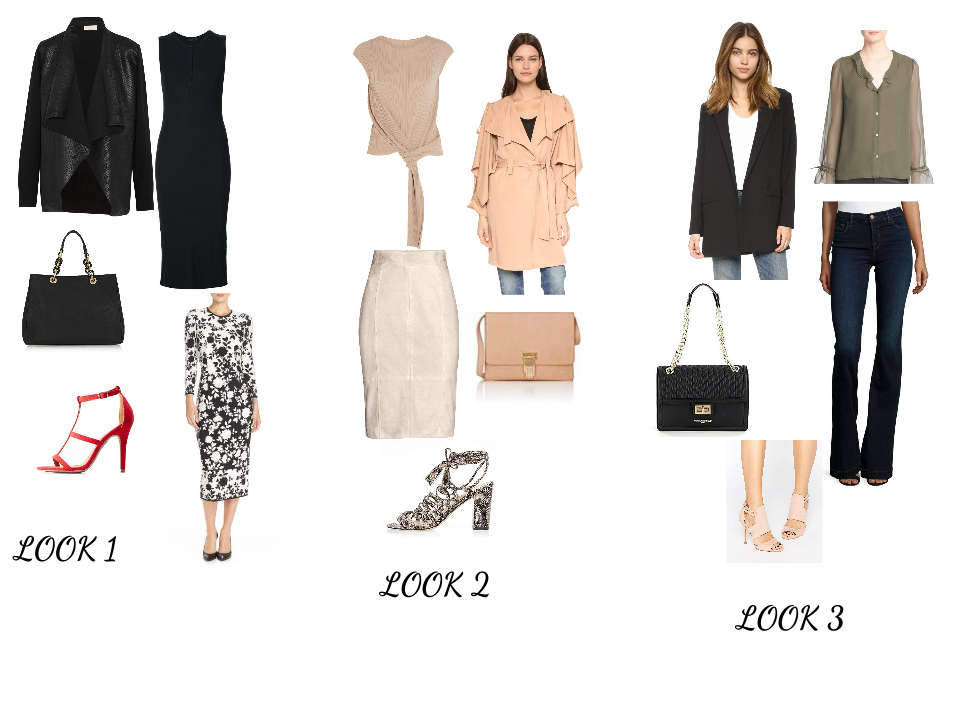 Look 1:
ATM sleeveless dress • Maggy London Floral Print Jersey Midi Dress • Maggy London  • MICHAEL Michael Kors Draped faux-leather and cotton-blend jacket • MICHAEL Michael Kors • Charlotte Russe T-Strap Dress Sandals • Charlotte Russe • MICHAEL Michael Kors Cynthia Medium Textured-Leather Tote • MICHAEL Michael Kors 
Look 2:
Opening Ceremony Nokki Clutch-Nude • Opening Ceremony  • KENDALL + KYLIE Lightweight Trench Coat • River Island Womens Grey snake print lace-up block heel sandals • River Island • Joseph Knotted Ribbed-Knit Top • Joseph • H&M – Suede Pencil Skirt – Light beige – Ladies • H&M 
Look 3:
Miss KG India Cut Out Heeled Sandals • Miss KG • KARL LAGERFELD PARIS Karl Lagerfeld Agyness Quilted Chain Strap Shoulder Bag • The Fifth Label Highlight Blazer • The Fifth Label • Diane von Furstenberg 'Kirsty' Ruffled Silk Blouse • Diane von Furstenberg • J Brand Jeans Maria High-Waist Flare Jeans, Embrace 
Thank you to Chi@Glance contributing writer this month: Vickee Yang. Follow her on social media below:
Website: http://PressVee.com  Instagram: @VickeeVee_  Twitter: @PressVee  Facebook: Vickee Yang
Take a look at our You Tube styling session video below. Great times were had!

Copyright secured by Digiprove © 2016
Acknowledgements: Author: Vickee Yang