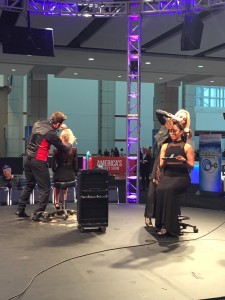 This was my first time attending the America's Beauty Show and The Face & Body Midwest Spa Conference & Expo and I had a blast! The shows are separate, but are co-located. Unfortunately, the show is not open to the public. It's a trade show for Spa/Salon Industry professionals. The conference has advanced education, new cutting edge products, and the best networking for spa/salon professionals. If your hair stylist, manicurist, eye lash technician, esthetician, or nail tech makes it to this show….it's safe to save you're in good hands. You always want to work with someone that is trying to improve their craft.
http://www.faceandbody.com/midwest/
One of the products that I loved the most was the Goomee The Markless Hair Loop. I know myself and other girls that wear pony tails have to make them just right or we risk having that unsightly crease in our hair once we take the pony tail holder out. The Goomee does not leave a mark, prevents headaches/hair breakage, and comes in multiple colors. It reminds me of a phone cord. 🙂 I'll admit I haven't tried it out yet, but watching the demo is what drew me in. I can't wait to use it and order more if I like it. www.goomeeus.com
Hair wise I love Moroccan Oil Products. As I mention most of the booths were giving wholesale or ridiculously discounted deals. One of the favorite products I love from the line is the Intense Hydrating Mask. My hair is on the thick side and I love to use this product to hydrate and condition my strands. I feel it rejuvenates the texture of my hair. Instead of paying the normal $35.00 when I purchase it from my local salon I was able to get it at a discount of $18.00. This is definitely the show to come to when you want to stack up. I can definitely see stylist taking advantage of the reduced prices.  http://www.moroccanoil.com/ca_en/hair-care-intense-hydrating-mask-ca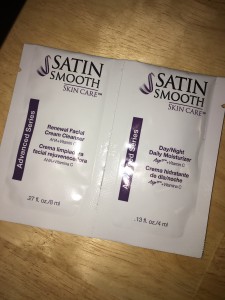 On the Face & Body side I was introduced to the Satin Smooth waxing and skincare line. I love trying new products and I'm looking forward to trying out the skincare samples I received. In particular I'm always looking for a good cleanser and moisturizer for my sensitive skin. So far I'm loving the feel and the smell. I'll give you an update once I use it for awhile. http://www.satinsmooth.com/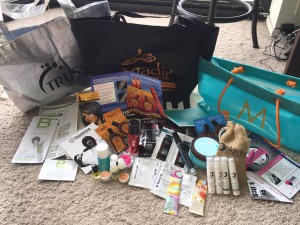 I had a great time at the expo and I would highly recommend the conference to industry professionals!

Copyright secured by Digiprove © 2016