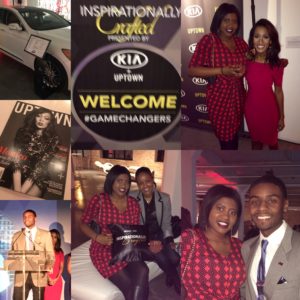 Last night I was "Inspired." Inspirationally Crafted event series hosted by Kiamotorsusa and UptownMagazine brings together the community to honor three individuals who have made game-changing impacts in their industry, community, and culture.
I was lucky to know one of the honorees! He's my former neighbor Fabian Elliott. I didn't realize I was riding the bus to work with a Superstar! Congrats Fabian for founding the organization Black Tech Mecca and taking the Chicago Tech Industry to the next level! Other honorees were Laurie Underwood and Toi Salter. All of the honorees gave encouraging speeches and inspired the crowd.
The evenings host was Chicago's very own Cortney Hall! Cortney Hall is a news anchor and reporter for WGN/CLTV. I tune into CLTV every morning to get my news fix from her! Such an inspiring event and a great time being amongst members of the Chicago community. Events like these make me so proud of the city I call HOME.
ChiTown Stand UP!
Follow me LIVE at events on the following social media:
Instagram, Twitter, and Snap Chat @chiataglance

Copyright secured by Digiprove © 2016-2017