Valentine's Day is right around the corner. Whether you're single or coupled up the keyword to this holiday (besides diamonds) 🙂 is CHOCOLATE! You can't go through a grocery or department store without seeing chocolate displayed everywhere.
The unique thing about Chicago is we celebrate every holiday and we go hard no matter what the occasion is. It's easy to find a chocolate treat that's made local to Chicago. In the spirit of the LOVE month I want to share with you my Top 5 Local to Chicago Chocolate favorites.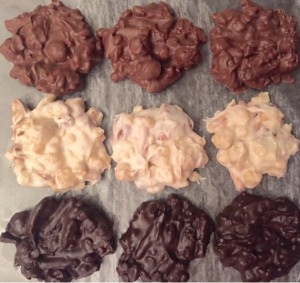 1) Loni Loo's – Chocolate Candies
Support local and delicious at the same time by buying Loni Loo's homemade chocolate candies. The owner and baker is Chicago's own Media Personality Loni Swain. Loni Loo's are decadent chocolate covered pecan/pretzel clusters that come in White, Milk, or Dark Chocolate. OMG they are yummy! They also come beautifully wrapped and would make the perfect gift for any occasion. Especially Valentine's Day!
Order Online: www.loniloos.com Order by February 6th to ensure delivery in time for Valentine's Day!
Side note: If you want to try them out first they are sold at Lighthouse Whole Food Grill in Hyde Park. (Check to make sure there in stock before you go).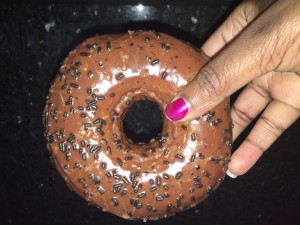 2) Doughnut Vault – Chocolate Doughnut

I must have great taste because my favorite doughnut shop has gotten accolades from USA Today, Forbes Travel, and The Food Network to name a few. When I'm craving a Chocolate Doughnut my favorite spot is the Doughnut Vault. In 2011 Brendan Sodikoff (Owner of Gilt Bar) started selling doughnuts out of a brick store front. Now there are several locations you can check out! My first experience with the doughnut vault was actually buying a couple of old fashion doughnuts from their Doughnut Vault Van. Definitely a must try treat!
Locations: Several check website
Website: http://doughnutvault.com/
Side note: Like I mention they have a Vault Van. Follow them on twitter to track the vault van locations @doughnutvault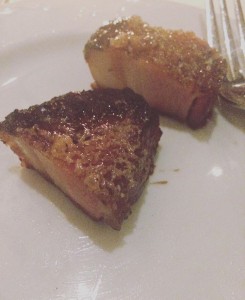 3) Prime & Provisions – House Flared Thick Cut Bacon

Now if you like bacon and you like Dark Chocolate….well this one's for YOU! Prime & Provision Steak House combined the two and the results are divine. Picture a thick cut of juicy bacon with glazed maple Syrup with a touch of Dark Chocolate to seal in the flavor. Is your mouth watering yet?!?! It should be! I could not get enough of this appetizer. The sweet and salty combination had me wanting more. This is creativity done right!
Location: 222 N Lasalle, Chicago, IL 60601
Website: http://primeandprovisions.com/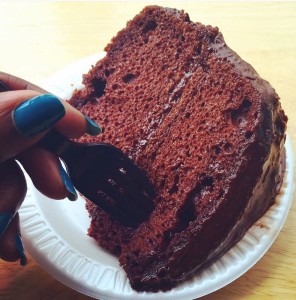 4) Portillo's Chicago – Chocolate Cake
I added this one to the list, but I'm sure you've tried it already right??? If you're from Chicago it's a sin to not have visited Portillo's. You're an even bigger law breaker if you haven't tried Portillo's chocolate cake. You can buy a whole cake or for around $4.00 you can buy a slice. The keyword to this cake besides deliciousness is MOIST! I don't know how they do it, but this cake is so moist and I've never had a dry slice. Chocolate cake topped with chocolate frosting… What can go wrong? 🙂
Location: Several – Check website
Website: http://www.portillos.com/locations
Side note: Make sure to sign up for the Portillo's Birthday Club to get a slice of Yummy Cake for your birthday. https://www.portillos.com/freecake/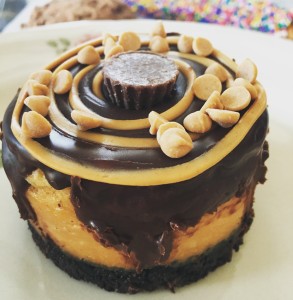 5) Sweet Mandy B's – Peanut Butter Cheesecake with Oreo Crust
My last, but certainly NOT least chocolate craving is Sweet Mandy B's. Started in 2002, Sweet Mandy's B's is a Chicago staple. I have been to several events and parties where the cakes and treats were catered from Sweet Mandy B's. The shop itself is sooo cute! I can't even pick one favorite item, but in the spirit of chocolate and Valentine's day I implore you to check out the Peanut Butter Cheese Cake with Oreo Crust. Not all the way chocolate, but too delicious to pass up. If you're looking to stay traditional try the Chocolate Covered Strawberries. The chocolate covered strawberries though need to be preordered. All of the treats look as good as they taste. You'll be in for a treat!
Location: 1208 W Webster Avenue, Chicago, IL 60614
Website: http://www.sweetmandybs.com/
Side Note: Each season they mix it up with the treats. Make sure to check out their seasonal items.
Happy Valentine's Day!
Tavi J

Copyright secured by Digiprove © 2016