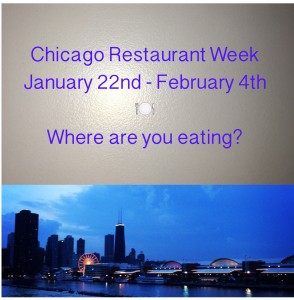 Event: Chicago Restaurant Week
Where: All over Chicago/Chicagoland area
When: January 22nd – February 4th
Great for: Everyone!
Description: 2 week food extravaganza! Over 300 Chicago/Chicagoland restaurants prepare a pre fix lunch ($22) and dinner menu ($33 to $44). This year there are 54 new participants!
Choose Chicago List of participating restaurants
So I guess the question is "There's a boat load of restaurants and I'm not a millionaire, so how do I navigate Chicago Restaurant Week?"
Here are my suggestions:
1) Pick pricier restaurants that you're probably not going to make it to any time soon or just use for special occasions. The max the restaurants are charging is $44.00 for the 2 to 3 course meal. That's a great value since most include an app, entrée, and dessert. Might as well get the most savings and bang for your buck.
2) If you do go to a restaurant you frequent often it's time to expand your menu palette and choose other dishes. You're getting a 2 to 3 course meal so try something new!
3) Try different neighborhoods. It's a given that people will be frequenting some neighborhoods more than others. I'm sure River North may be more packed than say Logan Square. Try to get out of the neighborhood you live in and book a reservation at some place new. With that said it's best to book a reservation. Visit Open Table
4) Make it a group outing! Do you hate when the check comes and someone from your group always eats in three courses while you just have an entrée? Well now the playing field is leveled and everyone is paying the same! (Well….unless of course your friend is a drinker and will make up for saved money).
5) Make it a date night! What way to save than to limit your girl to the pre fix menu 🙂 At least she can still dress up if you chose the pricer restaurant (refer to point 1)
6) Make it a family night! Treat mom and dad and save money at the same time.
7) Enjoy! Make a list…stick to it…swerve away from it….there's no rules for restaurant week! Just enjoy it!
8) This should have been closer to the top of my list, but check out the menu before you go to the restaurant. Mine as well pick a place with options you like versus just picking the restaurant cause you've had it bookmarked for awhile.
9) Enter the Choose Chicago contest and try to score some cool prizes!
For restaurant week I choose to go to the places I've never been. Here are the top 10 places I want to try (in no particular order).
Cindy's
Demera Ethiopian Restaurant
Embeya
Formento's
Gemini Bistro
Kinmont
Merlo on Maple
Roka Akor Steak & Sushi
Tete Charcuterie
Wood Restaurant
Get your Grub ON!!
Tavi J.

Copyright secured by Digiprove © 2016