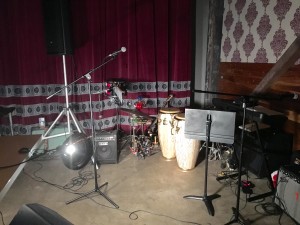 The Promontory – 5311 S. Lake Park Avenue W, Chicago, IL 60615
Event: The Corner – Weekly Music Series
Day: Monday Time: 7:00pm to 11:00pm
Price: $5
Great for: Date Night, Friends, Girls night, Random Night
Description: Weekly show that highlights some of Chicago's finest musical performers. From solo performers, duos, and trios, this intimate show is held in the venue's lounge area and removes the barrier between artist and audience. Promontorychicago.com
I really love the way the restaurant/ entertainment industry has evolved. I like to call it "Mega Restaurants." You sit down and enjoy a delicious meal, but then you can stick around for entertainment as well. On Monday Night's The Corner at Promontory is the place to be.
I went to The Corner for the first time this pass Monday. Sam Trump was performing and DJ Kwest_on was spinning. What a great combination of performers. I had never seen Sam perform before. I would say he fits in the Soul category, but I don't want to place him in a box. I loved he did his own music and added in a couple of songs from well known artist like John Legend. Sam has such a beautiful voice. I felt like I was getting over on the Promontory for only paying $5.00 to see such a great band perform!
Before and between sets we also got treated to the sounds of DJ Kwest_on. I've been a longtime fan of Kwest_on and have been to plenty of his shows. It's good seeing him spin in different venues and settings. He always keeps us guessing.
I highly recommend checking out The Corner at The Promontory!
Want some help planning your night? Here we go…..
1) Make reservations for 5:30/6:00 to eat dinner at The Promontory. Make sure to try the Polenta Fries. There delicious!
2) 7:00pm doors open for The Corner. The venue is directly next door to the restaurant. Try to get there early to get good seating at the bar. The space is small, but excellent for the intimate vibe. Order several cocktails (don't drink and drive), and enjoy the night.
See you at The Corner!
Tavi J.

Copyright secured by Digiprove © 2015