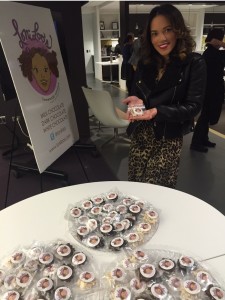 Description: Loni Loo's homemade candies are handmade by media personality Loni Swain. They are basically pretzels and pecans covered in decadent white, milk, or dark chocolate. Of course, there's other secret ingredients mixed in as well to make them some of the yummiest salty-sweet-chocolate clusters you've ever tasted. www.loniloos.com
If you live in Chicago you most likely know Loni Swain as one of chi-towns best media personalities, but did you know she can BAKE??? I didn't know that until I happen to stumble upon a posting for Litehouse Wholefood Grill restaurant advertising Loni Loo's candies. My curiosity got the best of me and I headed over to Litehouse Grill in Hyde Park to try out a couple pieces. Well a couple pieces turned into 3, then 4, then finally I knew I had to interview Loni for our December Spotlight Feature. Loni Loo's will make the perfect gift for the holidays and any occasion for that matter!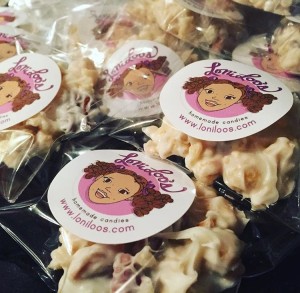 It tip me off Loni Swain was the mastermind and inspiration behind the candies when I saw the packaging. The picture on the packaging is a young Loni Swain at about 5 years old. Her talented cousin is an illustrator and drew the picture of her by hand. A strong family at work doesn't stop there. The recipe happens to be inspired by Loni's mother and her hometown of New Orleans.
Loni was born and raised in New Orleans and didn't depart till 2006. From there she lived in Baltimore and St. Louis. By 2009 she was relocating to Chicago to work as a radio personality for WGCI. Being the sweet person she is, Loni was always bringing cookies to work for co -workers and they were always telling her you need to sell these!!! She then brought her candies to work and hands down they said YOU HAVE TO SELL THESE! Once Loni started getting inquiries from random strangers she decided to embrace her entrepreneurial spirit and start Loni Loo's in 2012.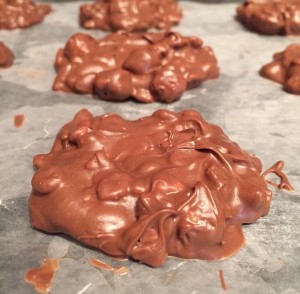 You all know how much I eat out and how I consider myself a dessert connoisseur. Take my word that all 3 flavors are delicious! You can order Loni Loo's at www.loniloos.com. The packaging is ever revolving, but you can order gift baskets, gift towers, and party favors for all occasions. They even make a perfect "just because" gift.
For now Loni's main focus is marketing her candies online, dessert catering, corporate gifting, fundraising partnerships, and party favors. She does see herself expanding to the retail realm, but is focusing on taking it one step at a time. She eventually can see herself expanding flavors and products. She's known for her famous Chocolate Chip cookies, so hopefully we get to try some of those in the near future. 🙂
Loni, as you can imagine is crazy busy and she said keeping a balance is an ever developing process. Being organized is key for her and utilizing all the phone apps helps her as well. One thing that most of us know and have a hard time doing is saying "NO." She attributes the quality of her work to her excellent time management skills.
Why is Loni Swain of Loni Loo's a Chicagoan you should know?
"As a media personality, I have utilized my platform to not only entertain, but also to inform and educate as well as provide a platform to help others. As I have transitioned into entrepreneurship, I have made it a top priority to collaborate with other small business owners and to also consistently donate product to local not-for-profit causes".
I happen to know that Loni works very closely with the Chicago Aids Foundation. She has been very active with the foundation since 2010, but has also been involved with education awareness in other cities as well. After losing someone close to her in 1998 it was her mission to enlighten others. After speaking to Loni for this article I can honestly say she is DEFINITELY a Chicagoan you should know and admire. Using her talent of baking she is supporting causes, inspiring others, and best of all giving us some of the world's finest chocolate candies! Make sure to visit Loni Loo's and order that special someone a well- deserved treat!!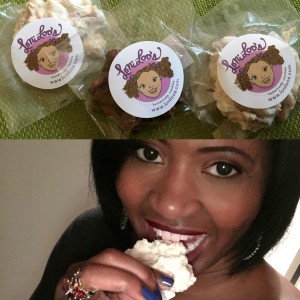 I had the chance to try all of the Loni Loo's flavors! ChiAtAGlance and Loni Swain want to give you the chance to try them to! Today were raffling off one FREE 12 piece box of assorted Loni Loo's. Entry is easy and you can enter on either Instagram @chiataglance or facebook at www.facebook.com/chiataglance. Raffle is open to all US residents and winner will be announced on Wednesday, December 9th. Good Luck!!
Loni Loo's
To order: info@loniloos.com
Website: www.loniloos.com

Copyright secured by Digiprove © 2015-2016