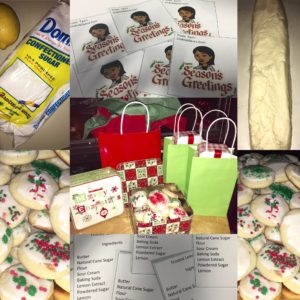 Ingredients:
1 Cup Butter (Room Temperature)
1 Cup Sugar (Preferably Natural Cane)
2 ¼ cup All Purpose Flour
¼ Cup Sour Cream
¾ teaspoon Baking Powder
1 teaspoon Lemon Extract
1 Cup Powdered Sugar
1 Lemon
Holiday Sprinkles (optional)
It's that time of year where you may be short on money. One of the things I love to do is BAKE! I love to take the time to share my love of baking with friends and family during the holidays. Best part, it's fun and inexpensive. Here's the recipe to my Frosted Lemon Cookies. These are always a crowd favorite!
Directions: COOKIES (makes about 36 to 48)
1) Preheat Oven to 350 Degrees
2) Cream the butter and sugar until Smooth
3) Add flour, sour cream, baking soda, and lemon extract (blend until smooth)
4) Divide dough in half and place each half on a piece of wax paper
5) Roll each section into a 2 inch log and freeze until firm (2 to 3 hours)
6) Remove 1 log at a time and slice dough into 1/8 slices
7) Place on ungreased cookie sheet
8) Bake until edges are golden brown (depending on stove 8 to 10 minutes)
Directions: ICING
1) Mix powdered Sugar with Lemon Juice (to whatever consistency you like)
2) Frost Cookies – Feel free to add sprinkles 
Enjoy! To make it extra special go out and buy some cookie tins and gift bags.
Tavi J

Copyright secured by Digiprove © 2015-2018